Quote:
Originally Posted by
PSNY
Which other tailors in Florence have a house style similar to Liverano? The roundness, lapel roll, open quarters, and absent front darts are all Florentine traits. I have not seen any tailors in Florence with such easily distinguishable roundness and lapel roll compared to Liverano. 
@Leaves
, Sartoria Capelli looks pretty good. One of the jackets on his website has the very Florentine roundness and lapel shape. While they aren't mentioned much on StyeForum their website is translated in several languages including Russian. I am sure they get plenty of business internationally hence the prices.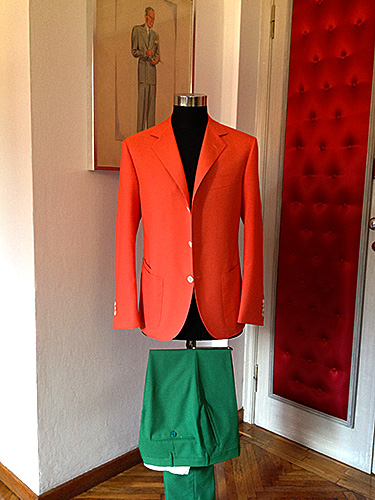 That is a nice coat. For more roundness it could have more of sleeve caps. In other words, not dropping off so quickly from the shoulder. In cutting the lapel the bottom part could have more belly. The breast dart holds it shape better. No breast dart looks cleaner when chest well shaped. An old rule, some tailors liked, not all, the least amount of seams showing the better, that includes the shoulder seam back out of sight. The roll of the lapels at the bottom should be identical. How straight or crooked the coat is cut can be seasonal and climate. After all, hot weather and open quarters is airy. Closed quarters helps keep the heat in when colder. Some is style, fashion or practical. Italian men love colorful garments. American men are afraid of them. Tis a shame the Americans don't have the freedom.