I was watching this excellent BBC documentary on entropy and information that just happens to include a section on the 18th century jacquard loom (one of the first "information technologies").
Very cool video. Jacquard looms were able to produce insanely detailed fabrics for their day, almost as precise as pixels.
The section on jacquard looms
starts around the 9:30 mark
in the video below
Punch cards:
The same principles go into the production of jacquard fabrics that Turnbull & Asser uses today:
Quote:
Warp and Weft
All weaves are made up from Warp and Weft 'yarns'. Warp 'yarns' run along the length of the material, whilst weft 'yarns' run across the width of the material. It is the different methods of interlacing the warp and weft 'yarns' that create a particular type of weave. Many of the most common weaves have acquired names that come down to us over the centuries.
Jacquard Weave
Jacquard weaving makes possible in almost any loom the programmed raising of each warp thread independently of the others. This brings much greater versatility to the weaving process, and offers the highest level of warp yarn control. This mechanism is probably one of the most important weaving inventions as Jacquard shedding made possible the automatic production of unlimited varieties of pattern weaving.
Jacquard weave was invented by a Frenchman named Joseph Marie Jacquard. Fabrics of jacquard weave are costly because it involves more time and skill in making the Jacquard cards to produce a new pattern. Moreover until recent advances in technology the weaving operation was also very slow.
http://store.turnbullandasser.co.uk/Materials_and_styling/Jacquard_Weave.html
Pierce Brosnan's Turnbull & Asser tie. Don't know if this is technically the same kind of jacquard.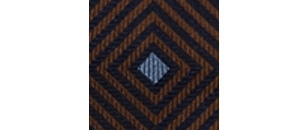 This loomed portrait of Jacquard would later be referred to as "The Most Famous Image in the Early History of Computing." It took
27,000
punch cardsto make. Ridiculously complex
Punch cards would later provide input for the first programmable computer, ENIAC
So there you have it, a link between classical menswear and computer history!
Edited by jrd617 - 2/20/13 at 10:08pm