This Classified is Closed
For Sale:
NWT $4,900 RLPL "Custom Fit" 42R Drop 6 Double Breasted Suit, Charcoal w/White Dot Stripe, 100% Wool
Will Ship To: Anywhere

Having recently sold 2 double breasted RLPL suits on the forum, here I have for sale a slightly different DB in a larger size. The fabric of this particular suit is a softer, finer worsted wool than the previous two, which explains the $600 increase in the full retail cost.
For sale I have a NWT RLPL suit in a size 42R, more specifically 42R Drop 6 (hence the pants are tagged 36). This particular example is a 4x2 double breasted peak lapel suit from the RLPL "Custom Fit" line, a cut that is trimmer than standard RLPL (in-between RLPL and RLBL when comparing the measurements).
Made in Italy by St. Andrews in a 3 season weight worsted 100% wool; really a top-notch fabric once you get your hands on it. Charcoal with a white dot stripe spaced a fraction under 1" apart. All the styling details we've come to expect from RLPL - precise yet subtle pick stitching on the lapel edges, pocket edges and zip front. Pants are double pleated with side tab adjusters, suspender buttons, split curtain waistband, on-seam front pockets and two back pockets with button closure. Really beautiful sweeping lapels with an exquisite peak, and not too wide either. Hand sewn buttonholes.
Sleeves and vents have all basting intact and included is the RLPL pouch with buttons and matching thread. For the pants there are belt loops, tape for adding heel guards, and some spare fabric for repairs.
Full retail on this baby was £3,050, or approx. $4,900.
Styling Details
"Drake" cut
3 season weight worsted
Double breasted peak lapel
4x2 button configuration
Dual rear vents
Front darts
Flap pockets & flap ticket pocket
Fully canvassed
Four internal jacket pockets
Jacket lined in viscose
Double forward pleated pants w/side tab adjusters
Pants lined to the knee
Unhemmed pants
Jacket Measurements
Shoulder 19"
P2P 21 5/8"
Waist 20.25"
BOC 30 3/8"
Sleeve 25.75" (unfinished with 1.5" to let out)
Pants Measurements
(tagged 36")
Waist 37"
Front Rise 11 5/8"
Thigh 14.5" (measured just below pocket)
Knee 10.5"
Leg Opening 9.5" (unfinished)
Here's an example of a very similar RLPL suit in action, from the WAYWRN thread, reproduced with the permission of the original poster.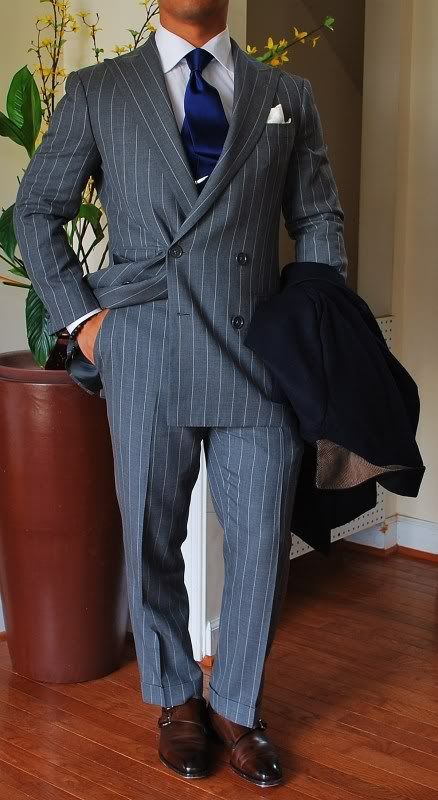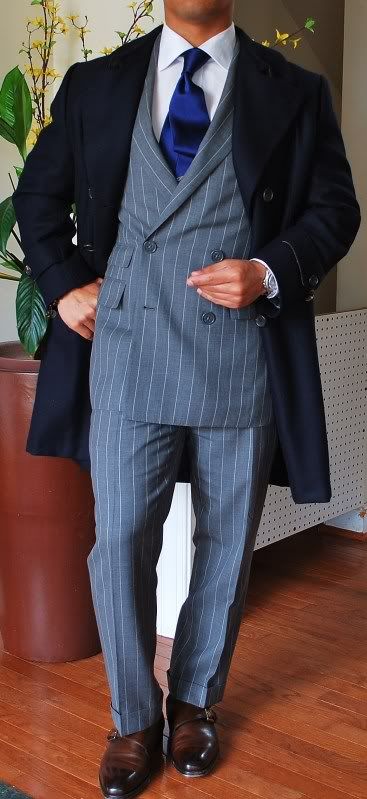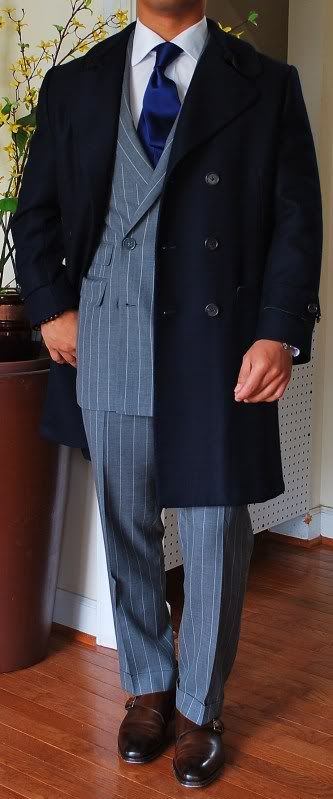 Edited by LS7 - 7/18/14 at 2:27am