For Sale:
FS: nonnative, Gant Rugger, Acne, Steven Alan, Brooks Bros, Uniqlo, Frye, J. Crew (small sizes)
Will Ship To: Anywhere

All prices include shipping within N. America, PM for overseas rates, paypal only (+4% for fees plz, prices in USD), discounts for local (Montreal) pickup or if you buy multiple items. Reasonable offers will be considered but low-ballers will be ignored.
nonnative s/s '13 dweller 5-panel Liberty-print ripstop cotton hat in navy, one size. $55. Suede strap. Cordura lining, mesh sweat band. Worn a bunch but still very wearable.
Gant Rugger lightweight blue gingham "Hugger" shirt, sz S, $45. Worn sparingly.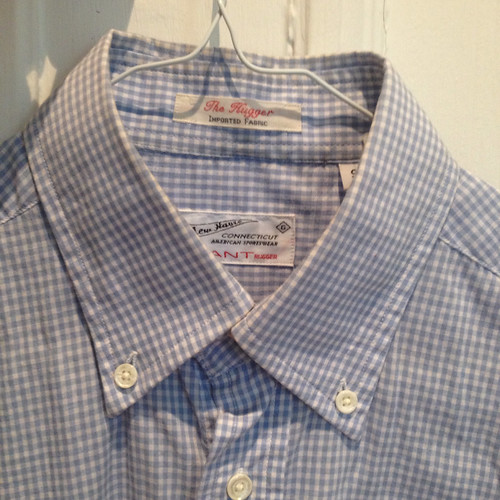 IC: Acne SS13 cusco sweater, purple, 100% cotton, size S. Retailed for $320. Fits TTS but on the chunky side. I wouldn't call it slim. Not totally sure if I want to sell this -- I like it a lot but it hasn't been getting into the rotation much. Would consider selling for a good price. I'm thinking $120.
Stock pic:
Brooks Brothers extra-slim fit OCBD, grey & white stripe, size 15/34 (ie. a typical small), $35. Worn a bunch but still has lots of life in it.
Uniqlo lambswool cardigan, brown, size S. Worn less than 5 times. $25.
Uniqlo OCBDs, size S, in teal, grey, and light purple, $20 each! Shown in teal - more of a true teal than it looks in the pic, quite a poppy colour. Only worn a few times. Both other colours also available for the same price.
Steven Alan checked overshirt sz S, with cotton-poly lining and 100% poly padding, $35.
A very cozy layering piece. Fits slightly oversized given that it's an overshirt, would work for a small or medium. Nice buttons (either horn or corozo, I'm not sure which). Worn sparingly, in excellent condition.
Measurements:
shoulders: 17.5"
pit to pit: 20.5"
length: 28"
Detail:
Club Monaco Connor Chinos, size 30, in navy, $35. Pics and measurements to come. Fits like Unis Gio skinny chinos, though not as good in the fabric or construction, obvs. PM if interested!.Frye Brando boots size 9, $35.
Beat to hell, but these will probably last forever. Heel's been replaced and I had a rubber topy put on the sole. These are super heavy, so I really don't want to ship them. $35 for local buyers. If you really want me to ship them, add $25.
J. Crew lambswool crewneck in heather grape, size S, $10 w/ purchase of anything else, $20 by itself. Worn once. Does this need any more description?
Edited by saelan - 7/14/14 at 12:59pm