This Classified is Closed
For Sale:
FS / FT : Attachment high neck coat size 2 or trade for W+H park / TOJ moto / bomber (46-47)
Will Ship To: Anywhere

Attachment Wool Coat sz 2 - not sure if i want to sell this but i have my eye on another garment. Keen to trade for Wings + Horns parka / TOJ moto or bomber to fit a 46-47
Fits similar to CCP high neck coat , but less stiff, less structured and shorter than CCP
-Got this as a trade from a fellow SZ member some time ago, but I have only worn it a handful of times since. Still in great condition; I'd say 9/10.
-Substantial wool coat with a great mid length. High arm holes and slim fit through the body and sleeves.
-Two side pockets, partially lined, with a removable waist belt ( I dont wear it with the belt )
-Size 2 and fits a 46-47
-Measurements:
Shoulders: 16.5 in.
Pit to Pit: 20 in.
Sleeves: 25 in.
Length: 34.5 in.
Price $500 + shipping + fees
Photos of the garment
http://i297.photobucket.com/albums/mm225/jeeyouknit/For%20Sale/DSC_0010-2.jpg
http://i297.photobucket.com/albums/mm225/jeeyouknit/For%20Sale/DSC_0011-4.jpg
http://i297.photobucket.com/albums/mm225/jeeyouknit/For%20Sale/DSC_0013-5.jpg
http://i297.photobucket.com/albums/mm225/jeeyouknit/For%20Sale/DSC_0018-3.jpg
http://i297.photobucket.com/albums/mm225/jeeyouknit/For%20Sale/DSC_0017-3.jpg
Fit pic of the attachment coat vs CCP short coat from Lowrey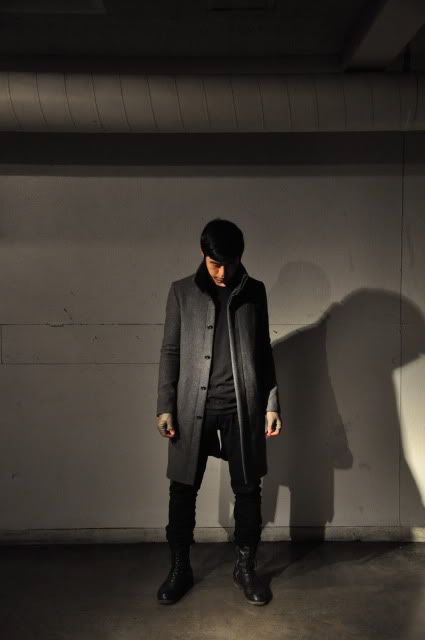 Edited by chiggah - 10/26/12 at 5:40pm