For Sale:
Chinos - W+H, Uniqlo, Epaulet 31-33
Will Ship To: Anywhere

All of the below are used, but good condition, with minor alterations (hem or waist, as noted). I know the pictures below aren't the greatest; please forgive me, but I imagine most of you know these items already. I'm happy to take more detailed pictures or post more measurements as requested. Please PM me with any questions.
W+H Westpoint navy chinos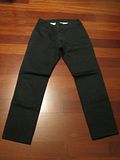 Waist: 32"
Inseam: 29.75"
$65 shipped CONUS.
Uniqlo Vintage black chinos
Waist: 32"
Inseam: 32.5"
$25 shipped CONUS.
Epaulet navy canvas (non-rivet, horn buttons)
Waist: 32"
Inseam: 31.5"
$100 shipped CONUS.
SOLD.
Epaulet navy canvas (rivet)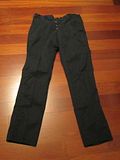 Waist: 31"
Inseam: 31.75"
Note: when my alterations tailor took in the waist here, they actually re-attached the Epaulet tag backwards. This has obviously no real impact on the quality, but just wanted to make it public in the interest of full disclosure.
$85 shipped CONUS.
Edited by tkte3tu - 8/27/13 at 9:42am