This Classified is Closed
For Sale:
Brand New Brooks Brothers Ties! Only 2 left!
Will Ship To: Anywhere

Selection of completely new Brooks Brothers ties. All of these ties are first quality, no seconds. The labels have a line through them to prevent return to a Brooks Brothers retail store.
Price is $30 each, CONUS shipping included
. Happy to also sell to international buyers, but there will be an additional charge for the extra shipping. Contact me and we'll work something out.
Three really, really nice USA made ties.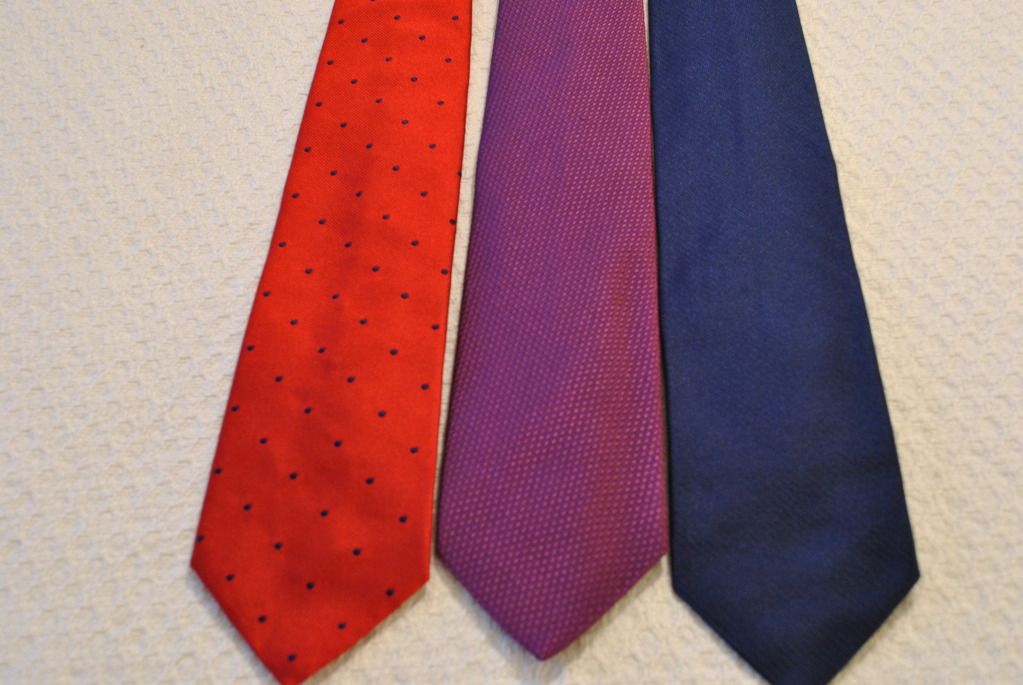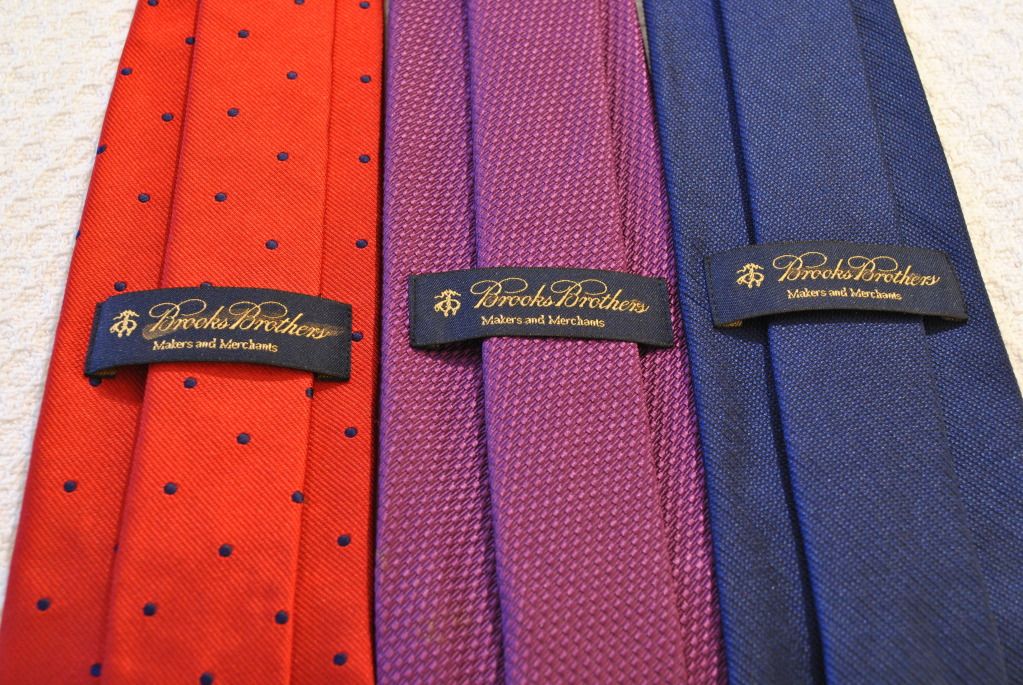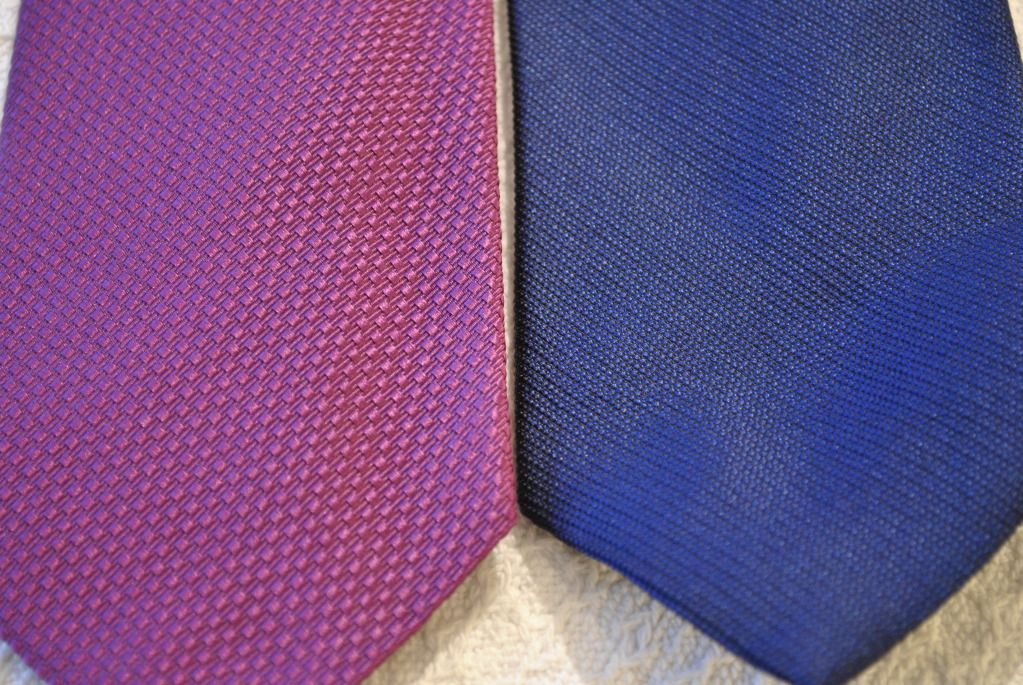 1. Red with small navy dots. Tie color is a deeper, richer red than shows up in this photo (the camera makes it look to have a bit of an orange tint, but it does not have that in person). I like all of these ties but this one is really my favorite of the bunch. Stats: 100% silk, 3 3/8 inches at widest point. USA made.
**SOLD**
2. Purple solid, textured tie. 52% silk, 48% cotton. 3.25 inches width. English fabric, USA made. The silk/cotton combination gives a nice thick and nubby texture to the tie, see the close up picture above. **SOLD**
3. Navy solid. 100% silk. 3.25 inches. Italian cloth, USA made. Also thick and with texture, but its more of a diagonal twill. See close up above.
**SOLD**
Three for the trads: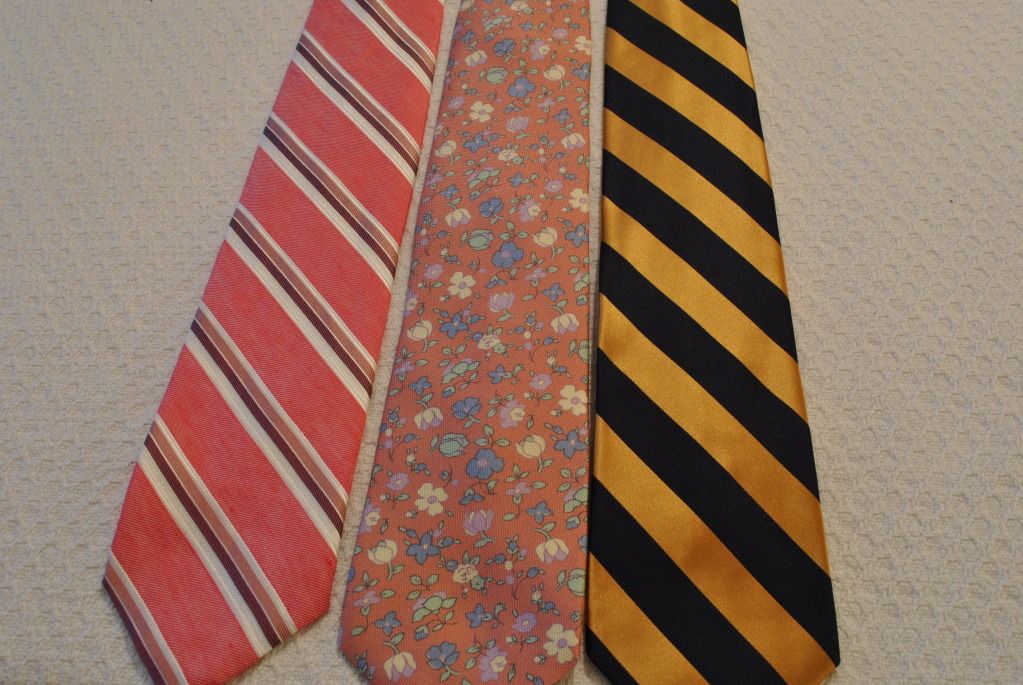 4. Light red/pink with mauve and merlot stripes. 48% linen, 44% silk, 8% cotton. 3.5 inches. Italian woven, USA made, $79.50 retail.
**SOLD**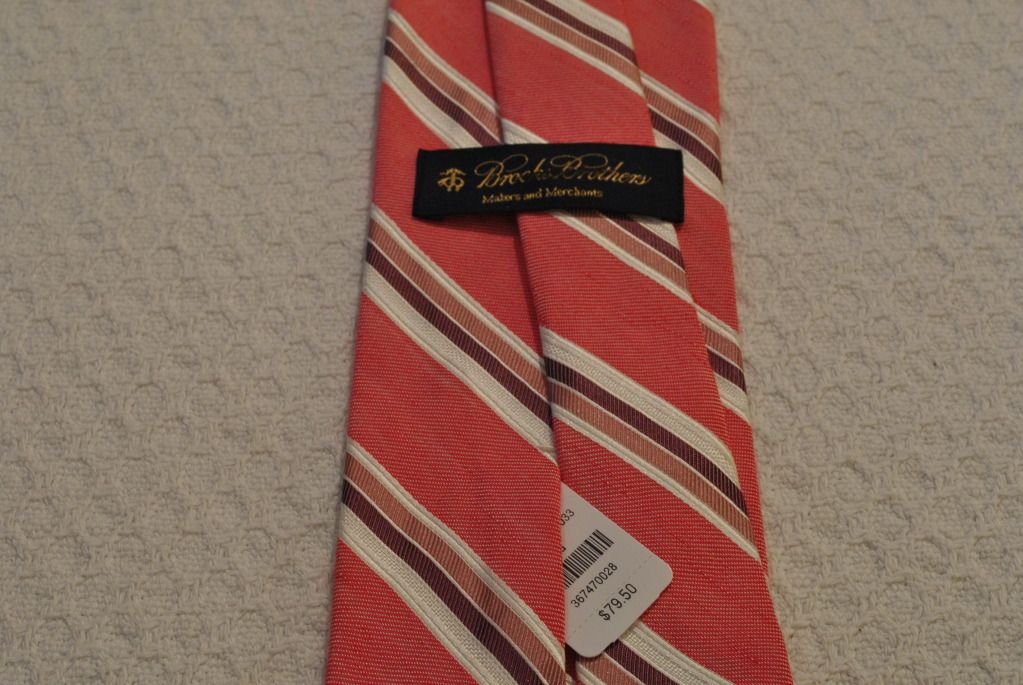 5. Floral (vinyard vines type of look). Peach. 100% silk. 3.5 inches. USA made. $98.50 retail.
**SOLD**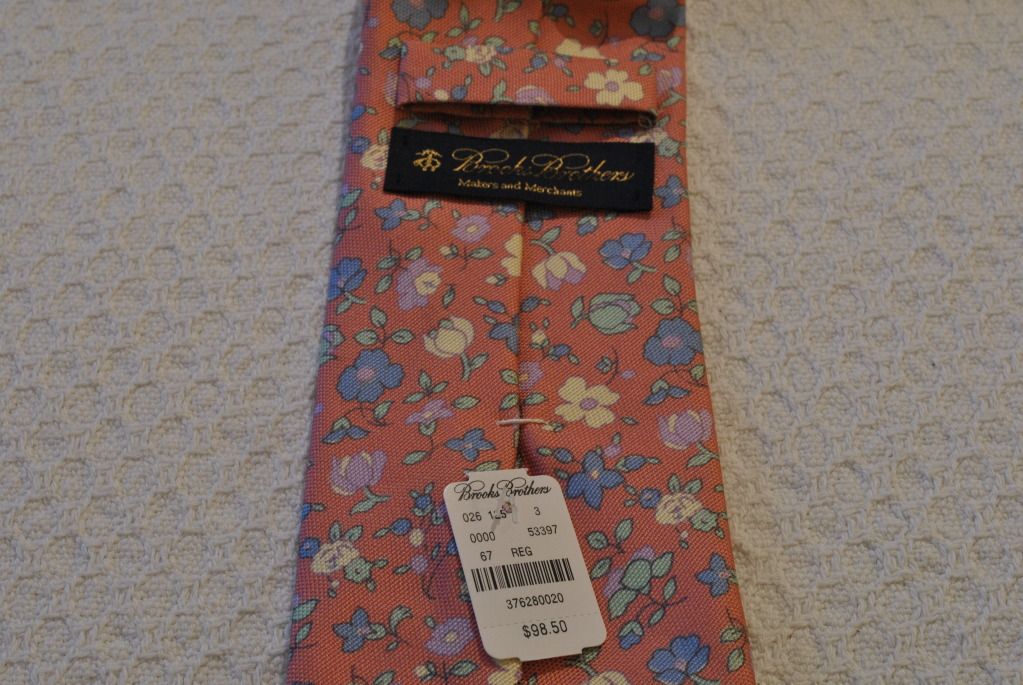 6. Classic navy and gold repp tie. 3.5 inches, 100% silk. USA.
**SOLD**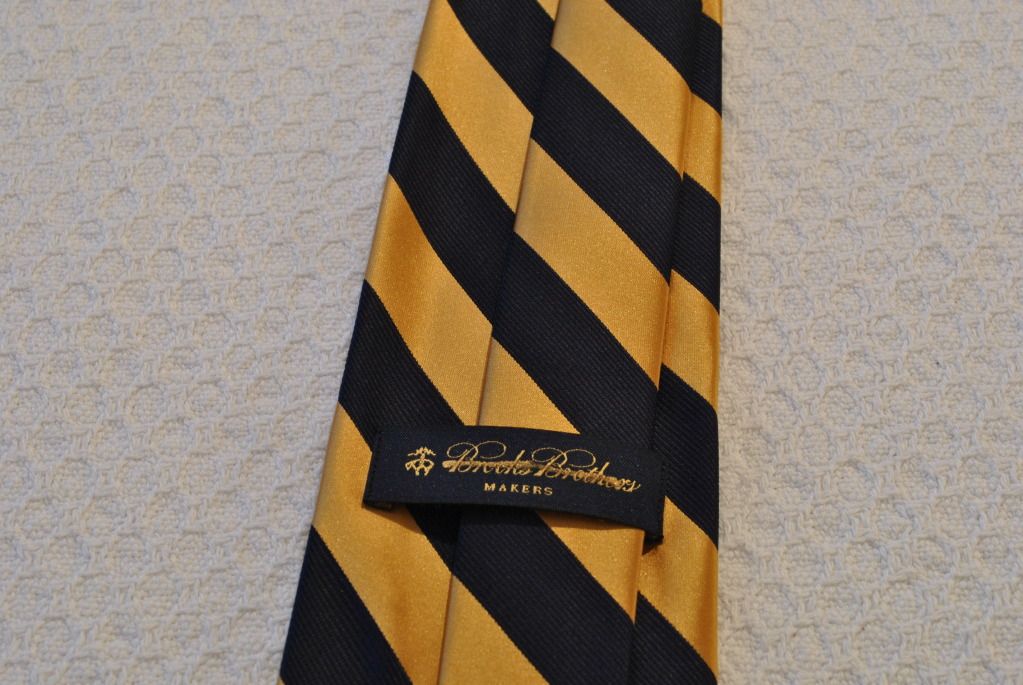 Plaids and wools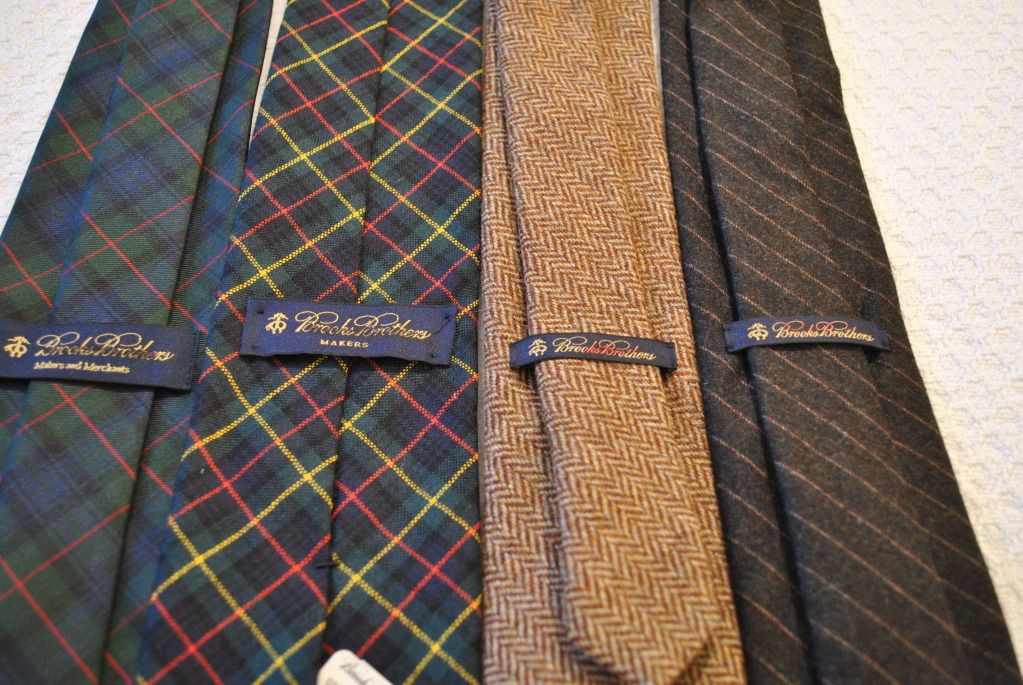 Moving left to right
7. Plaid/tartan. 100% silk, 3.25 inches wide.
8. Green/red/yellow plaid. 3.5" wide, 100% wool.
9. Charcoal grey with tan pinstripe. 2.75" wide. 100% wool. $75 retail price **SOLD**
10. Tan herringbone. 2.75" wide. 100% wool. $75 retail price **SOLD**
Feel free to PM with any questions. Paypal preferred.
Edited by AMProf - 10/4/12 at 3:44pm