This Classified is Closed
For Sale:
LAST CHANCE -- Many 15.5/32 & 33 shirts. Golden Fleece, Robert Talbott and more.
Will Ship To: US

Last chance! If these don't sell soon, I'm going to donate them to a charity. So, please feel free to make me an offer, especially if you're interested in more than one.
9/5 price cuts, and now, free US shipping.
If you're a 16-32/33, please see my other post, here:
http://www.styleforum.net/t/306703/9-9-cuts-many-many-shirts-16-32-33-brooks-brothers-luxury-ike-behar-sea-island-hickey-freeman-and-more/0_50
Lots of 15.5 shirts for sale. All 32 or 33 sleeve length. All are regular fit, with the exception of the Ike Behar, which is a slim fit. All are button cuffs with a chest pocket, unless noted. Despite my lousy photographs, please note that there is no yellowing on the shirt.
Shipping to the US only, unless you buy multiple shirts, in which case i may ship outside the US.
Brooks Golden Fleece check shirt.  Beautiful Italian fabric with thick, shell buttons. Double-button cuffs. No chest pocket. 15.5-32.  $38 --> $35 --> $32 -->$30.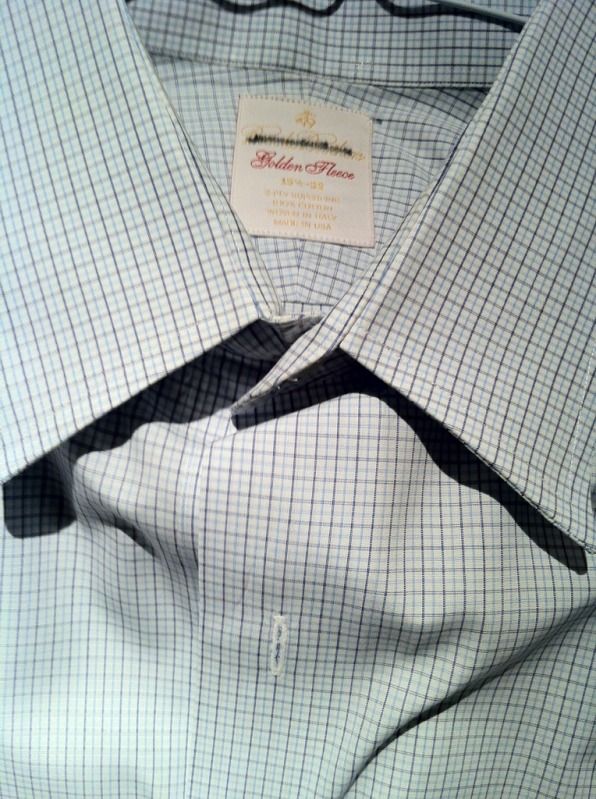 Ike Behar ecru shirt. Made in the US with Ike's signature quilting inside the collar. New old stock. Laundered, but never worn. Slim fit. 15.5-32. $30 --> $27. 
SOLD
Club Room cream linen shirt. Long sleeved, with no pocket. MOP buttons. Size medium, with 33"+ sleeves. $20 --> $18 --> $15 -->$13
Taylor Byrd plaid shirt. No pocket. Double-button collar. Made in Hong Kong of two-ply cotton.  $28 --> $25  --> $22 -->$20
Brooks Brothers Makers striped button-down collar shirt. Front pocket 15.5-32. $22 --> $20 -->$18
--> $20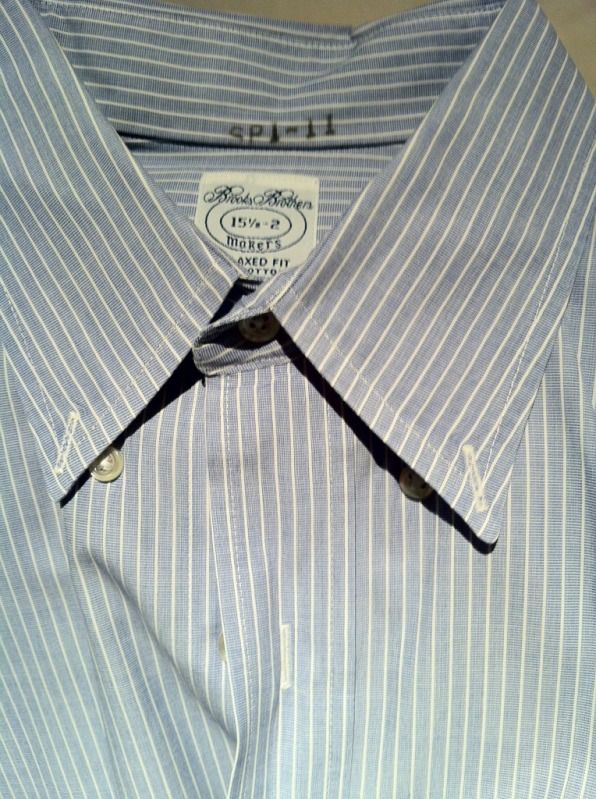 Valentino green striped shirt. 15.5-32/33. Front pocket.  MOP buttons. $22 --> $20 -->$18
Robert Talbott black/white check shirt. 15.5-32. Front pocket. $28 --> $25 --> $22 -->$20
Gitman for Eljo's blue check shirt.  Very fine fabric.  Front pocket. 15.5-33.  $25 --> $22 --> $20 -->$18
Edited by 518aata - 9/26/12 at 1:40pm