Hi recently i ve been watching this korean drama called The Greatest Love
I was very interested with the style of the protagonist in the movie , where the protagonist mainly wears Comme Des Garcon and John Galliano.
it moved me to went to the capital city of my country to a multi label boutique called Hit Gallery, where they bring Galliano stuffs however to my disappointment the boutique no longer carry Galliano stuffs (could be because the drop in popularity as of late due to Galliano racial remark , well the series is 2 years old)
anyway influenced from the same series, I was also looking for a velvet loafer , as in the series the protagonist often wears velvet loafer (sockless) when he wears shirts or jackets (the loafer picture is below worn by the male lead in white shirt)
so I thought I must have velvet loafers too
then i remember that Louis Vuitton has a beautiful looking loafer on their spring collection called "Louis Vuitton Prom Velvet"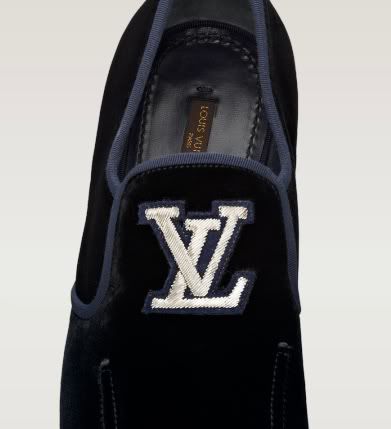 albeit not exactly same like the one in the movie because it has a slight Louis Vuitton's Don twist to the loafer
unfortunately the loafer which is priced at 2,900.00 MYR (919.613 USD) is sold out
with much disappointed i recall there was a new multibrand boutique name Leo which self proclaimed themselves as the gentlemen's club
they carry brands such as Vicini, Dsquared2, Trussardi, Jean-Paul Gaultier, Junya Watanabe, Viktor & Rolf, Fratelli Rossetti, Givenchy, Roberto Cavalli, Stefanobi, Cesare Paciotti, Soldini, Kenzo, Calvin Klein, John Galliano, Comme des Garcons, Cesare P, Alessandro Dell'Acqua, Paul & Joe and Pollini. (<- seriously? half of the brand I've never heard of them before)
however this boutique only sell men's accessories such as shoes and belt .. sadly no garment ..
seeing so many shoes there , so i tried my luck looking for a velvet loafer.. so I was introduced to a brand called "Vicini by Giuseppe Zanotti"
and there was only two velvet loafer , one from Roberto Cavalli and another is from Vicini
however the Roberto Cavalli has a logo (probably Roberto Cavalli's logo) with sparkling "diamond" thing which look too tacky. So I was only down to 1 choice, a velvet loafer from Vicini. Despite having a price tag of 2,065.00 MYR (655.826 USD) and Made in Italy tag I was still unconvinced because I have near heard of this brand before..
as i inquired more about the brand origin ,I was told that it is the second line of Giuseppe Zanotti (yea sounds familiar but did not ring any bell) so I was still reluctant until the sales assistant told me that Giuseppe Zanotti is a renowned shoe maker so i am like oh yea maybe he is one of those guys like John Lobb of Paris so without further hesitation I bought the loafer.
So now I would like to know if any of fellow Style Forum users have ever heard of this brand before or had any experience with it
feel free to share here . will post picture of the loafer later (this is the first shoe I bought without a dust bag so I am somewhat skeptical about the brand)