Great opportunity to pick up a couple of pairs of great shoes in sizes that aren't always readily available!!
Ultimate Comfort Alden Chukka Boot!
Model Number 14580
Tan Suede with Plantation Crepe Sole
Fully Leather Linings
360 reverse welt with light antique finish
Brass Eyelets
In the hard to find size: 9E
Barrie Last
I'm fairly certain that this was a special makeup for Winn Perry. I picked these chukkas up a while back as seconds. Only looking to sell as I'm selling off shoes/chukkas/boots that I don't wear.
Yours for
$347
$299 shipped CONUS
(FedEx insured ground + paypal fees included]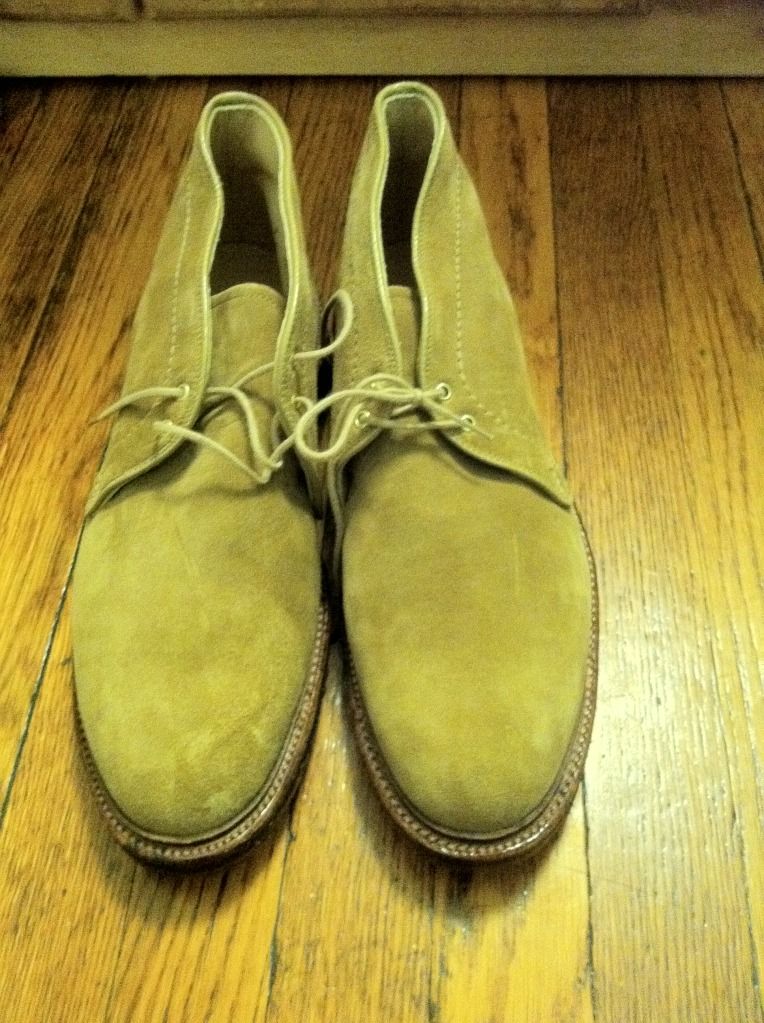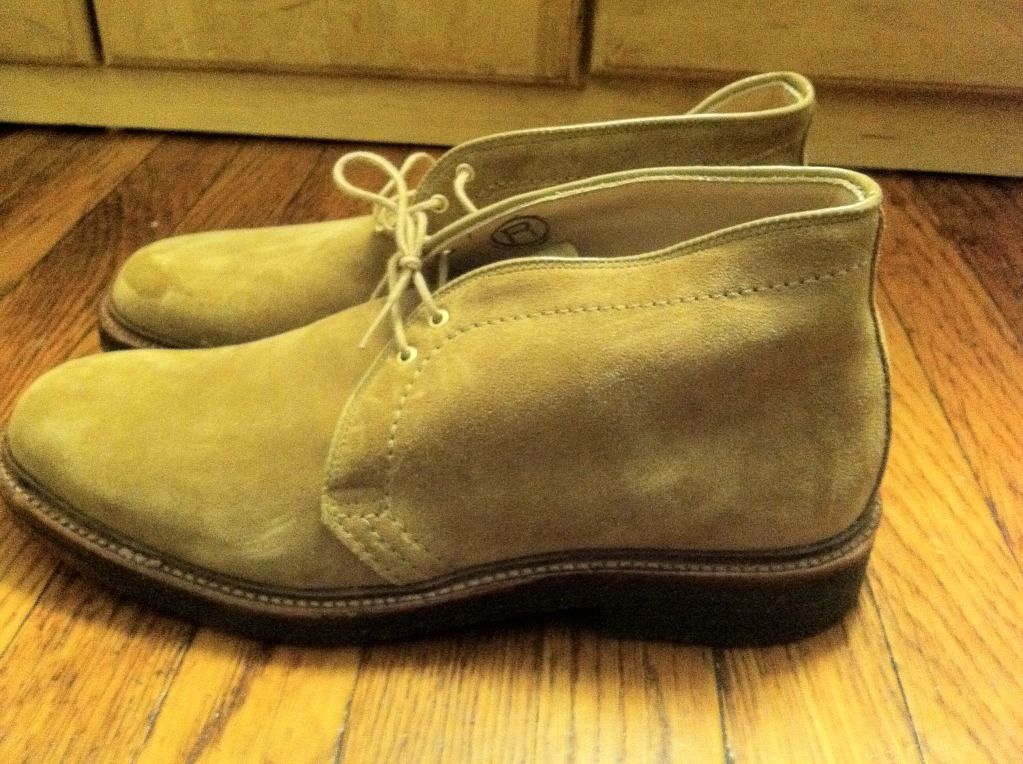 SOLD

Alden x LeatherSoul Chromexcel Chukka Boot - size 9.5D
If this isn't one of their first Aldens to sell out when it becomes available, it certainly is close
With no current ETA - nice opportunity to pick up a pair that is been worn less than a dozen times.
Made with Horween CXL, Barrie Last, with double oiled waterlock sole
I'm normally not a fan of 2 eyelet Chukkas, but this pair changed my mind.
Please note that the chukka boots are in terrific condition and well taken care of - always in shoe trees when not wearing. There is a mark on the inside right boot that I have tried to photograph. This is inherit with chromexcel leather.

Shoe box and shoe bags are included. Shoe trees are not included.

Yours for

$399 $365 $349

$325 shipped CONUS

Tried on twice but never worn outside (there is slight creasing, however. See pics)
Alden AF60- Black Shell Cordovan Straight Toe Boot
Size 10D- Plaza Last
Same boot as the one seen here for $625
Reason for sale: I picked up the same makeup on the Barrie last which works better for my feet
Alden shoe bags included

SOLD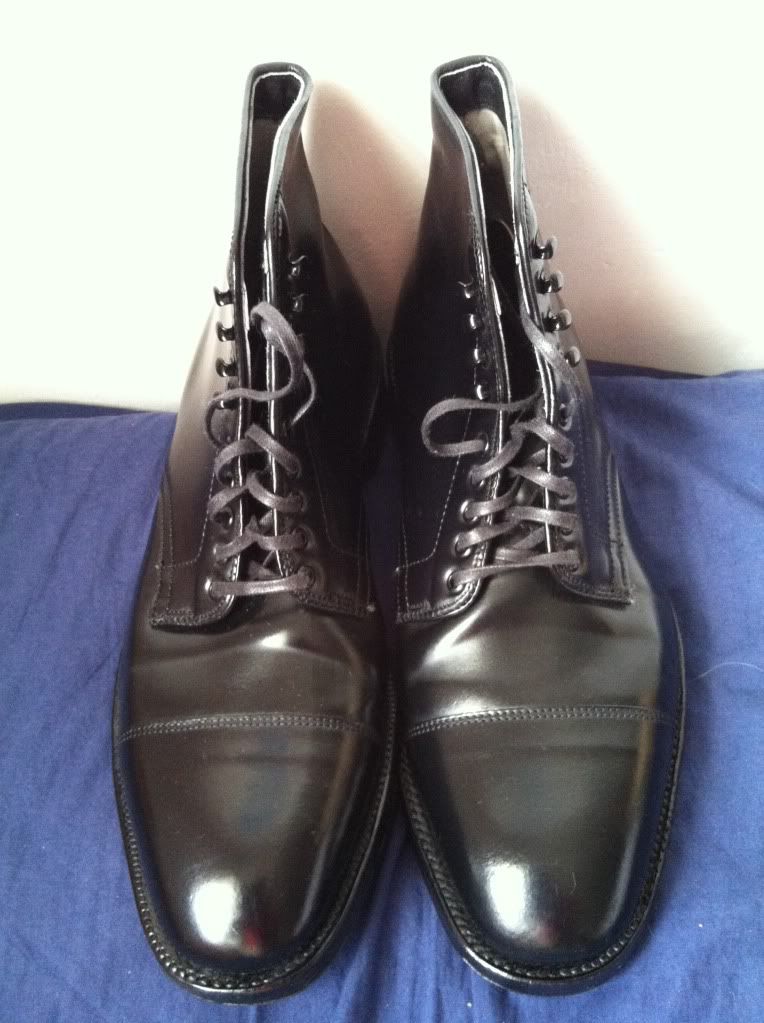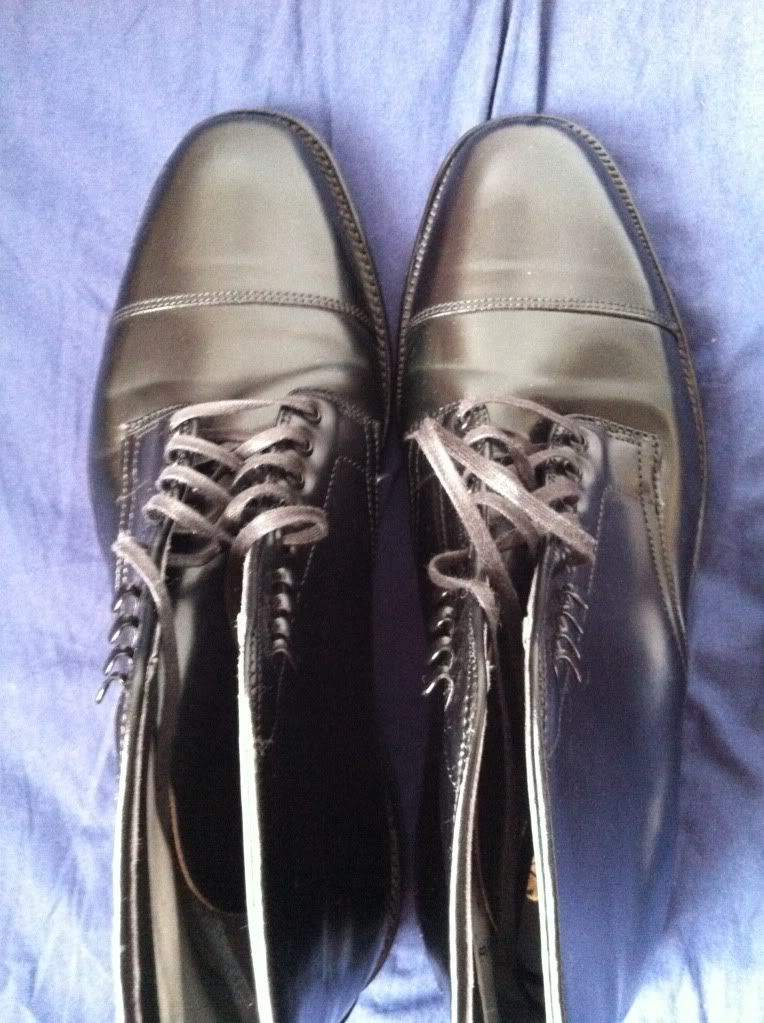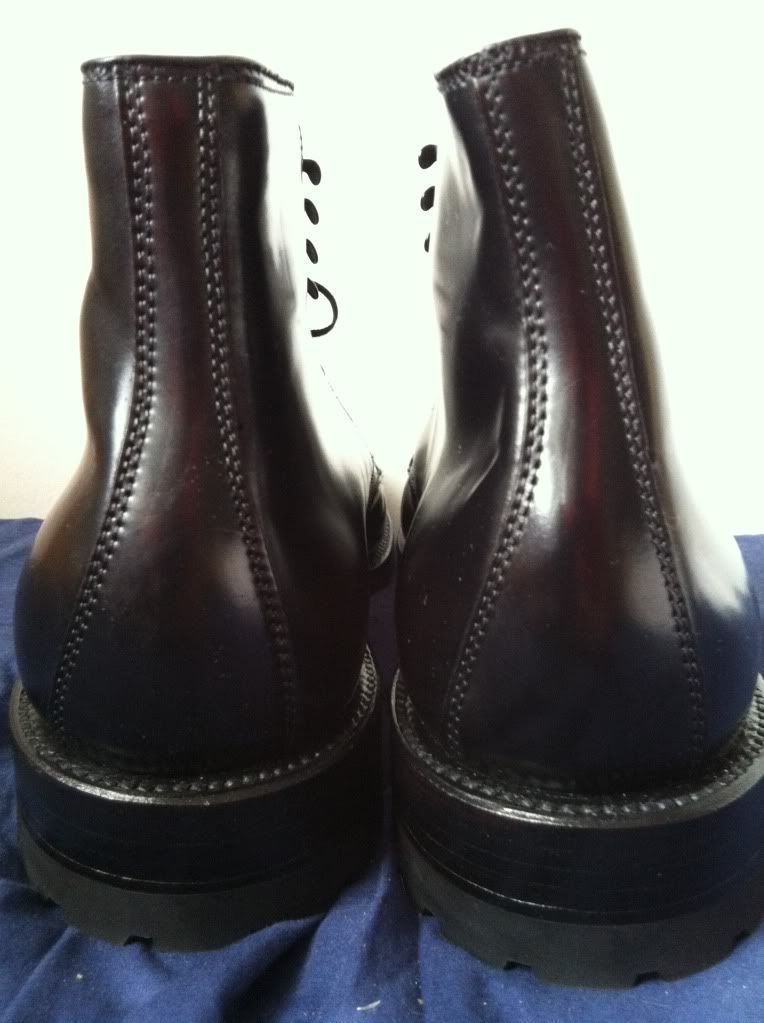 First Quality
Alden Color 8 Indy Boot
Commando Sole
All Eyelets
Size 10D - TruBalance last
Worn 5 times
Caveat: I picked up these boots a couple of years ago and have barely worn them. There is an issue with the heels of the boot that will probably need to eventually be addressed. There seems to be a slight separation between the sole of the boot and the heel. This is really only evident if you turn the boot in your hand and pull a little at the heel. That is when you'll notice a slight separation. This is evident if you hold the boot in your hand and pull at the heel a little bit, it will. Not a huge deal now since it can be worn, just noting for full disclosure. I have factored this issue into the price making it worthwhile for someone interested in the boot. The fix could probably be done at B. Nelson or if you send it back to Alden. If these boots fit me a bit better (1/2 size big), I would probably make the fix myself.

These boots retail for $663

Yours for $400 shipped CONUS SOLD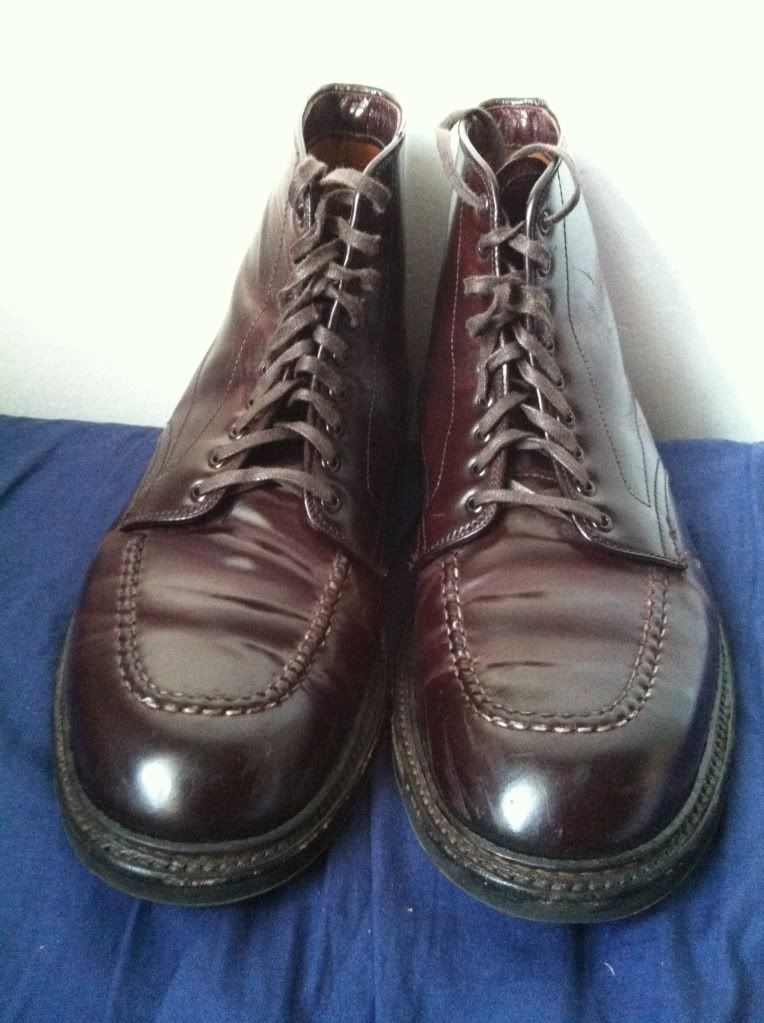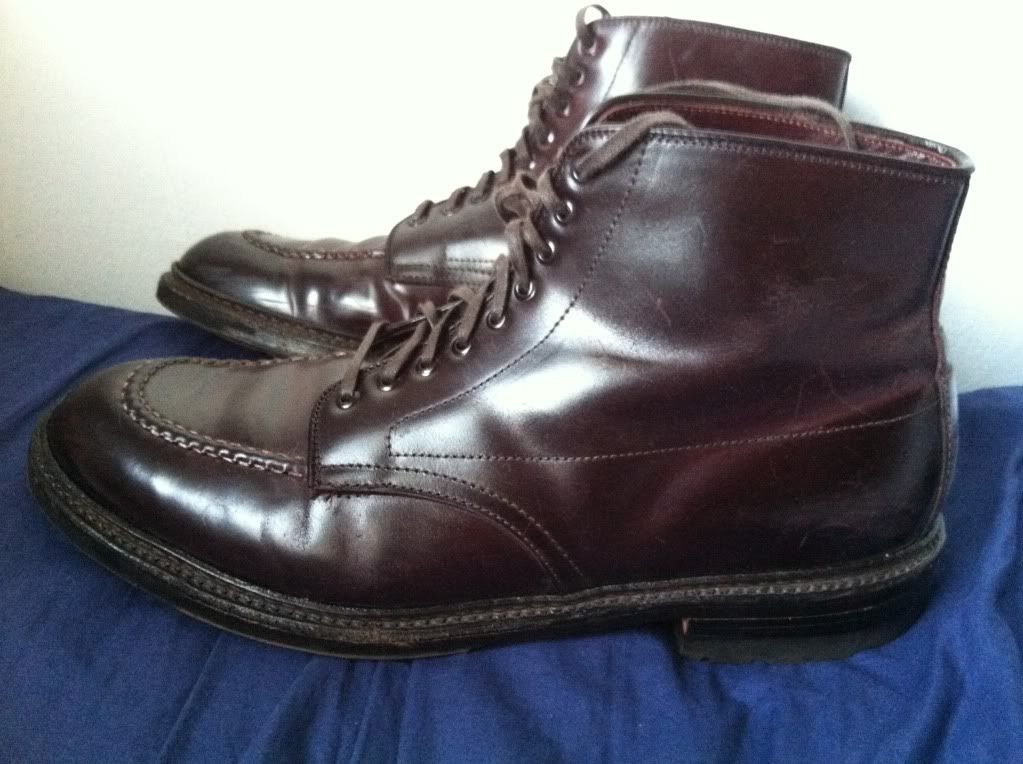 recently picked up a pair of Allen Edmonds Leeds in Burgundy Shell Cordovan. Size 10D.
They are brand news and marked as seconds.
There are some cosmetic marks, and some issues with the stitching on the right heel near the ankle. This does not affect the integrity of the shoe.

I got a pretty good deal on these, so and I'm looking to recoup my costs. Nothing more.
I tried these shoes on, and while they work for me in the length, they are slightly too narrow for my liking.
Made on the "1" last.

More information about the shoe can be foundhere

These are genuine shell cordovan, 360 degree Goodyear welted construction, can be re-crafted SOLD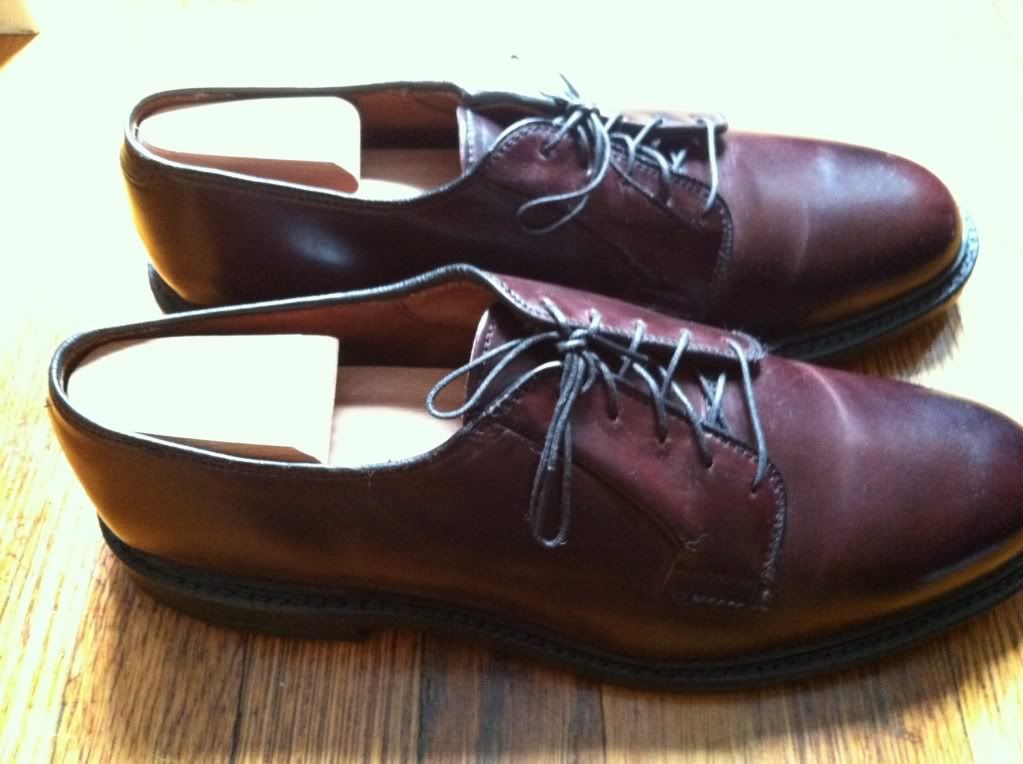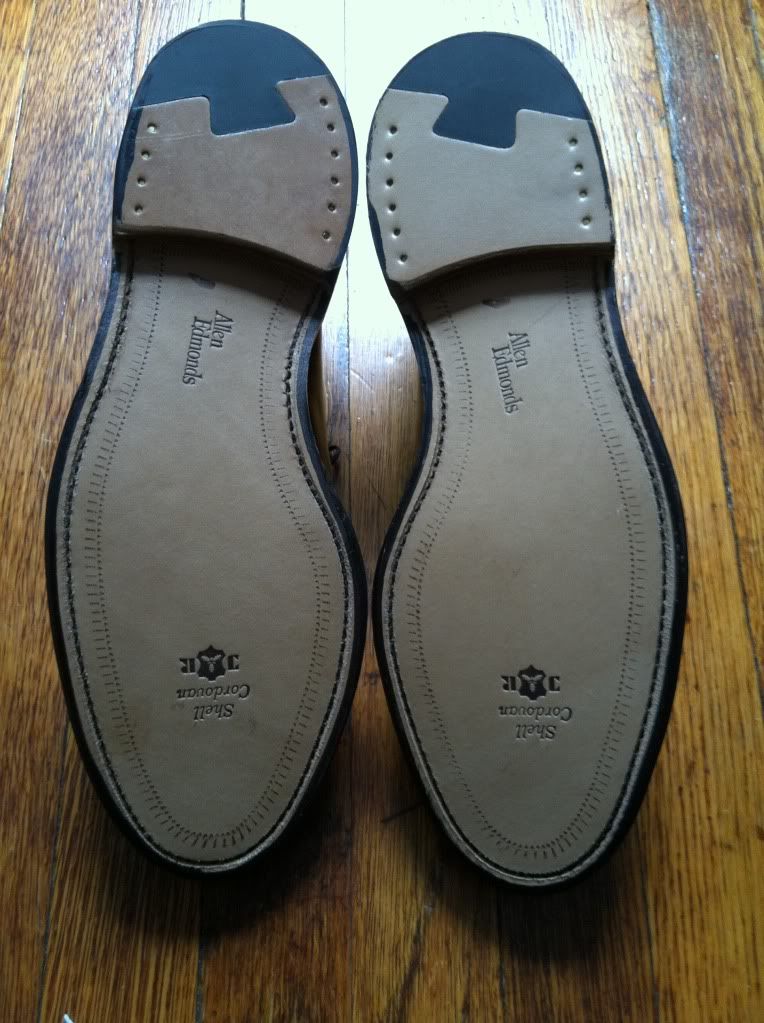 Tried on but not worn,
First quality
Alden Cigar Shell Cordovan LHS Loafer
Model # 6717
Size 10E
Van Last
Retails for $654

Yours for

$415

SOLD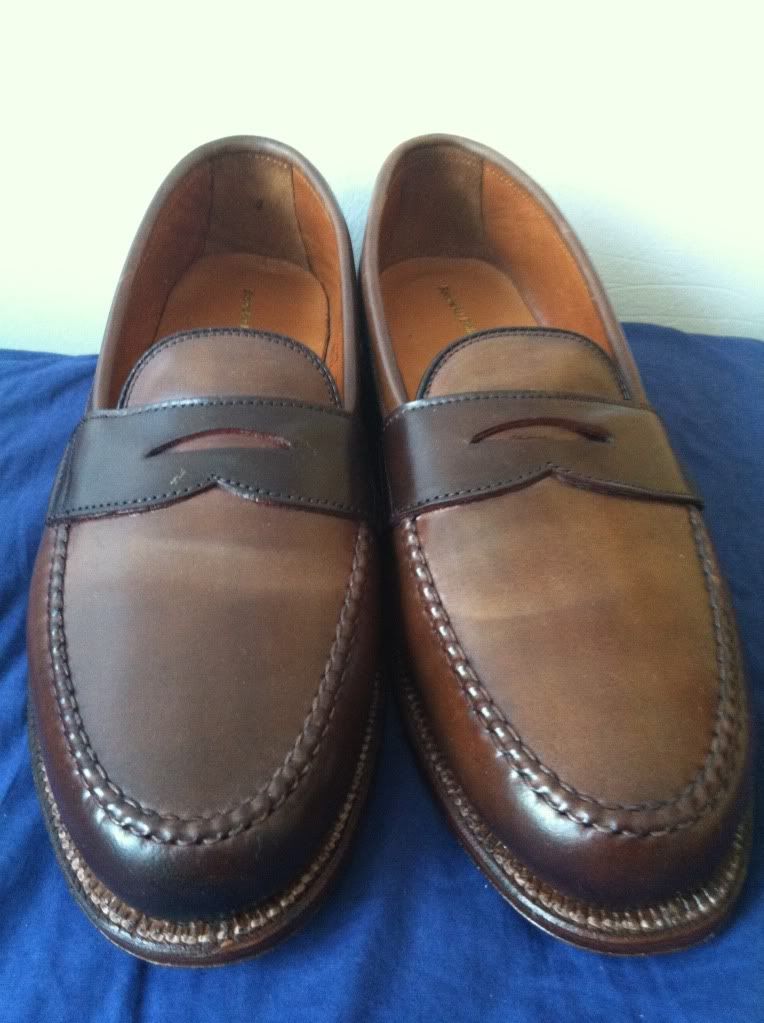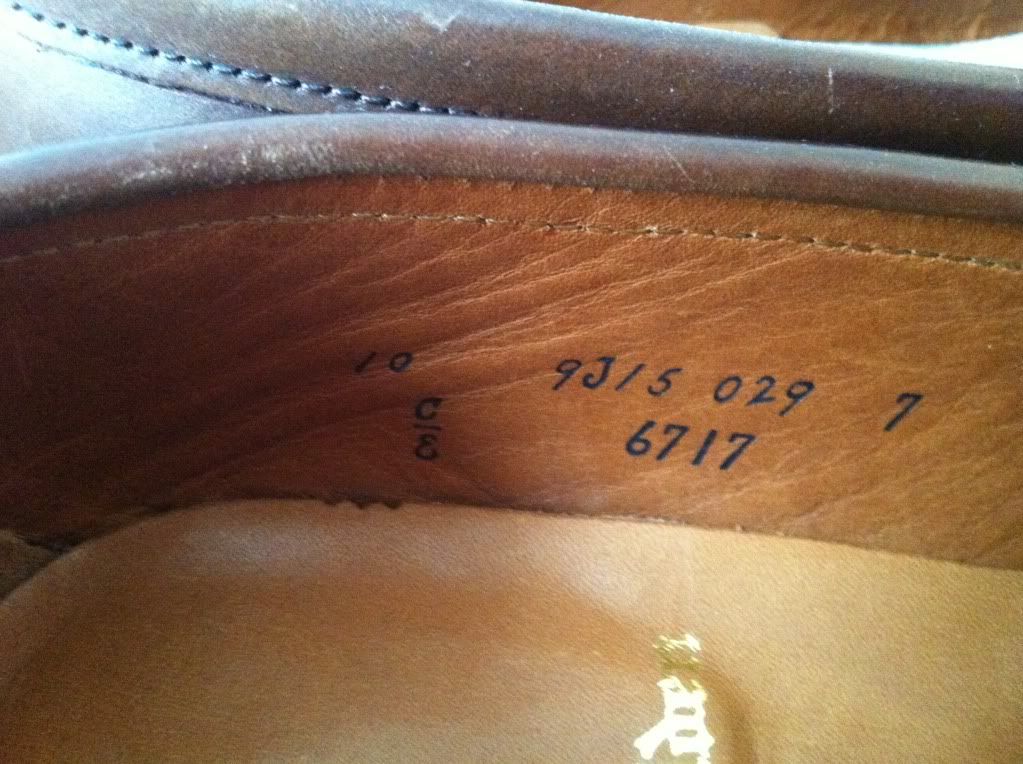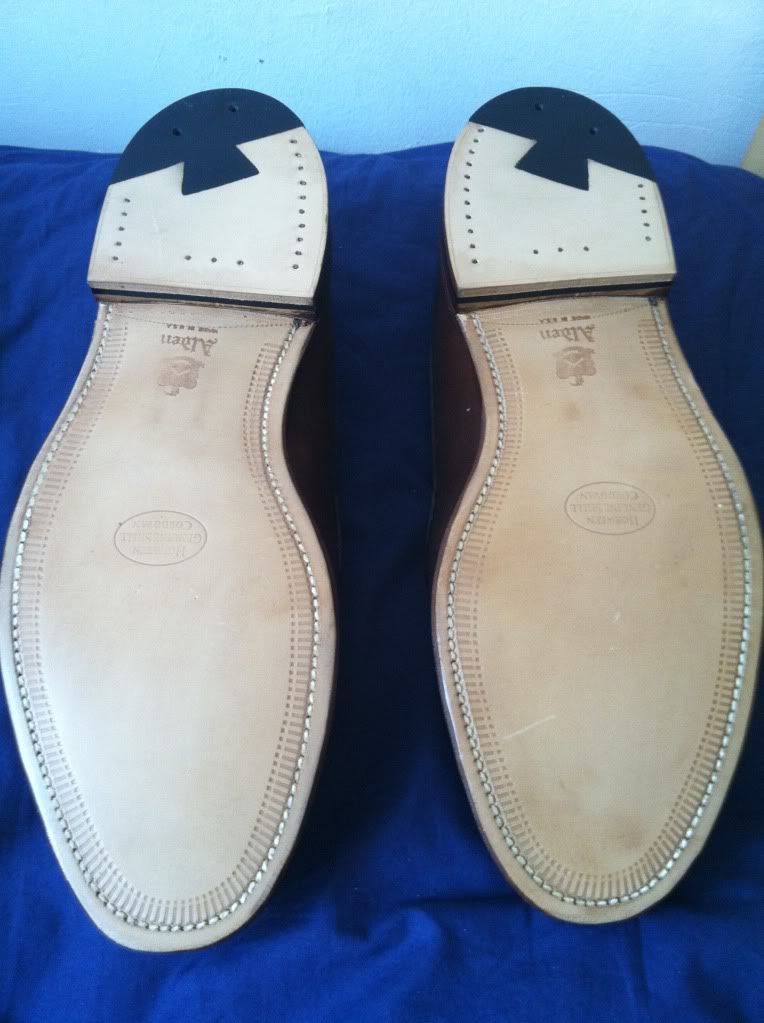 C&J for Ralph Lauren Marlow Wingtip
Size 10D

Yours for

$505

SOLD

These shoes need no introduction. These shoes were picked up on the last sale and I have found that the 325 last doesn't fit me as well as other lasts. Nice opportunities for those who missed out on these on the presale. Full disclosure: The shoes are unworn but were received with a light scratch on the right shoe.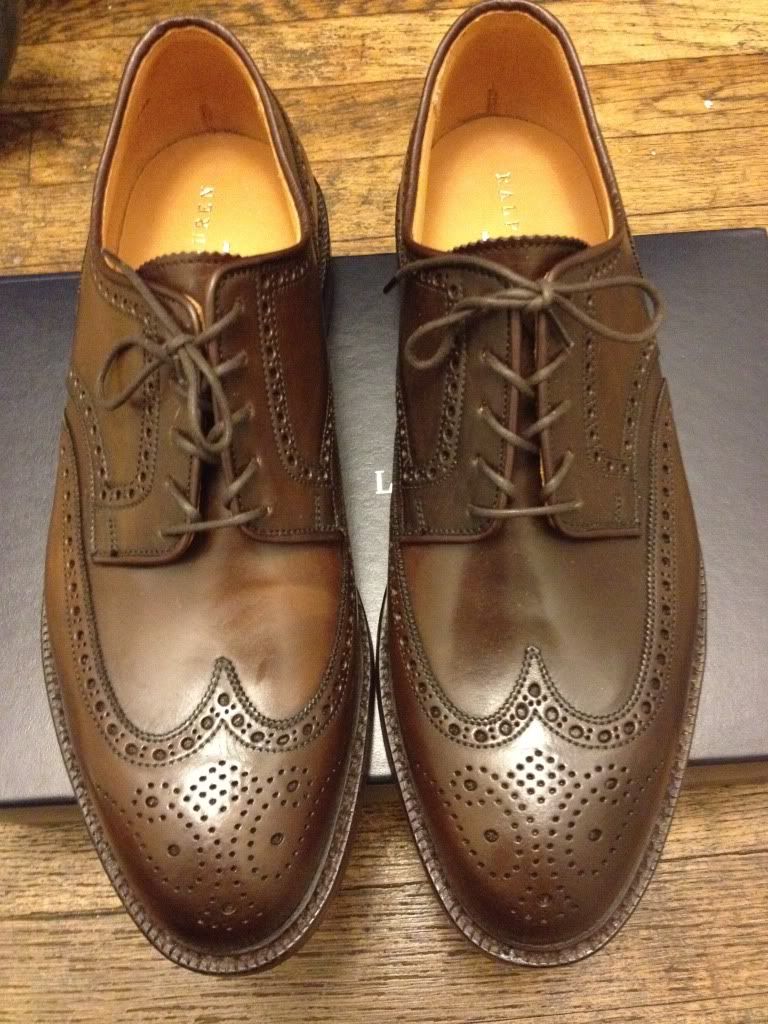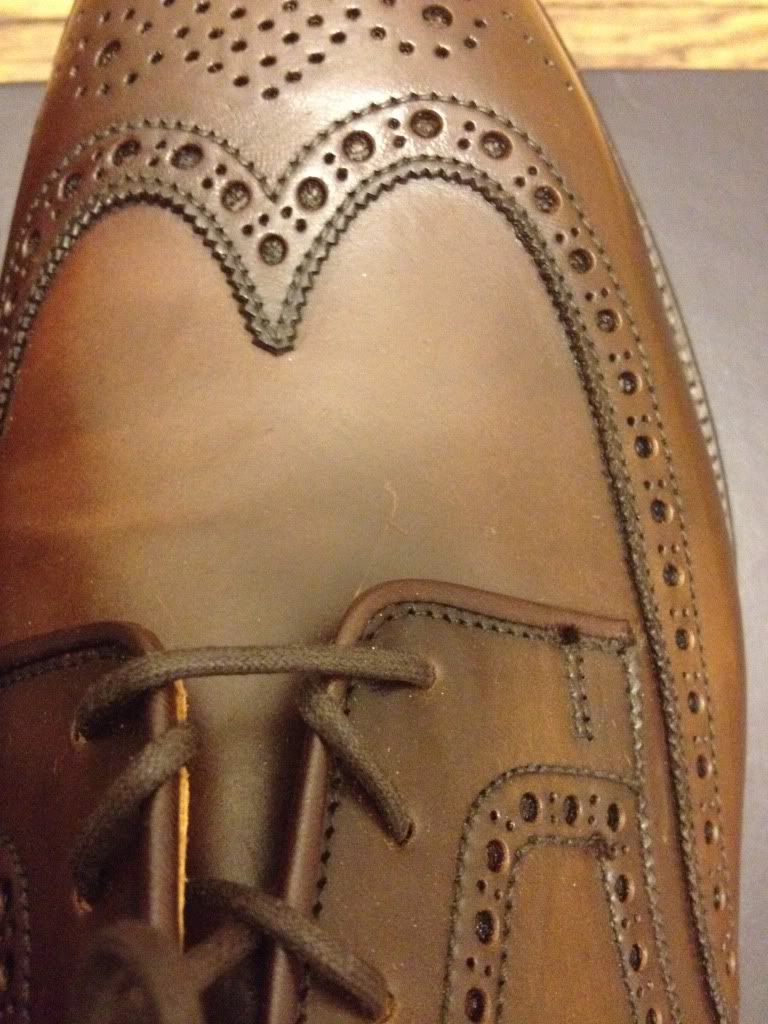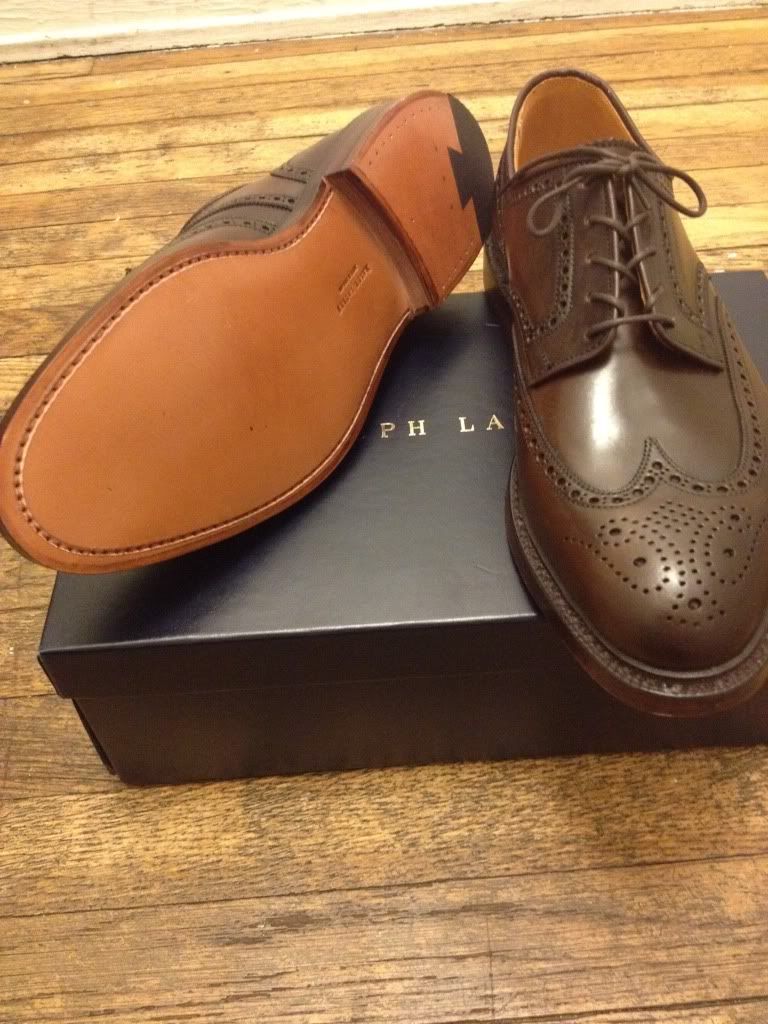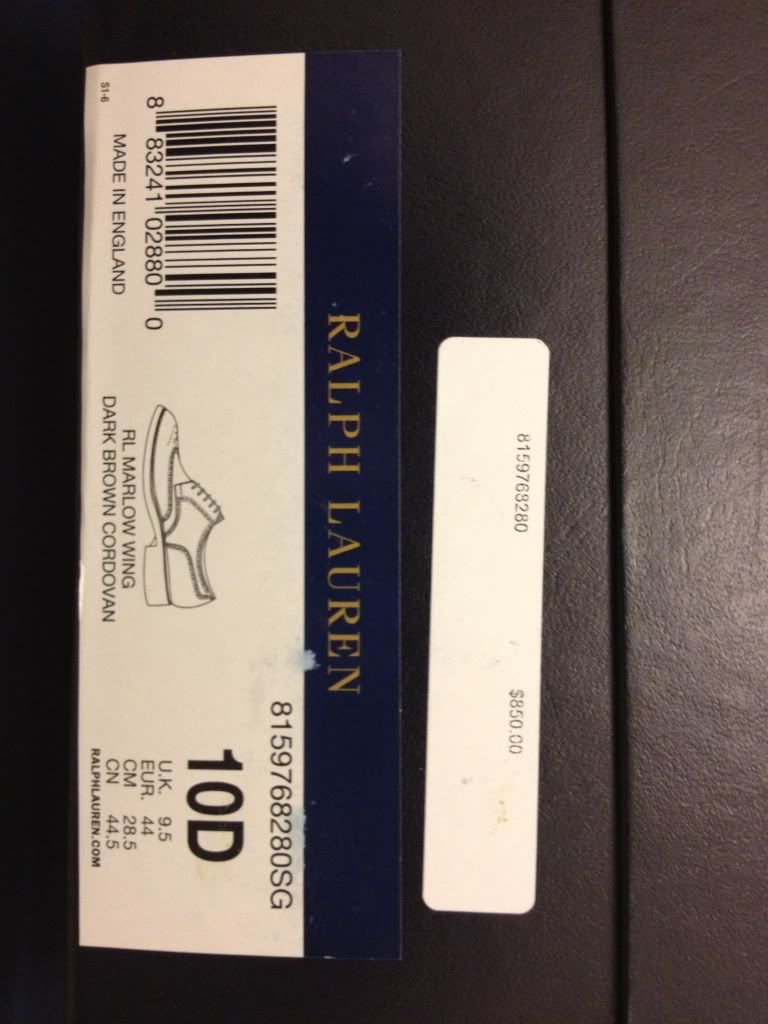 Tried on but not worn
First Quality
Alden Cigar Shell Cordovan Plain Toe Blucher (PTB)
Model # 93911
Size 9E - not a size that is usually available
Barrie Last
Retails for $690

Yours for

$640 $625

$599 shipped CONUS

Here's a nice opportunity for a shoe that doesn't come available very often with the E width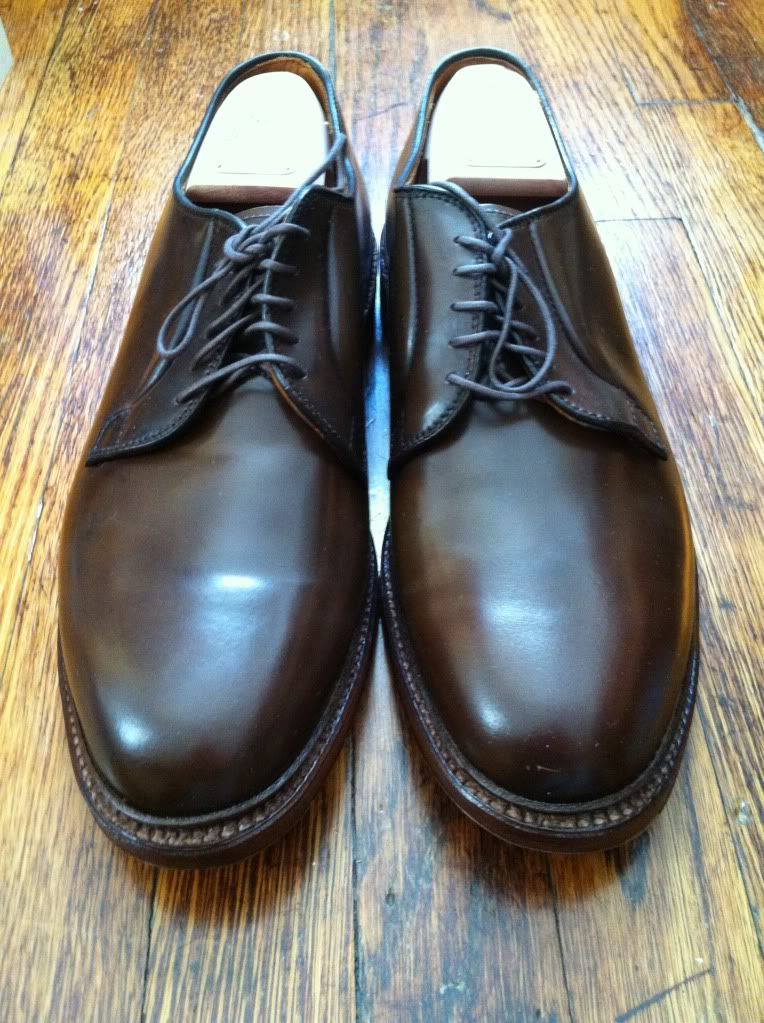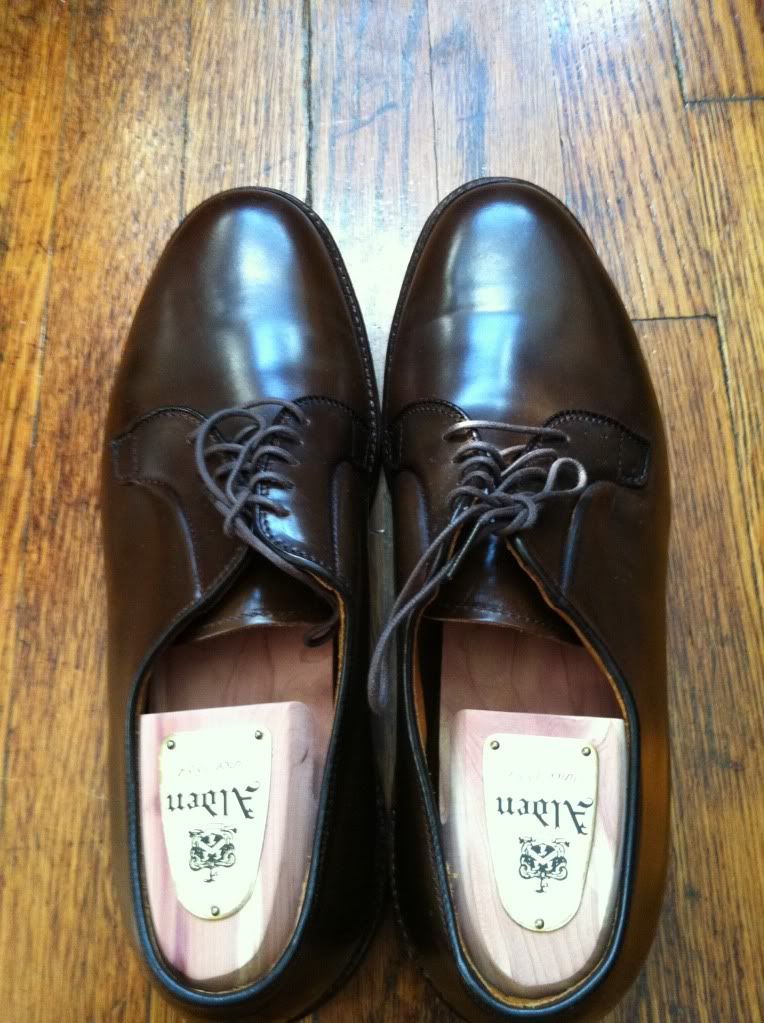 Edited by interlockingny - 2/3/13 at 1:25pm