This Classified is Closed
For Sale or Trade:
11.5 E Shell Cordovan Black Allen Edmonds Grayson Tassel Loafers
Will Ship To: Anywhere

I have these Allen Edmonds Grayson tassel loafers. Black Shell Cordovan - very good except for a couple of scratches (doesn't look like the surface was actually broken) and the fact that the soles will need replacement soon. Still, gorgeous shell, and after a trip to B. Nelson or whichever cobbler you trust, they'll be ready for another lifetime.
Here are a couple of pics, and a link to a photobucket slideshow.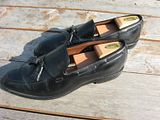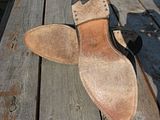 http://s799.photobucket.com/albums/yy278/michaelharris001/Holding/Black%20Shell%20Grayson/?albumview=slideshow
Two of the pics show scuffs (more glaring than in real life, but now you've seen them). The more horizontal one is outside heel area. The more vertical in inside near the front of the arch. They're on different shoes, but I don't remember which is which at the moment.
For trades - my sizes are in my sig - I'm interested in brown shoes, but would consider almost anything.
For sale, how about 130 shipped CONUS. International can be 120 plus shipping, but particularly for international, I prefer that you be an established forum member. Noobs and lurkers should also contact me about potential alternative arrangements.