Perhaps we fixate too much on what we wear to meaningfully approach what we wear.
In this thread, I'd like to take a different angle and talk about stylish non-clothing things that we own, use, desire or admire. Yes, it's a very broad field. It can be a personal accessory more germane to this forum, such as a pen or pair of cufflinks or card case. But it can also be a tool or gadget--a calculator, a camera, or a chef's knife. It can even be a piece of machinery, an artwork, or a building. Even food counts. Anything goes, so long as: (1) it isn't clothing, and (2) you can discuss what makes it stylish. Extra credit if you can relate the item to how you dress.
Let's start. I recently posted this in another sub-forum, but it's relevant here and inspired this thread:
It's a Leica MP rangefinder camera, in a bespoke calfskin half case and attached to a braided strap (both by the same Korean craftsman). How many megapixels? Zero, infinite, or approximately 18 are all equally defensible answers. It shoots 35mm film. No wires, no plugs, no batteries (well, not really). It was a special order from Leica intended for my 30th birthday, though I just received it a couple of days ago.
I've admired this camera since I was in high school. Sure, the surface aesthetics are pleasing on their own, but it's the artful synthesis of function and form that make it special. I say "artful" because the design transcends the service of pure utility without distracting from it. A fine and rare balance. A tool can be bare and industrial, capable of perfectly executing its assigned task, yet inspire no admiration of its appearance, feel, or utility. It can also be decorated and encumbered with so much flourish that its function is obscured--either by impression or, even worse, by substance. The Leica M is spartan, but elegant. It's straightforward, but charming. It works well and inspires the user to work with it.
But I have to admit, there is also a distinctly personal and sentimental attraction for me. My dad loved cameras and photography when he was younger. This camera, with its 60-year-old design and potential for multi-generational use, makes me feel a little more connected to him. He bought this OM-1 for himself when he was about my age, back in 1972: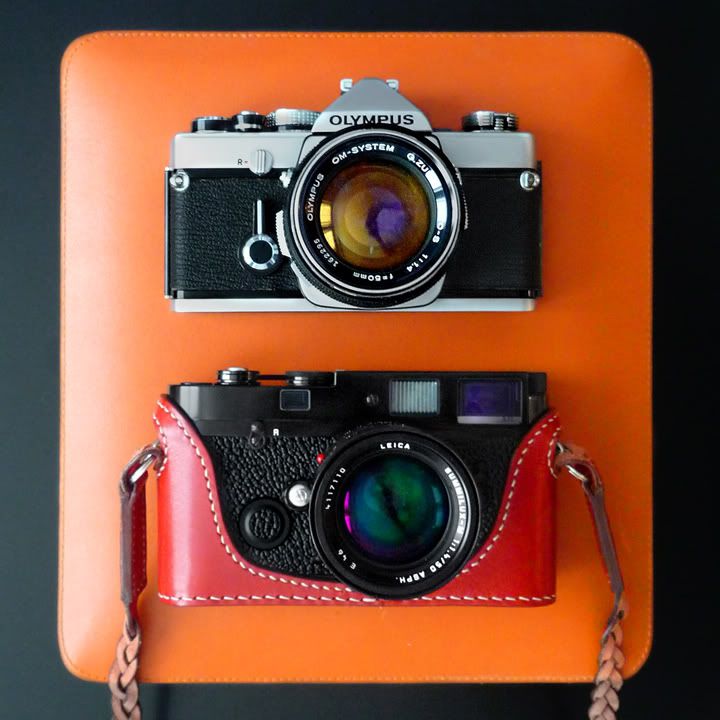 They look like they could be contemporaries, not cameras separated by 40 years in age. If style is about personality, it stands to reason that the person endeavoring to be stylish should embrace the things that are personal to him.
I love the half case and strap, too.