This Classified is Closed
For Sale:
FS Bally Vadrel Boots 9.5 US - Chocolate
Will Ship To: Anywhere

Hi guys, I picked up these shoes from the now defunct website Cladmen.
They look and feel great, but they're just too big for me so I'm selling them. I could return them, and probably will if they don't get much interest, but I thought there might be some folks out there who wanted to grab a pair but missed out.
Approximate measurements:
12.25" length of the sole
4.25" at its widest point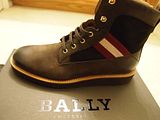 Brand new, never worn outside, perfect condition-- comes with the dust bags and tags and everything.
Looking to get what I paid for 'em, $200.
Edited by untungl - 3/5/12 at 9:03am