This Classified is Closed
For Sale:
New Brooks Brothers shirts **ONLY TWO LEFT** **FINAL DROP**
Will Ship To: Anywhere

Here is a small collection of shirts I brought back from a recent excursion to the Brooks Brothers clearance center. All of these are 100% new and in flawless condition. They have a line through the label to prevent returns to a retail outlet.
Shirts are $42.00, shipping included. For international buyers, contact me and we'll work out a reasonable rate. I ship USPS first class with tracking number and delivery confirmation.
Blue pinstripe button down (regular-- that is-- "must iron" cotton). Slim fit 15.5/32.
$42 --> $40
Pink (pink but more on the orange side of pink) non iron extra slim fit. Size 15.5/33.
**SOLD**
Lavender with fine prince of wales check. Non-iron, slim fit. Size 15.5/33
**SOLD**
Pink (but less orange and more lavender than the shirt above) Egyptian cotton shirt (a "must iron"). Strong point collar, beautiful shirt, retails for $135.00 This is the luxury line shirt, which is cut a bit more slim than the regular shirts. See BB website sizing chart for details
**FINAL DROP** $
40-->36
[seriously! A $135 shirt for $36! Only dropping this so low because it is not my size]
Size 16/33
White with grey check. Non-iron, extra slim fit. Size 15.5/33.
**SOLD**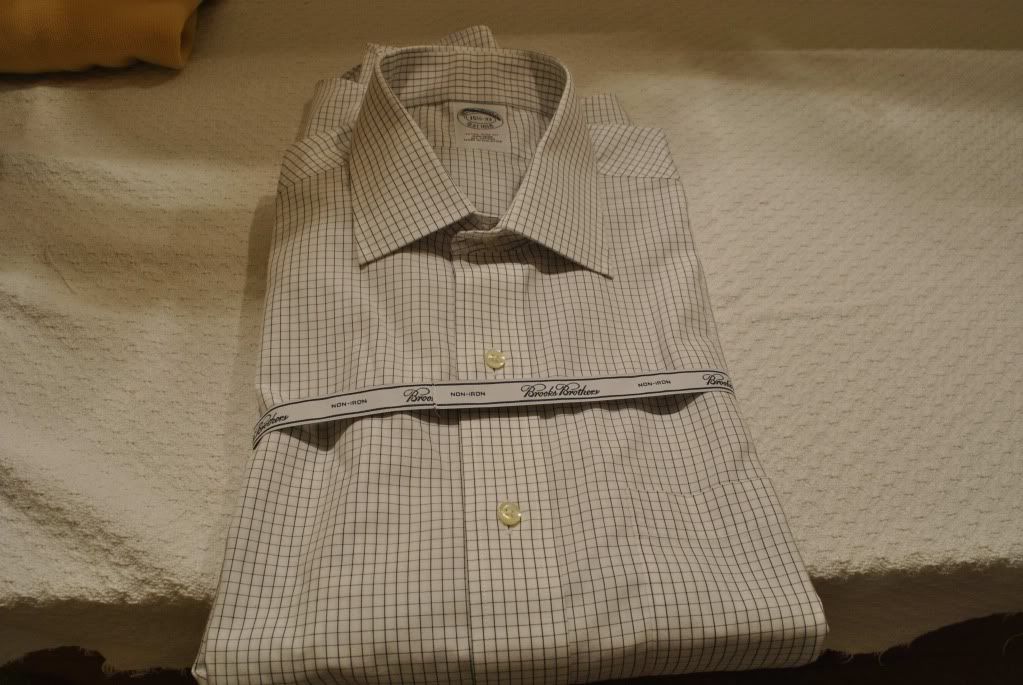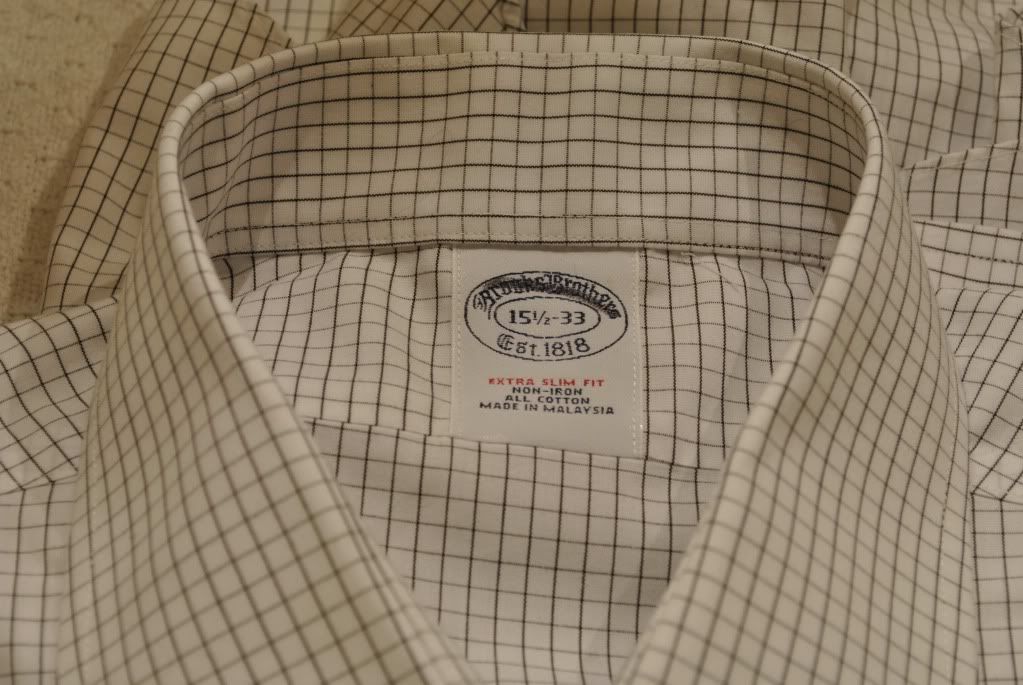 White pinstripe, spread collar, extra slim fit. Size 15.5/33. FRENCH CUFF.
**SOLD**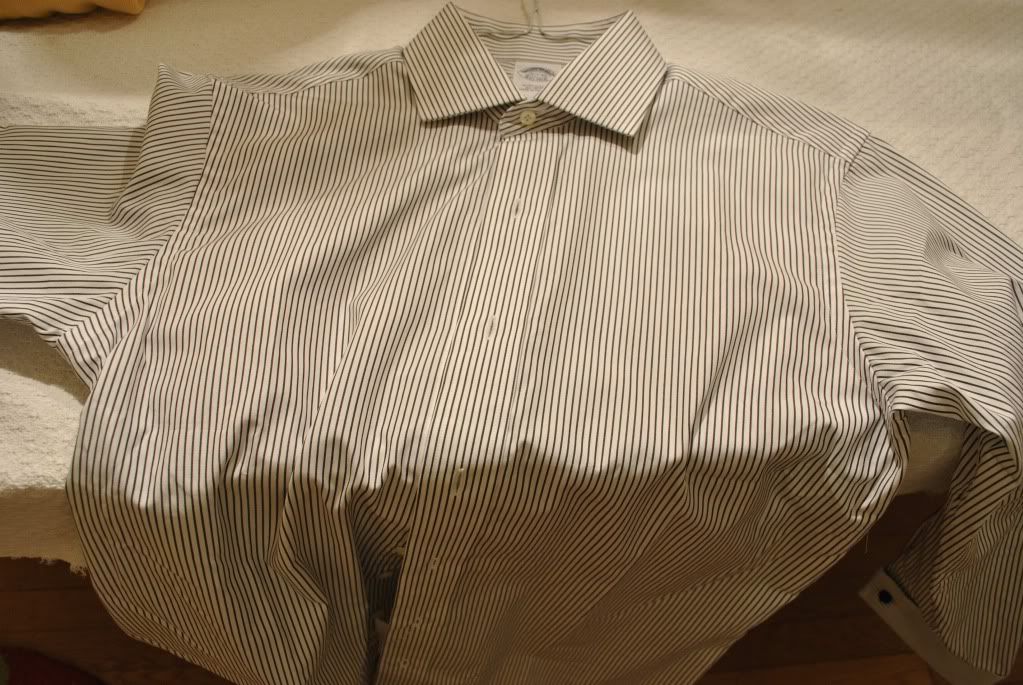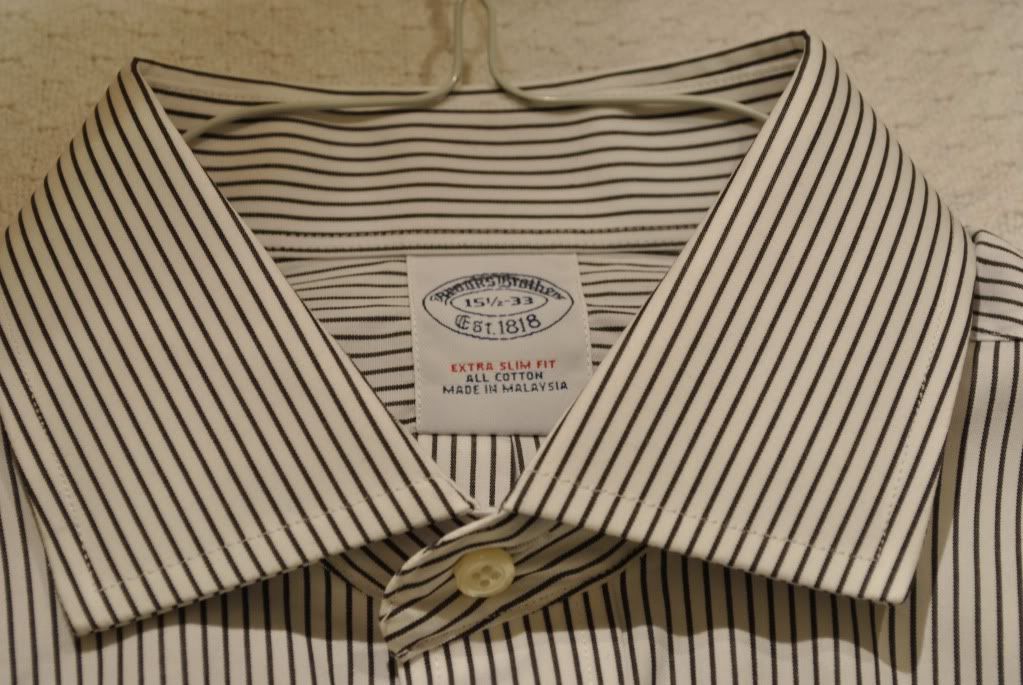 See also BB ties:
http://www.styleforum.net/t/286216/new-brooks-brothers-ties
New BF casual shirt
http://www.styleforum.net/t/287235/brooks-brothers-black-fleece-casual-shirt
Edited by AMProf - 4/5/12 at 8:54am