This Classified is Closed
For Sale or Trade:
Black Park Ave 10.5 EE Drop (MacNeil and Aldens are sold)
Will Ship To: Anywhere

Feb 2. Everything is gone
Jan 5 - Only Park Avenues Remain
Jan 1 drop: All prices include CONUS shipping. Others (and also buyers with under 25 posts) please contact me for conditions.
Once upon a time I thought I was an 11D, so when I discovered decent shoes, I just bought. Alas. Then I learned I was a 10.5E! Well, if one E is good, two might be even better. Alas. I really am 10.5E, so my other purchases now go up for sale, for your benefit.
You know what they say:
SOLD
10.5 EE AE Park Ave Black $135 (Would also consider trade for similar shoe in 10.5 E or 10 EE)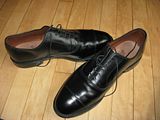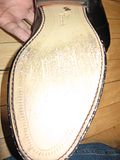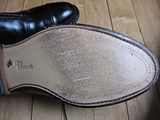 I purchased these brand new and only wore them once to a wedding. A couple of trips across the parking lot, otherwise just standing around in a church and reception hall. Dry Wedding! Not good for me, but for you it means I didn't dance or spill booze on the shoes!
SOLD
11 D Alden Shell 986 $225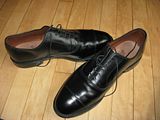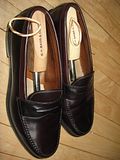 These are the original soles, will be ready for replacement fairly soon. Uppers are still in awesome condition, and the footbeds barely seem like anyone put them on. Not sure how they managed to wear down the soles with so little impression inside. Anyway, Great shell for you, just too big to make work. (I don't like the LHS with hiking sock look.)
SOLD
11 D AE MacNeil in CHILI! calf (not grain) $95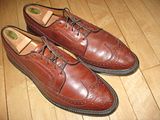 I don't know when these were produced - but I will definitely be watching the catalog to see whether they offer a smooth Chili MacNeil again. It is not the grained leather they frequently use on MacNeils. This is confirmed to be "Chili," and you won't find many other examples. They've been reheeled, but the soles have some time left, and the uppers are still very nice. Heck of a lot cheaper than special ordering them.
I'm trying to convince myself that the 10 E pair of AE Cambridge I recently picked up fit well enough. If I not able, I'll put them up for sale as well. (bought them because I bought into the "cordovan fits large" theory.)
Edited by Patrologia - 2/2/12 at 3:48pm