This Classified is Closed
For Sale:
FS: Ralph Lauren Black Label 2 btn Anthony Suit Black 40R
Will Ship To: Anywhere

Hi guys,
I've got a RLBL 2 Button Anthony Suit 40R in Black for sale. It hasn't fit me in a while and I don't know why it has taken me so long to sell it but... here we are. It's in very good condition and hasn't been worn more than 10 times.
A few pics to prove I actually have the suit (I suck at taking pictures of black suits indoors):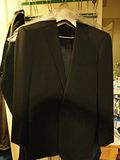 Forgive the crappy wire hangers they are on, I took these pictures before moving them onto some proper coat hangers.
(approximate) Measurements:
jacket:
20" pit to pit
25" shoulder to cuff
pants:
33" waist
33" inseam with about 2" to let out
no cuffs
Any questions, just let me know. Looking for $500 + shipping, but open to offers.
Edited by untungl - 2/1/12 at 2:37pm