This Classified is Closed
For Sale:
New Add 2/26: Alden Sand Suede Longwings 10D - Leydon Last | Trickers Boots | Alden Tan Suede Chukkas
Will Ship To: ConUS

Alden Sand Suede Longwing
Size 10D - Leydon Last
Brand New, never worn
I purchased these shoes as seconds. There are a couple of subtle marks on the suede that I tried to capture in the picture. There's a good chance they can be taken care of with a good brushing, however I will leave that up to the buyer. The truth is that I would keep these shoes, however the Leydon last doesn't work too well for my feet. I purchased these shoes since they were advertised on the Barrie last, however I called Alden and spoke with a couple of others on here, and the model number of the shoe, matches the run that Alden did for Epaulet. Great makeup with oiled soles. Great for the spring or summer. I'm just looking to recoup my costs. Paypal fees and shipping are included in my asking price.
sold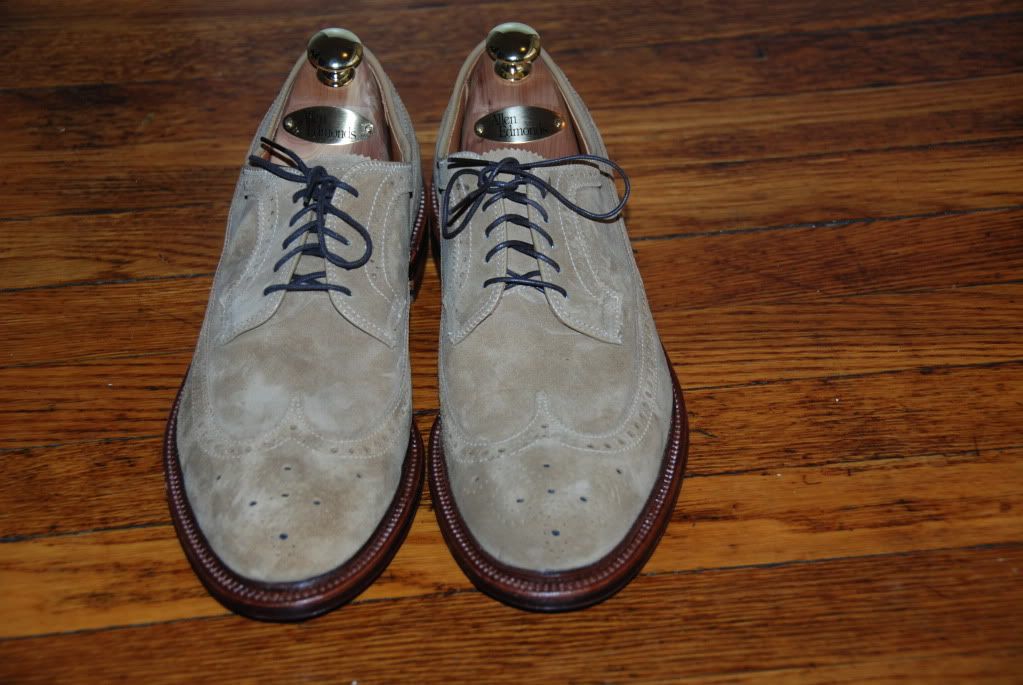 Available
Trickers Burford Boot
Espresso Scotch Grain - Pebbled leather
UK 9
Retails for $730
sold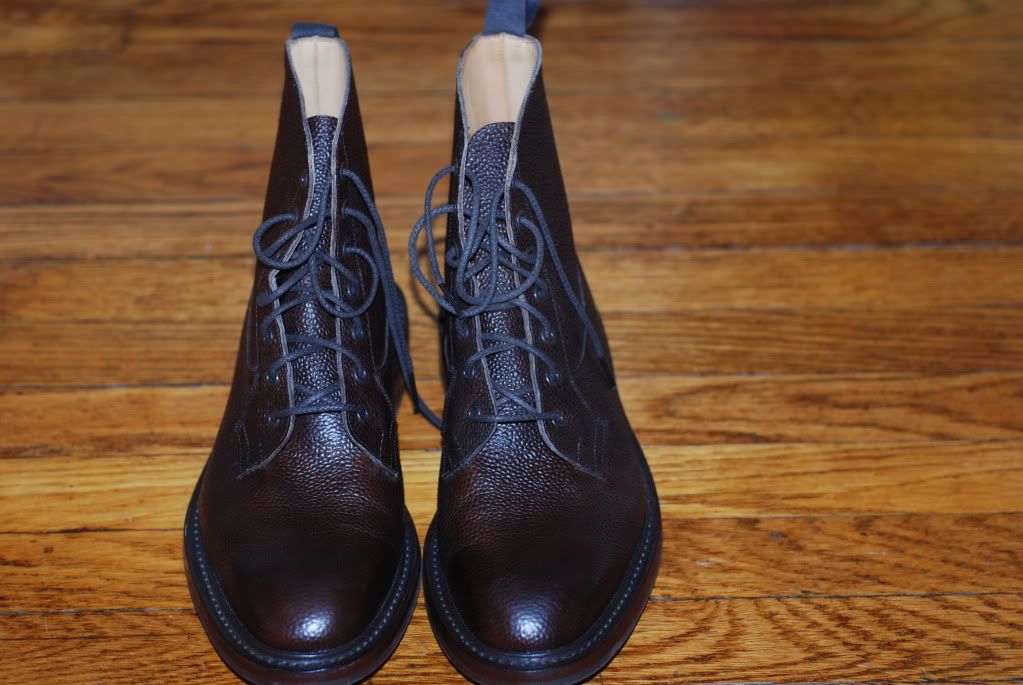 Alden Tan Suede Chukkas
10E - Leydon Last
These chukkas are new, but I do not have the box. I will ship them in generic shoe box that I have
Model - 1494
First quality - not seconds or factory rejects
Retails for $460
sold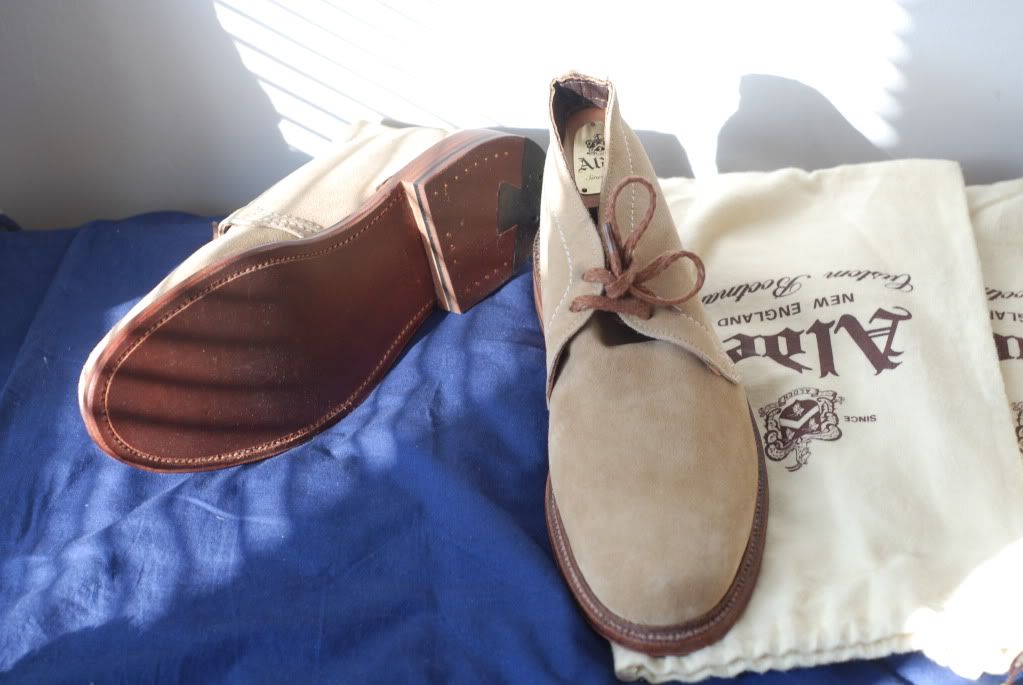 Sold
Here are a couple of Alden seconds I picked up but haven't really wore:
Alden x Winn Perry Burnished Tan Captoe Boot
Size 10D - barrie last
Double Waterloc soles with Starburst Heel
Light marking on soles from indoor wear in office
This cost me $309.95 with shipping.
[sSOLD[/s]
Alden Natural Chromexcel Plain Toe Boot with the very comfortable Crepe Sole (very similiar to the popular Roy Boot except this is Natural Chromexcel instead of regular Chromexcel. There boots would probably serve someone better who want to wear the heck out of these. Natural Chromexcel darkens with age. The flaw on these boots is the darkened spot on the bottom of the boot (pictured). This would probably blend in as the boot ages.
Size 10D on the Barrie Last
Sold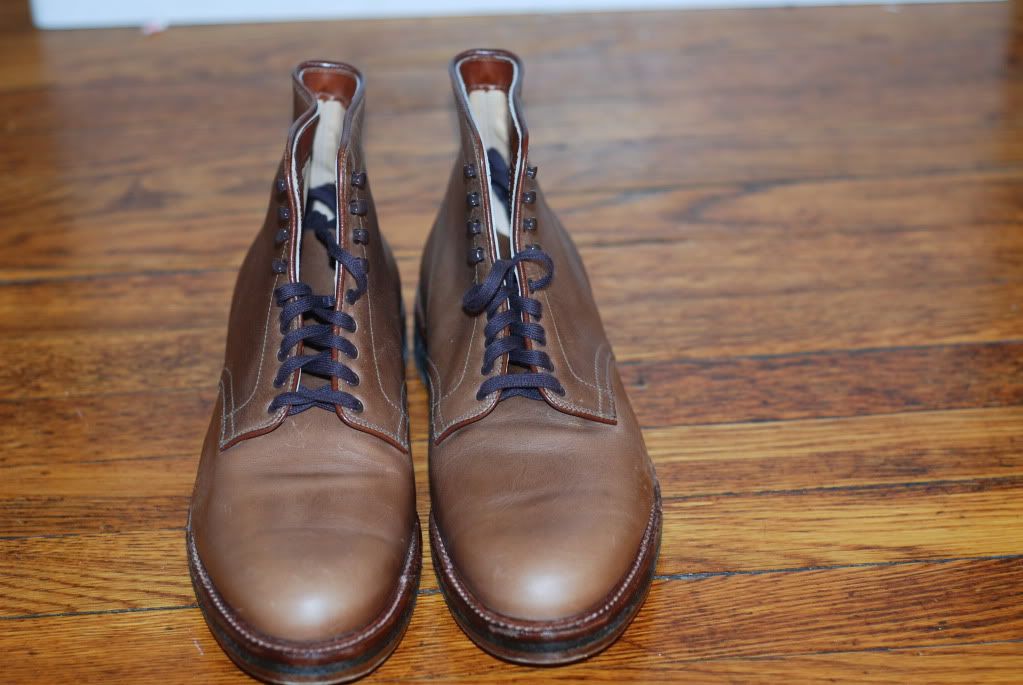 Trying to free up space, so I'm putting some boots I rarely wear, or have not worn at all up here. I would like to move these quickly, if possible, so I have priced accordingly. Thank you for looking.
Trickers Wingtip Boot
UK 9.5 (~US 10 - 10.5)
Color: Coffee
Worn 2x before I realized the UK9 size fit me better.
Sold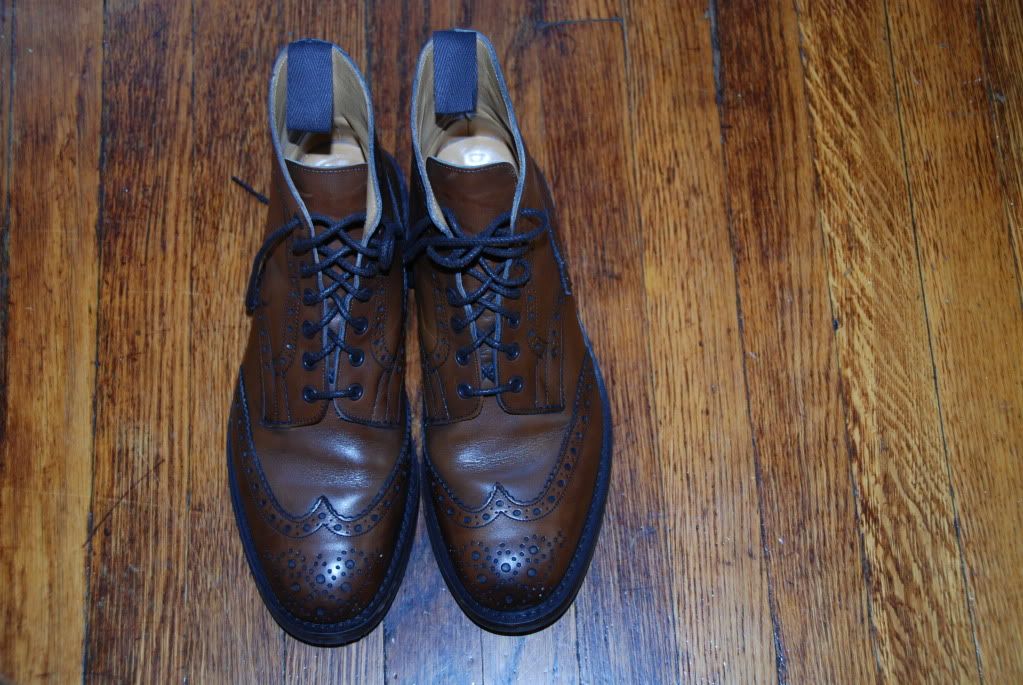 Alden x LeatherSoul Ultimate Jumper Boot - Rugged Horween brown chromexcel
Size 10D - Trubalance Last
All Eyelets - Double Waterloc Soles
New in Box - comes with Alden box and bags
Sold out in a matter of minutes.
$OLD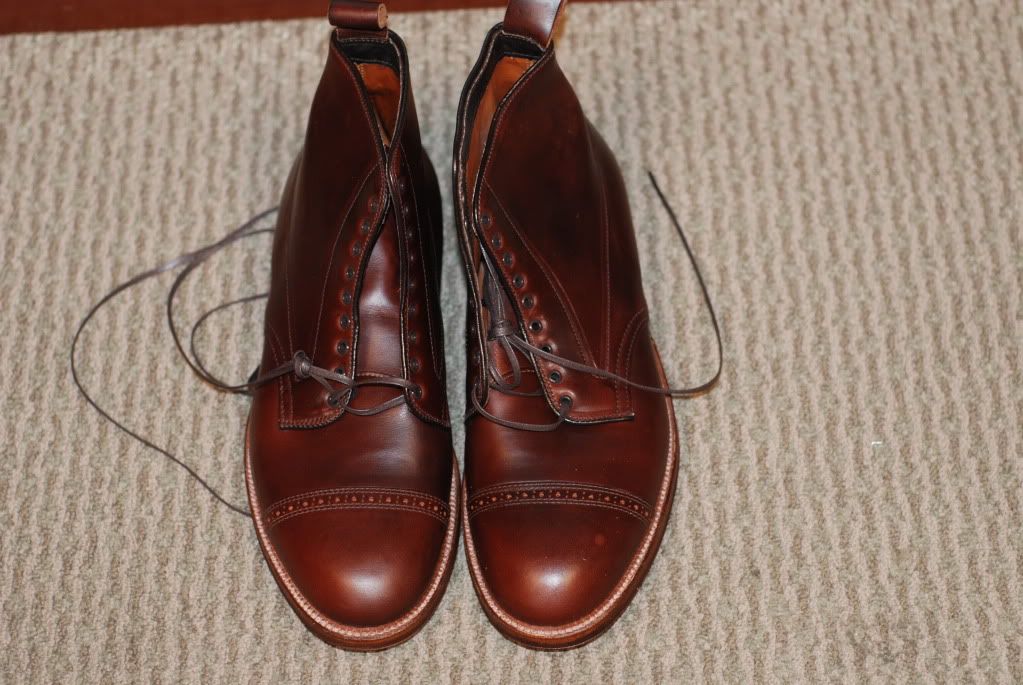 Alden Black Calf Wingtip Boot
Commando Sole
Size 9.5E - Barrie Last
Tried on but not worn
This pair was bought as an irregular. The flaw is in the last picture, there is a slight needle mark in the rubber portion of the commando heel. Does not affect the integrity of the boot.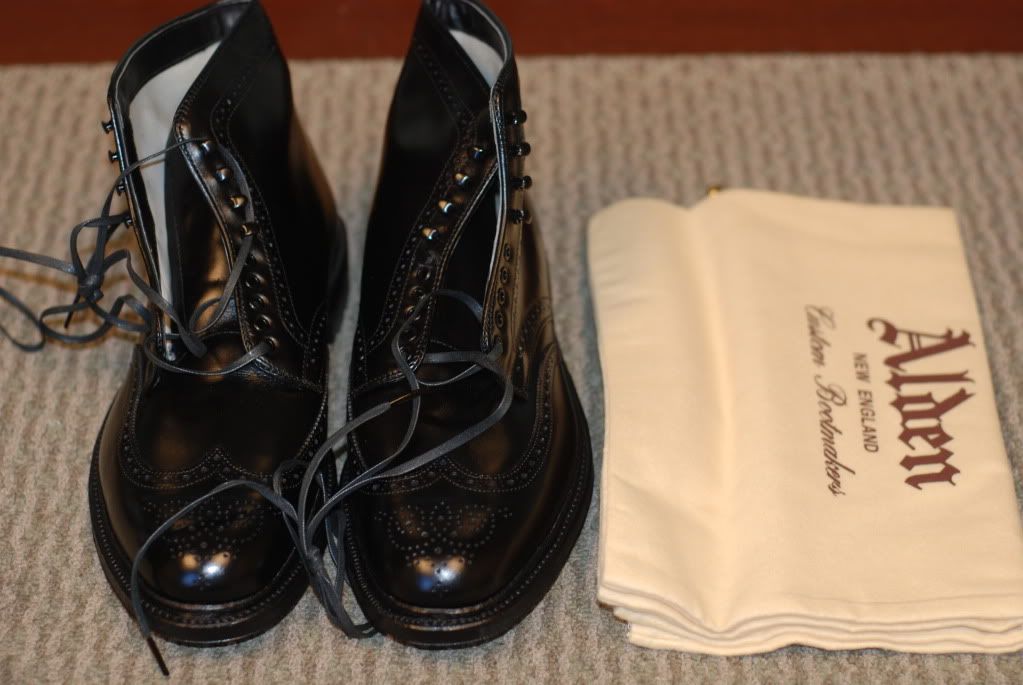 Pair #3-
Alden Natural Chromexcel Plain Toe Boots
Size 10D - Modified Last
I wore these boots for 2 hours at work before determining that a 9.5D/E on the Modified last works best for me. I'm glad I purchased these boots, not just because of the nice design, but it helped indicate that the Modified last is a great last for me.
Double Waterloc Soles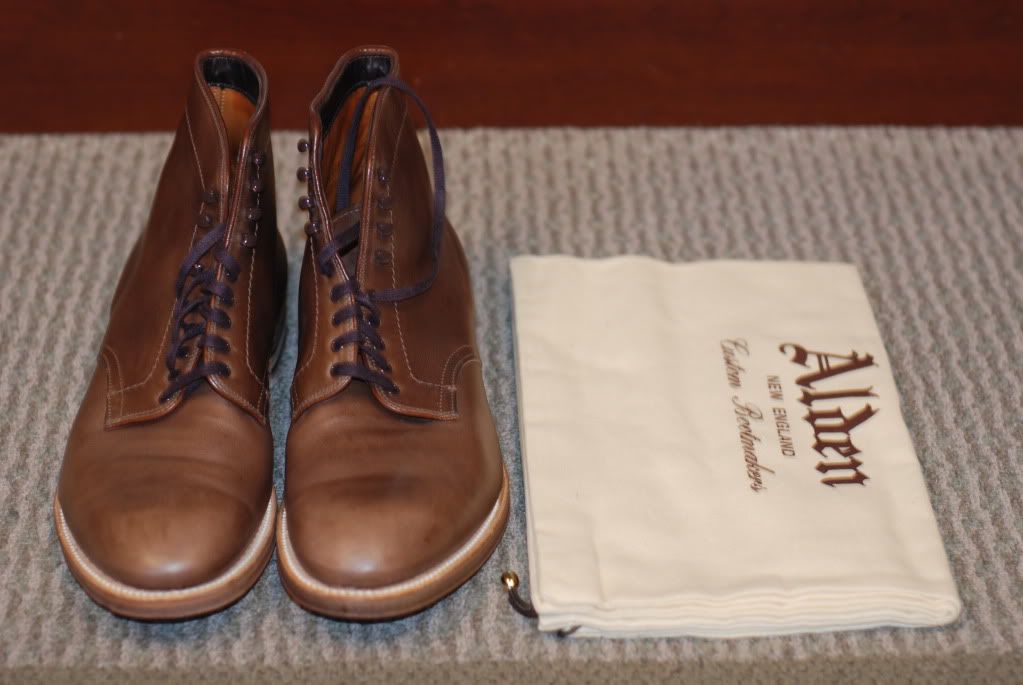 Edited by interlockingny - 5/8/12 at 10:15am