I'm looking for a camera bag to fit a basic rangefinder kit: (1) one camera with one lens attached, and (2) film rolls. As many of you may have noticed, most camera bags are hideous and over-complicated for my needs. I've scoured the internet, and here's what I've found:
1. Billingham Combination Bag. Canvas with bridle leather trim. About $275. I'd pick the one in khaki and brown. Similar alternatives include canvas bags from other English manufacturers, such as Brady and Chapman. The advantage of Billingham is that their bags are specifically designed for camera gear. In fact, this specific bag was a collaboration with Leica and designed particularly for M rangefinders. The downside is that you can't order anything bespoke (as far as I know). If I went with Brady or Chapman, I'd have to put more effort into the process, but I might get something more turned to what I need. Wish you could order Billingham bags with a leather strap instead of the cotton webbing version that is standard throughout the range.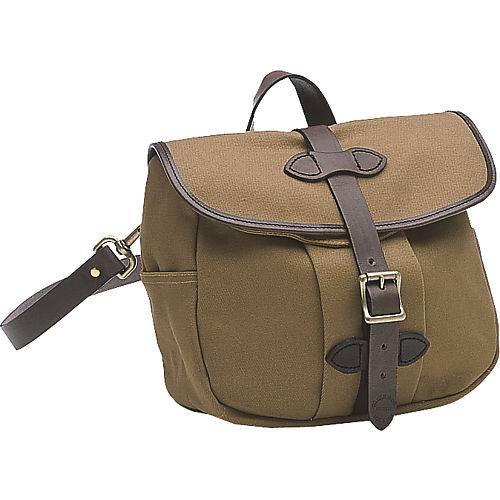 2. Filson Small Field Bag. Canvas with bridle leather trim, but also available in solid and plaid wool. Under $200. I'm a big fan of Filson bags--my Filson canvas briefcase is built like a tank and has held up like one. The downside is that this bag is not designed for cameras: (1) you have to use a foam insert, and (2) the flap cover must be unbuckled to open, making access more cumbersome. Some of the wool options are very cool, but I'd probably wind up picking tan or brown canvas.
3. Bespoke leather camera bag from JnK. About $500. Jnk is a Korean atelier that specializes in custom leather accessories for cameras--mainly half cases and straps. I already received a bespoke half case and strap from them. The quality is really exceptional. If I ordered a bag, I'd pick a design similar to the one pictured, but in a reddish chestnut leather with contrast stitching, matching my half case and strap. The downside is the price and somewhat lower utility, given that it is by far the least weather- and impact-resistant option. The advantage is that the style and craftsmanship are really on a higher plane.
Thoughts, other suggestions?