This Classified is Closed
For Sale:
[Edit 11/4/2011] AE Suede Mora US8, Marc Guyot Green Derbies UK 7.5, other double monks and shoes
Will Ship To: Anywhere

Warning: Spoiler!
(Click to show)
1. Buttery
Allen Edmonds Brown Suede Mora Double Monk Straps US8
. As much as I like the AE 5 last simply does not work for me. I picked these up on Ebay a while back, and have worn them twice. Sole pick is coming - I forgot to take it. The sole is in good condition - not a heavily used shoe. I had Nick V. of B. Nelson shoe repair look them over, and replace the heel as well as put on a plastic toe tap. Some suede scuffing and whatnot - see pictures.
$Sold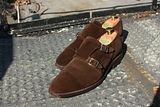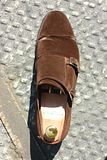 Warning: Spoiler!
(Click to show)
2. Fantastic
Marg Guyot green medallion derbies, sz UK7.5
. I wish these fit me. I love these shoes - the last shape, the colour. Spootastic, to say the least. The last simply runs too slim for my wide feet. I've taken them out for a short stroll, but the pain was just too unbearable to be able to break them in.
Sold
Length: 11.75"
Width: 4"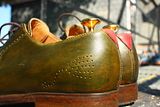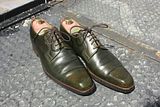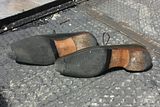 3.
John Fluevog Tan Double Monk Straps US8
. I picked these up in the Fluevog store in NYC. Used for one very long walk through Manhattan, and never after that. Selling as they simply do not get enough use to warrant me keeping them.
$135
Width: 3 7/8"
Length: 11 1/4"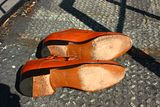 4.
Ralph Lauren Polo Tan Monkstraps US9
with a great patina. I love the color, but have a hard time working this type of shoe into my wardrobe. The shoes have some scuff marks that should polish out, as well as an absolutely fantastic patina. I am the second owner, and the original owner claimed they were Crockett & Jones for Ralph Lauren - I have not been able to confirm or reject this, but the configuration of the strap is different from any current C&J monkstrap shoe.
$160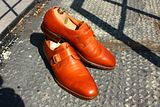 Warning: Spoiler!
(Click to show)
5.
Blue Nubick Markowski Kenyanes UK 7.5
. I bought these off of SF, but they are slightly too big for me. Color is fantastic - great shade of blue.
$120
Width: 4 1/2"
Length: 12"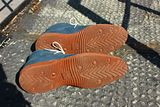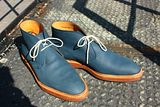 6.
Loake black Wingtip monks, sz UK 7.
I've almost completely stopped wearing black shoes, so these have fallen out of favour. Bought them on ebay a while back. $70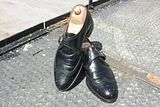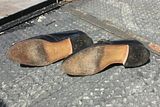 Edited by kungapa - 11/29/11 at 9:08am