This Classified is Closed
For Sale:
Big Batch of new Incotex Pants! Range of $50-$75
Will Ship To: Anywhere

A nice batch of brand new Incotex (except C11 which is Acuascutum). These pants are all pretty slim cut, so be sure to check out the measurements. Some pairs have cut internal tags, some have all tags intact - noted within the individual details. All priced accordingly.
All prices include CONUS shipping. Please add $15 for Canada shipping, $20 for Europe shipping and $30 for Asia/Australia shipping. All shipped USPS priority.
Take $10 off total if 2 pairs purchased
No holds. First to pay basis.
C2)EU:46US:30Tags CutFabric:98% cotton/ 2% elastin, fine cordColor:Sand brownW:15R:9.25T:11K:8.5LO:7.75I:35Note:Flat front, split curtain waistband. Tags cut. NOTE: MISSING LEFT FRONT BELT LOOPRear Pocket button:y
$50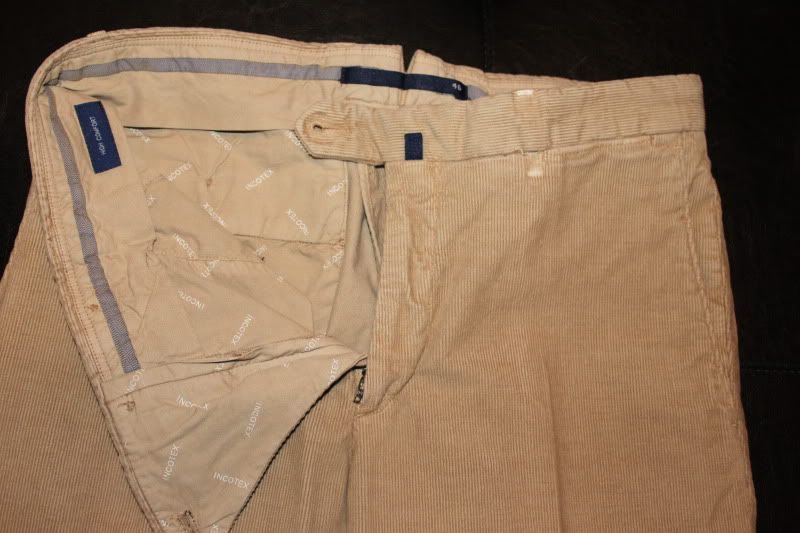 C4)EU:50US:34Tags CutFabric:100% cotton (heavier weight with moleskin nap)Color:BrownW:17R:10T:12K:8.5LO:7I:35 (hemmed +1")Note:Flat front, split curtain waistband. Button fly. Jean-style pockets. Tags cut.Rear Pocket button:n
$70
C8)EU:48US:32All tags intactFabric:97% cotton/ 3% elastin (chino)Color:Deep purple/blueW:16R:10T:11.5K:9LO:7.5I:36Note:Flat front, split curtain waistbandRear Pocket button:y
$65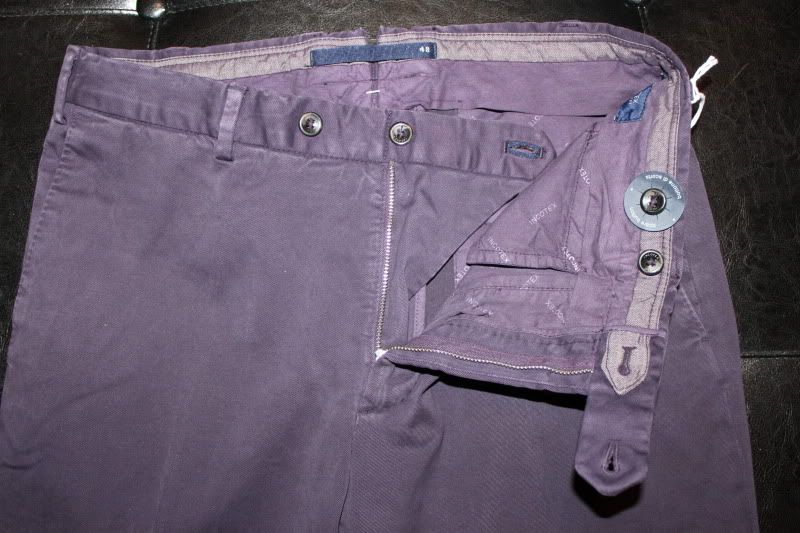 C9)EU:50US:34All tags intactFabric:100% cotton (soft denim-like)Color:NavyW:17R:10T:12K:8.75LO:7.5I:36 hemmed +1"Note:Flat front, split curtain waistband, jean-style front pocketsRear Pocket button:No button (Incotex label)
$65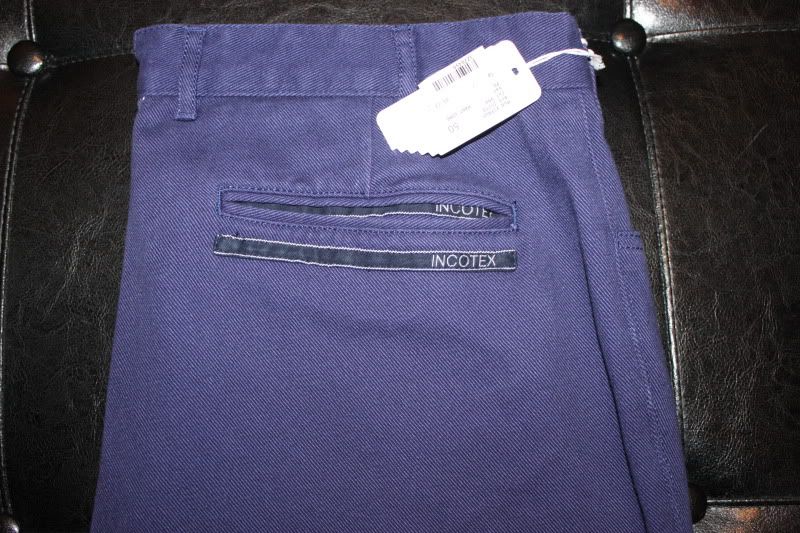 C13) EU:50US:34All tags intactFabric:97% cotton/ 3% elastin (chino)Color:Plum/BlueW:17R:10T:12.5K:9.5LO:8I:37.5Note:Flat front, split curtain waistbandRear Pocket button:y
$65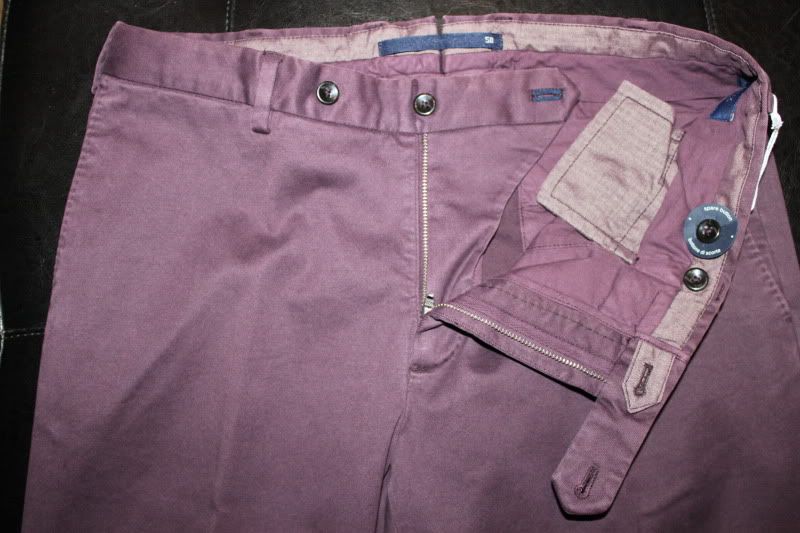 C14) EU:50US:34All tags intactFabric:99% cotton/ 1% elastin, fine cordColor:BlueW:17.5R:10T:12K:9.5LO:7.5I:35.5Note:2 very tiny pleats (about 1" long); split curtain waistbandRear Pocket button:
$75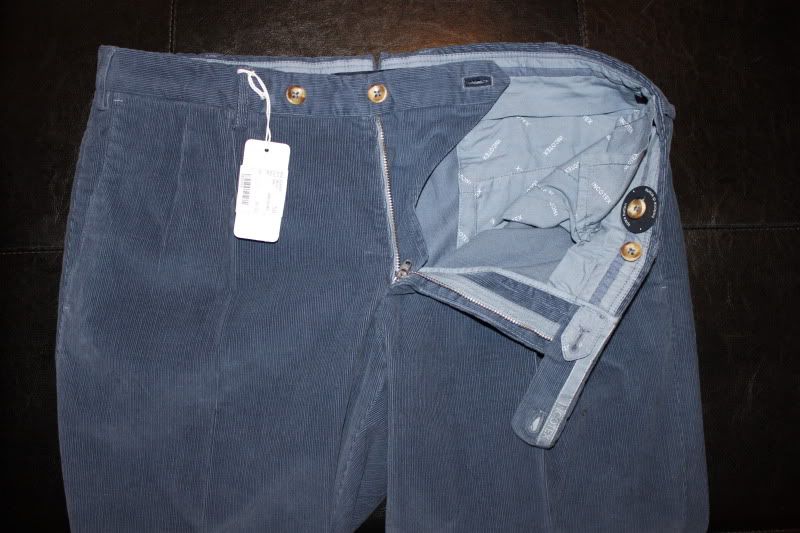 PAIRS BELOW ARE SOLD
C1)EU:46US:30Tags CutFabric:100% cottonColor:KhakiW:15R:9.25T:11K:8.25LO:7I:35Note:Flat front, split curtain waistband. Tags cut. NOTE: Small stain/tiny pen dot on rear.Rear Pocket button:n
SOLD
C5)EU:50US:34Tags CutFabric:100% cotton Color:Black W:16.5R:10T:12K:9.5LO:7.25I:36 (hemmed +1")Note:Flat front, split curtain waistband. Tags cut.Rear Pocket button:n
SOLD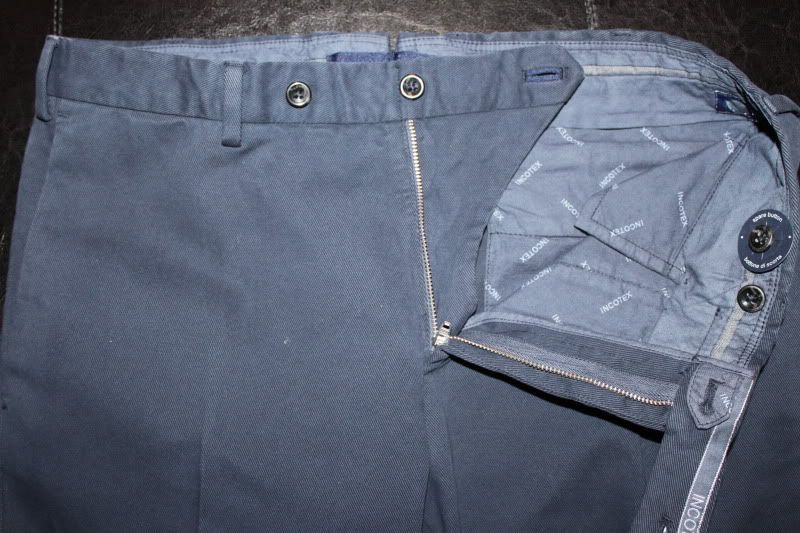 C6)EU:50US:34Tags CutFabric:97% cotton/ 3% elastin, fine cordColor:Black (super subtle tonal)W:17R:10T:12K:9.25LO:7.5I:36Note:Flat front, split curtain waistband. Tags cut. Flapped rear pocket with buttonRear Pocket button:y
SOLD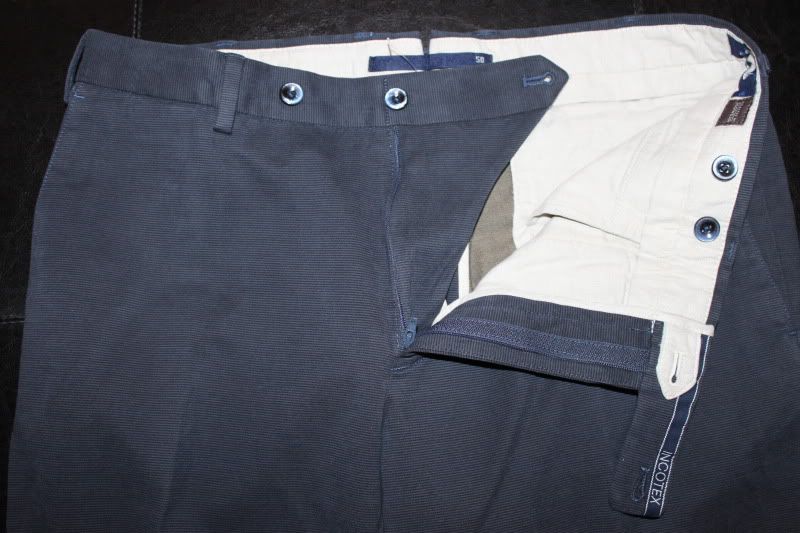 C7)EU:48US:32All tags intactFabric:100% cottonColor:Dark khakiW:16R:10T:11.75K:9.25LO:7.5I:32 hemmed with 1.75" cuffsNote:Flat front, split-curtain waistband. Subtle brown leather piping accents.Rear Pocket button:n
SOLD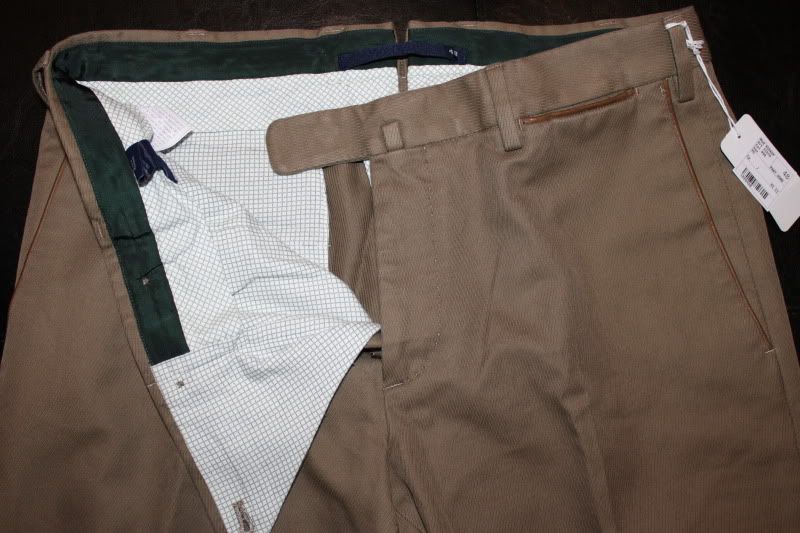 C11) EU:50US:34Note: NOT Incotex - but Aquascutum made in ItalyFabric:100% cottonColor:KhakiW:16.5R:11.75T:11.75K:10.25LO:8.26I:34Note:Flat front, split curtain waistbandRear Pocket button:y
SOLD
C3)EU:50US:34Tags CutFabric:100% cotton (heavier weight with flannel nap)Color:Gray herringboneW:16.75R:10.5T:12.5K:9.75LO:8.25I:36 (hemmed +1")Note:Flat front, split curtain waistband. Tags cut.Rear Pocket button:y
SOLD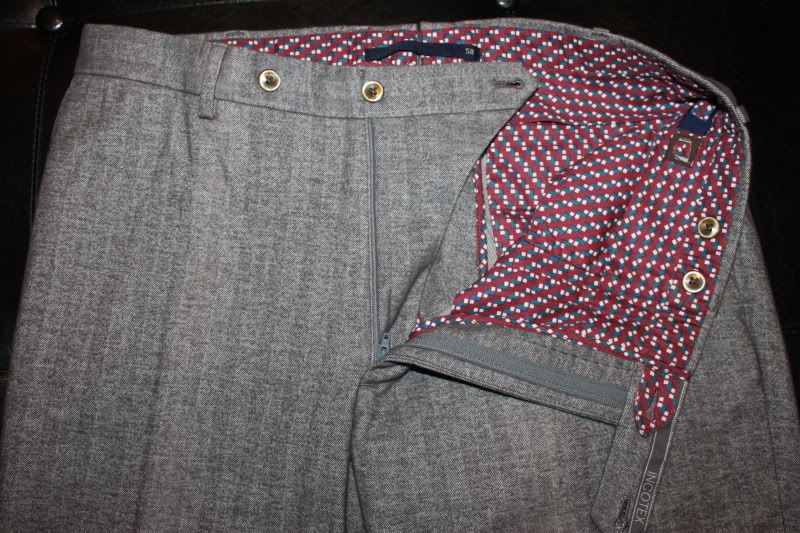 C10) EU:50US:34All tags intactFabric:100% cotton (soft denim-like)Color:NavyW:17R:10T:12K:8.75LO:7.5I:36 hemmed +1"Note:Flat front, split curtain waistband, jean-style front pocketsRear Pocket button:No button (Incotex label)
SOLD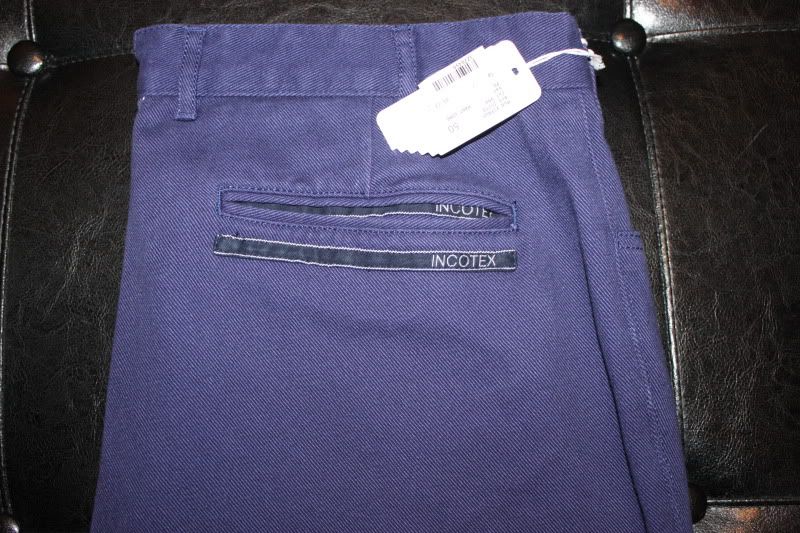 C12) EU:50US:34All tags intactFabric:98% cotton/ 2% elastin, fine cordColor:Dark charcoal/brownW:16.5R:10.25T:12.5K:9LO:7.75I:33.5Note:Flat front, split curtain waistband, jean-style rear pocketsRear Pocket button:n
SOLD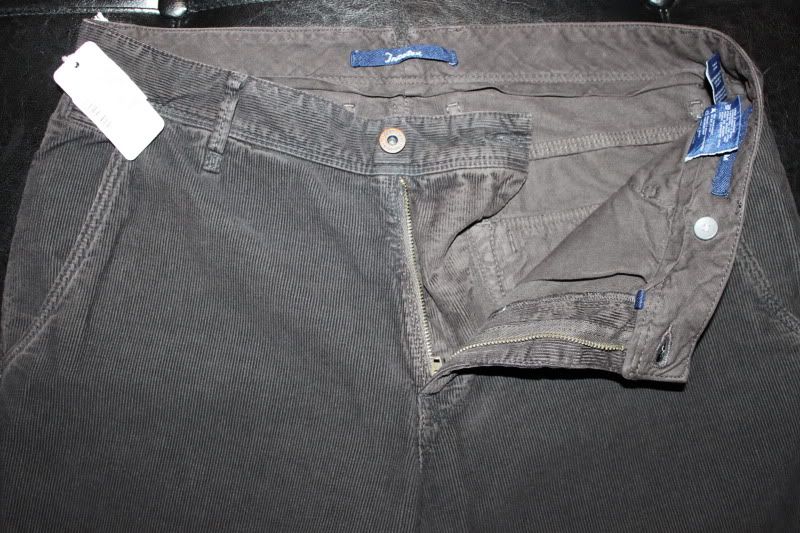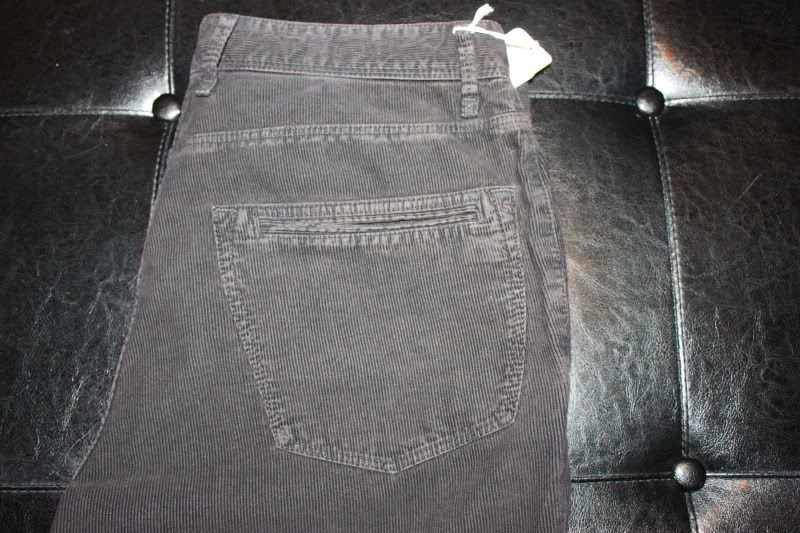 Edited by theyare - 10/2/11 at 6:20am