This Classified is Closed
For Sale:
New Panta ties collection, over two dozen prints/wools/raw silks/cashmeres.
Will Ship To: Anywhere

AAHere is the new Panta tie collection, fabric for fall/winter, summer and year round. The dimensions have been changed slightly, the ties are now 3 ¼-3 3/8 inches wide and 57-58 inches long. I have also made up a few in a 54 inch length (i'll note below which those are), going forward will offer every style in the standard length and the 54 inch length. Ties are all 6 fold and will either be self tipped, untipped with folded edges or tipped with silk. The fabrics come from the best mills around the world and the ties are manufactured in NYC. All ties are $99 each (shipped worldwide). Either Monday or Tuesday my site will go live and the ties will be migrated to the site then, prices there will be $119-$129. Here is my site (none of the links in it are working yet), still a bit of a work in progress, let me know what you think www.pantaclothing.com
While taste is subjective, I think this is a very strong and elegant collection of ties and I am very happy with them all. I'd like to thank everyone on the forum for being so supportive of this endeavor and as always, I am open to any suggestions on how to improve things.
When ordering/PMing, please specify the tie number you would like in the subject box of the PM. Also, please, please when paying via paypal (no personal payments) give me the tie numbers you are paying for.
First up are the English 36 oz silk prints.
1.Dark blue neat, pattern colors are light blue and pink. Self- tipped, lined.
2.Brown neat, pattern color blue, light blue, yellow. Self-tipped, lined.
3.Dark green neat, pattern colors red, blue, white. Self-tipped, lined.
4.Burgandy/dark red neat, pattern colors light blue and peach. Self-tipped, lined.
5.Burgandy/dark red neat, pattern colors light blue, dark blue. Self-tipped, lined.
6.Navy neat, pattern colors light blue, white, orange. Self-tipped, lined. (SOLD OUT)
7.50oz ribbed silk twill, I have this in navy (darker) and indigo. The navy is a midnight navy and the indigo is what most people would consider to be "navy". The fabric is magnificent, takes on different hues in different light. Self-tipped, lined. (when ordering this one, please tell me "#7 indigo or #7 navy")
Navy
Indigo
RAW SILKS: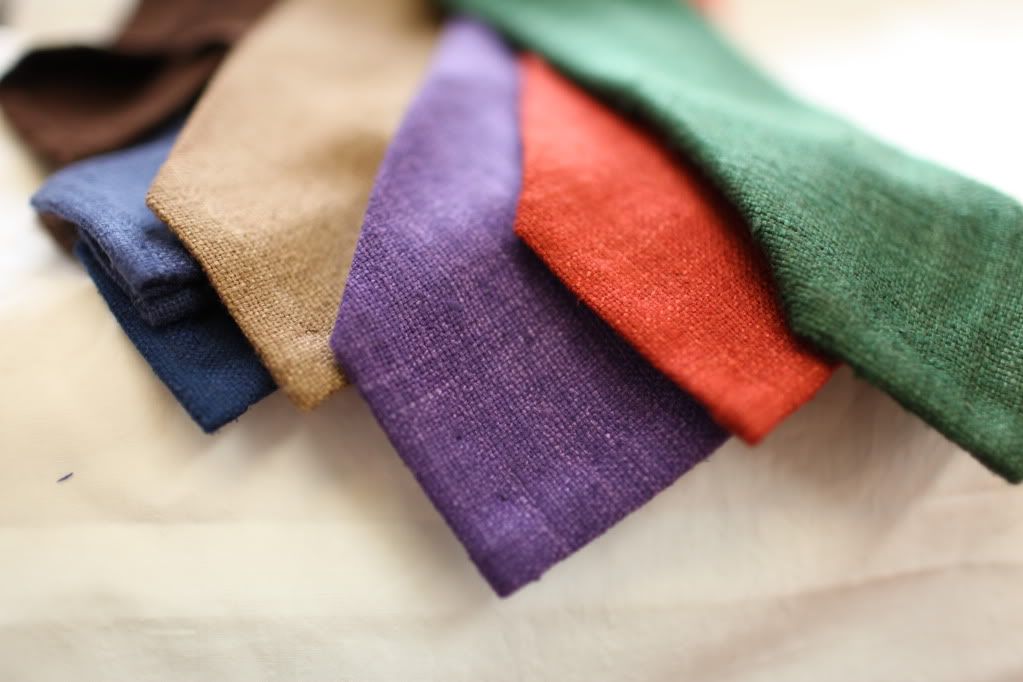 In order to save some time, I'll post a set of pics of how the raw silks are done and then just one pic of each color available.
8.Sahara (I'm in the mood for giving silly names to tie colors)
9.Mediterranean Blue (blue with a very slight purple-ish hue)
10.Cadet blue
11.Purple Reign
12.Kermit
13.Chocolate Thunder
14.U.S. Navy (the one in the first set of pics)
For color comparison purposes, here are the three blues in the raw silks, med. blue, Cadet blue, Navy
WOVENS/GRENADINES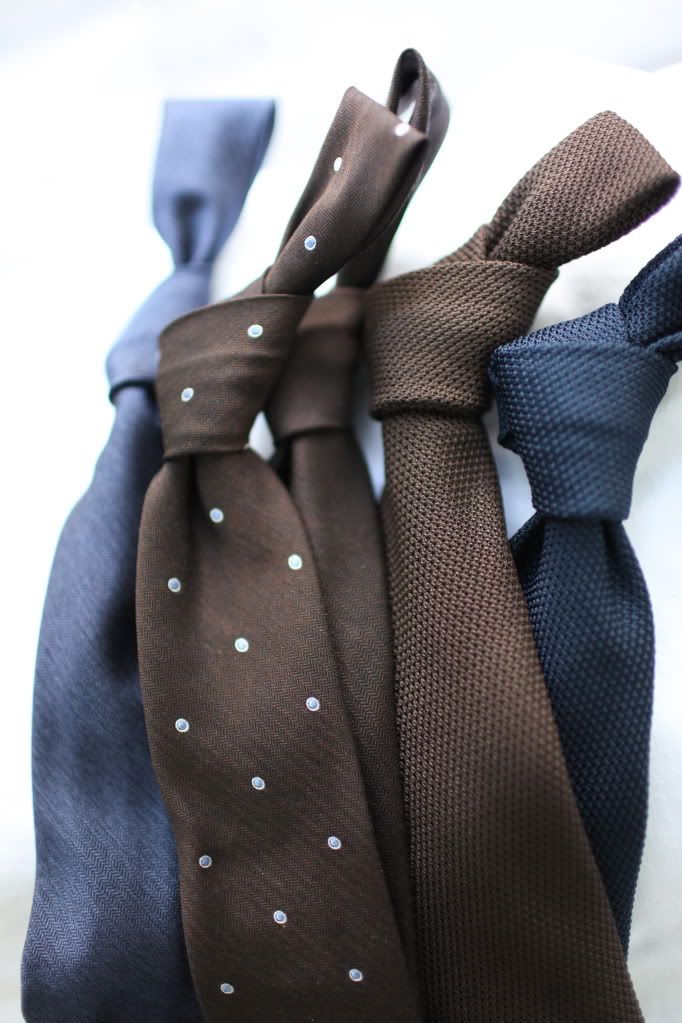 The woven silk here comes from a very small mill in Italy. I do not know who else uses them but I will say that it is some of the most beautiful stuff I have ever seen. I think you can literally wear this ties with any outfit and it will look smashing.
15.Blue/Grey repp woven silk. Silk-tipped, lined. (SOLD OUT)
The following six ties are the same fabric, the first three are brown, the following three are blue
16.Brown mini herringbone woven. This tie was impossible to photograph, it's a very rich color. Silk-tipped, lined.
17.Brown mini herringboven woven with light blue dots with a white outline. This is the same fabric as the above, but with the dots added. (SOLD OUT)
18.Brown mini paisley, again, same fabric as the solid with the light blue paisleys added.
19.Slate blue mini herringbone, it's a great "cool" color, a dark blue, about two shades lighter than navy, with a grey hue. Pics don't do it justice. (SOLD OUT)
20.Same as above but with light blue dots with white circle added.
21.Same as the solid but with mini paisleys in light blue added.
Group pic of the three blue, they are on the between the orange linen and the repp:
22.Navy grenadine, fabric milled by Seteria Bianchi, they call this "Garza piccola" and I find that they grenadine colors "pop" a bit more than the other millls. Unlined, silk tipped. (SOLD OUT)
23.Same as above, in chocolate brown. (SOLD OUT)
LINEN/WOOLS/CASHMERES
24.Navy "denim" linen, this is a great textured tie, it is very substantial. Although linen, I made this to be worn in fall/winter with tweed, flannels. Its lined, self-tipped and for lovers of thick ties. (SOLD OUT)
Following three linen ties:
25.Navy Irish linen tie. About a shade lighter than the above, also lighter in weight, this one is appropriate for year round wear. This is a really gorgeous shade in a wonderful fabric. Lined, self tipped.
26.Same as above but in a wonderful burnt orange/rust. Will work great in the fall/winter as well as spring.
27.Same as above but in chocolate brown. Lined self tipped
28.Blue and white houndstooth wool, lined, self tipped. Fabric is from Scabal, this is a great tie and the blue/white really make it stand out. (SOLD OUT)
29.Black and white houndstooth wool, fabric from Reid and Taylor. A classic, can be worn for everything from weddings to job interviews. Lined, self tipped. (SOLD OUT)
30.Orange cashmere Donegal. Unlined, (SOLD OUT)
31.Linen/silk slubby dusty pink herringbone. Unlined/untipped.
32.Blue herringbone cashmere, unlined/untipped. (SOLD OUT)
33. Khaki herringbone cashmere
Bow ties, I'll update with individual pics but pretty much every silk print is available as a bow, along with some of the cashmeres/raw silk/wool. Prices for the bows are $45 shipped.
Edited by edmorel - 8/14/11 at 5:23pm