All payments through Paypal gift; prices include shipping to CONUS only, but can ship elsewhere for an additional charge. Thanks for looking!

Jeans:

LVC 1967 505's 34x34 raw selvedge

Absolutely brand new. Just decided I need a size smaller. Asking $150 $140 shipped.

Waist: 34"
Front rise: 11.5"
Inseam: 33"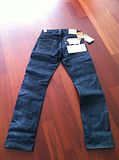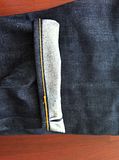 Uniqlo S001 33x32, Regular Fit Straight

Worn twice, but otherwise flawless condition. Selvedge coin pocket, zip fly. Asking SOLD shipped.

Waist: 17"
Front rise: 10.25"
Inseam: 31.5"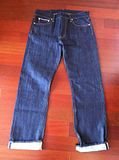 Rag and Bone RB 15 34" selvedge

NWT. Bought from another forum member, tried on, but decided they're too big for me. Asking what I paid for them: $85 $80 shipped.

Waist: 17.5"
Front rise: 11"
Inseam: 33.5"




Nudie Thin Finn Dry Stretch 33x32

Worn about a dozen times; waist has stretched a bit, but otherwise very good condition. Non-selvedge. $60 $50 shipped.

Waist: 17"
Front rise: 10"
Inseam: 31"




Levi's 501 raw STF 35x34

BNWT. Tried on; never worn. Non-selvedge. Asking $30 $25 shipped.

Waist: 18"
Front rise: 13"
Inseam: 33"

Note that measurements are deceptive since these haven't been washed--they will shrink quite a bit.


Belts:
Both from LGC, and both never worn except to try on.
 
Brass ring belt. Asking $30 shipped.
Measures 44" from rings to end, but due to how the belt works this would best fit a 35-37" waist. 1 1/8" wide.


Brass harness belt. $25 shipped.
Measures 37" from third hole to tip of buckle. 1 3/8" wide.

Edited by tkte3tu - 7/18/11 at 5:17pm