These balmy late spring days brought to my attention that a good chunk of my wardrobe from last summer is now a bit too snug for my tastes. Don't cry for me, though, Argentina, for the snugness is in the right areas (i.e. the sleeves). So that means you have a chance to drape your presumably punier-than-mine bodies in some tasty Uniqlo garb. Before we get to the fun stuff, I'll cover the obligatory bases:
Shipping within the US is included
Add 4% for PayPal payments or mark payment as "Gift"
I'll field reasonable offers on multiple items only.
Everything is in really nice shape, since pretty much everything was worn sparingly and properly cared for.
I have a few H&M and Uniqlo tees (size medium) that I will throw in for free if you buy more than one item.
Measurements to come, but as a rule of thumb, figure this stuff fits pretty true to size. 1)
Uniqlo Crinkle Madras (Medium)
: SOLD 2)
Uniqlo Light Grey Cotton Shirt (Large)
: This fits closer to a medium since it's one of Uniqlo's "slim fit" shirts. Perfect for the blistering hot days where a tank top or tee isn't appropriate. The cotton is incredibly light (you can almost see through it if you hold the shirt up to light) with a trim-ish cut. Color is a bit lighter than the pictures suggests (it's almost a dove grey).
$16 shipped
->
$14
.
Warning: Spoiler!
(Click to show)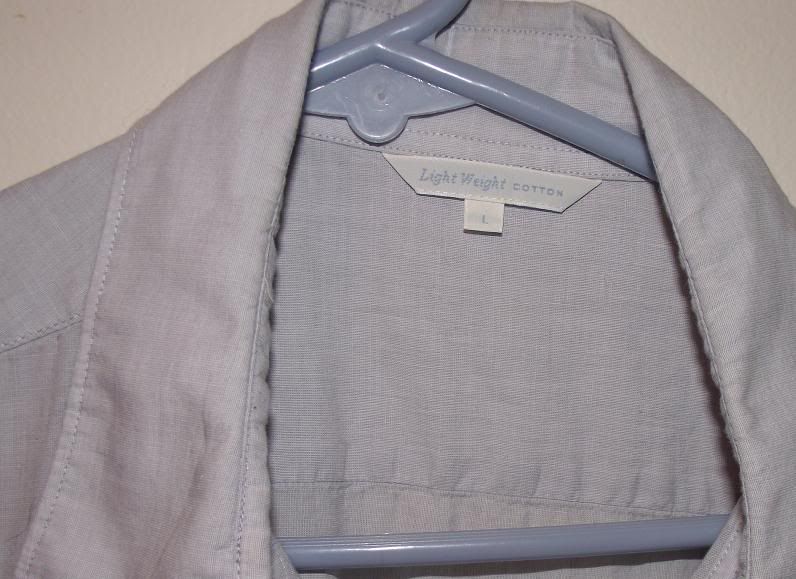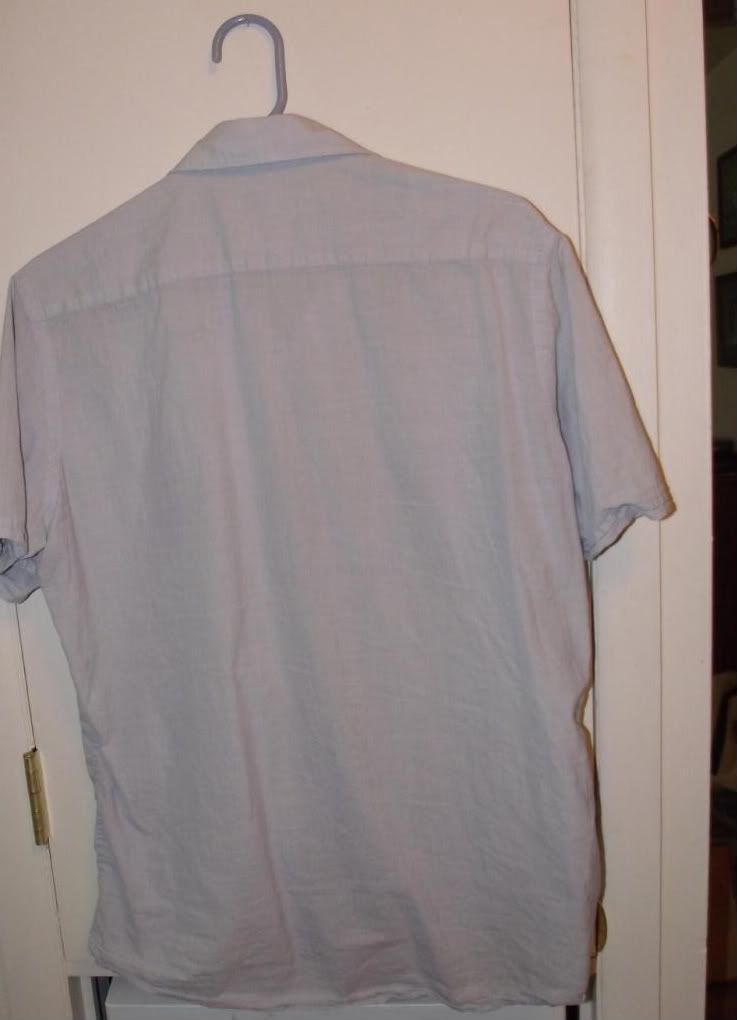 3)
Uniqlo Blue Pinstripe Shorts (34)
: We all know how elusive shorts that don't go down to our shins are. These feature a short enough inseam to keep you cool without being so short that the rumor mill starts churning. Worn fewer than 5 times. Waist: 35 - 35.5" Thigh: 12.5" Inseam: 10.5"
$22 shipped
->
$20
.
Warning: Spoiler!
(Click to show)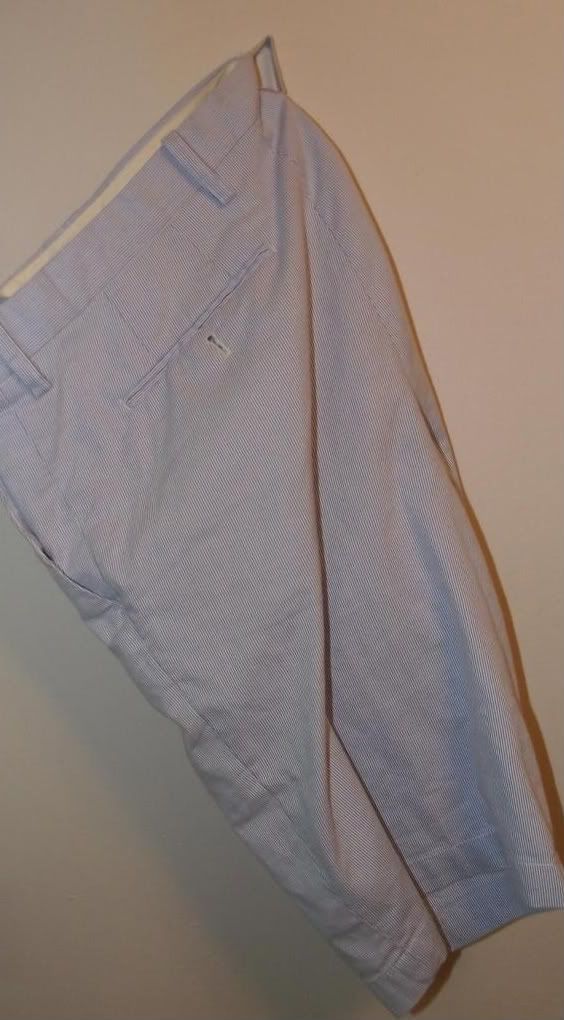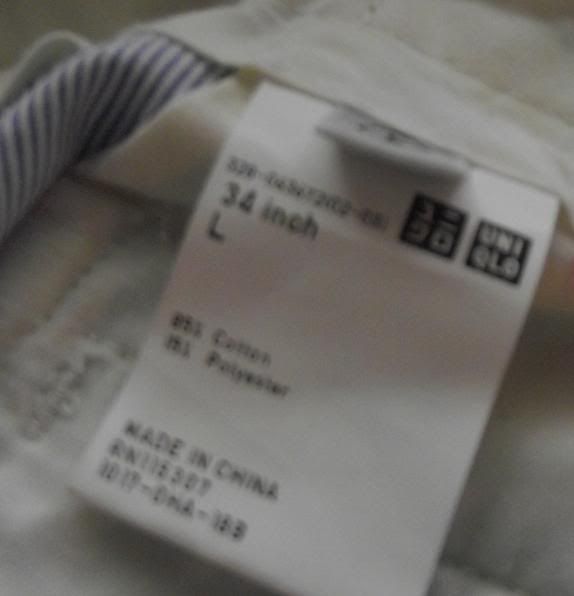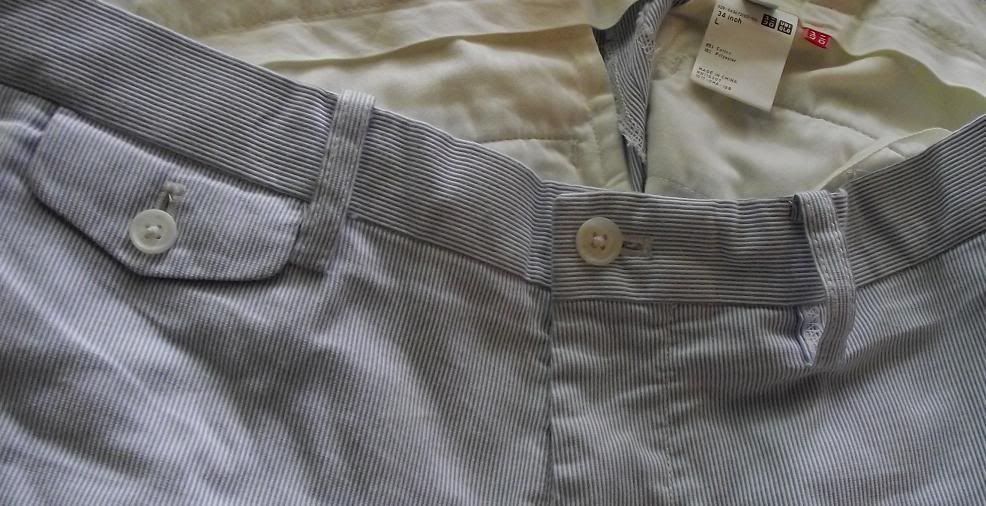 [/spoiler] 4)
Uniqlo Navy Blue Cotton Pants (33 x 34)
:Sold 5)
J.Crew Nantucket Red / Salmon Shorts (33)
: It's a common look in some areas, but this is probably the most commented-on piece of clothing I've ever owned. Beautiful color and a mighty fine feeling cotton material. These are a bitch of a color to properly capture in a picture. They're definitely more muted in person. Not enough to make you immune to "OMG PINK SHORTS" comments, but they're not so vivid that you're going to blind others from wearing them. These also have an absurdly awesome print pocket lining. It's enough to make you want to take
any
girl home, just so someone can see the print. [spoiler]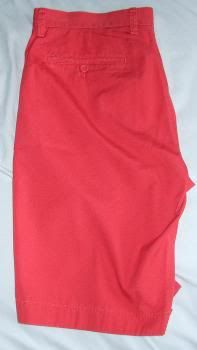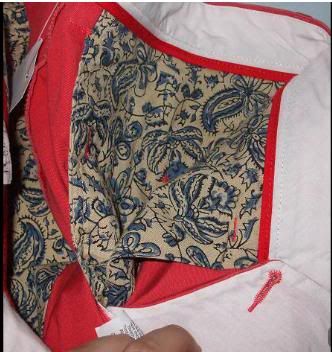 Waist: 33" Inseam: 11"
$25 shipped
->
$21
. 6) Odyn Vovk Cure Tee (Large / Black): Had this sold to someone on eBay a while back, but in a strange turn of events, they paid for it, I shipped it and then many, many weeks later, received it back in the mail because they never claimed it. So they got refunded and I got the shirt back to put out there for one of you lucky bitches. This is, by far, the softest cotton I've ever run my hands over. The next committed relationship I find myself in is going to lead me to buy another one of these specifically for her to wear around while lounging. Why? Because it's one of those men's shirts that will make almost any girl look unspeakably sexy. It's the type of shirt that a girl would wear and if someone took a picture of her to put up on Tumblr, that shit would get reblogged dozens of times over. SO. Anyway, here are some pictures of the actual shirt along with a stock photo of the shirt from Blackbird (who sold out of these a while back at a higher price). Shirt is brand new with tags. No price drops on this. It's going back on eBay if it's not sold here by the weekend. So spare us both the time if you're about to blow up my inbox with an offer to "take this off my hands" for like $40.
$67 shipped.