Hello SF's users, I recently acquired a Brooks Brothers Black Fleece Grey Jacket, and I was wondering if you guys could answer some of the questions that I have about it. Thanks.
Information about the Jacket
-
http://tinyurl.com/Wool-Classic-Jacket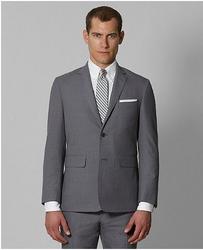 Questions:
1.\tWhether or not to wear it as a sport coat or as a suit jacket? 2.\tWhat kind of buttons should I have on this jacket if I want to wear it as a sport coat? Here is the picture of the buttons that came with the jacket. BB's website describes it as, "Genuine mother-of-pearl buttons".