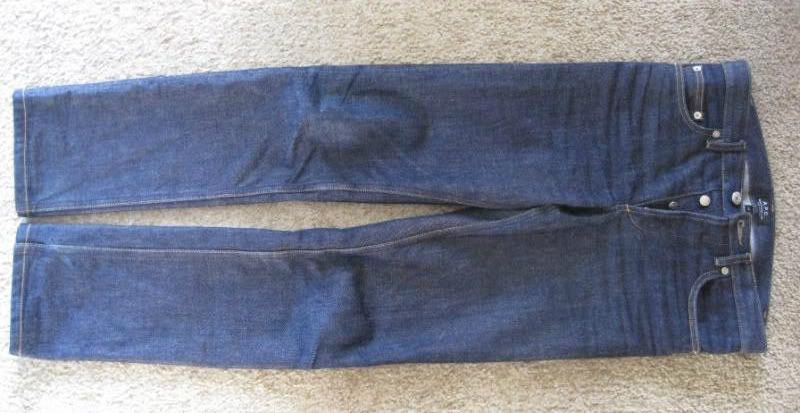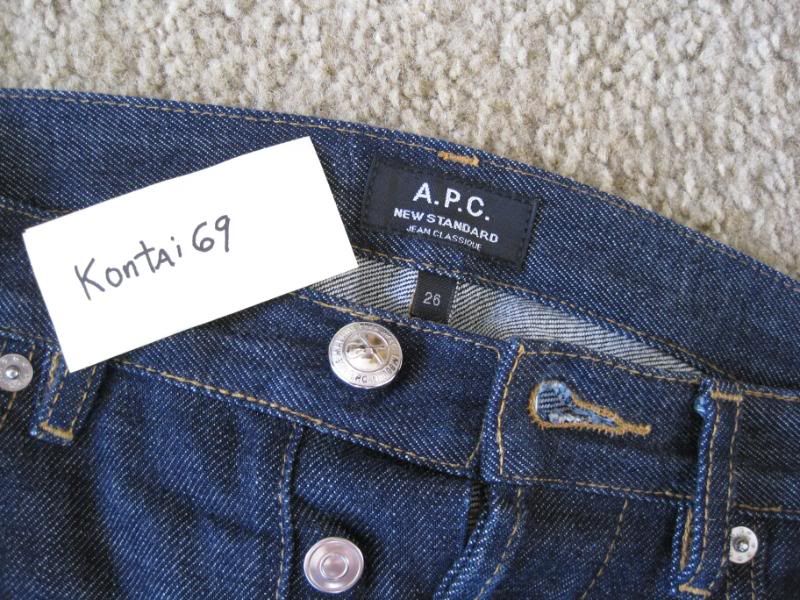 Up for sale are a pair of APC New Standards raw selvage denim jeans. The tagged size is 26. The jeans have stretched quite a bit, especiallly in the waist (see measurements below). They have have been professionallly hemmed to an inseam of 30.5". The jeans were gently worn less than 30 times and are in excellent shape with no stains, rips, or tears.
The one of the stitch lines on the front of the jean (left of the fly) has been removed. It started to unravel so I removed it completely. I took the removed thread and manually reinforced the stitching near the bottom of the fly opening. If anything, it is stronger now than before.
I soaked the jeans in warm water with Woolite dark during the first week I wore them. This was to get rid of the excess starch, making them a little softer and more comfortable to wear for me. I recall seeing very little indigo loss during the soaking. However, they have not seen water since. As you can see in the pictures, there is some nice fading starting to develop which should continue to form with further wearing. I love these jeans but I later prefer to wear thinner lighter weight denim (e.g. Nudies).
Actually measurements
(taken EXACTLY as pictured by BiG
http://blueingreensoho.com/site/inde...d=30&Itemid=41
)
Waist (fully stretched): 31" (15.5" x 2)
inseam: 30.5"
front rise: 10"
back rise: 13"
knee: 8"
leg opening: 7.25"
thigh: 10.75"
Again, the jeans have stretched quite a bit, especially in the waist. You could soak the jeans in warm water to shrink down the dimensions to a near original specs (see Context site for original pre-stretched measurements).
Please compare these detailed measurements to your own well-fitting jeans (again using BiG's method) to determine fit. Please do NOT contact me and ask "I wear a size X in Brand Y, will your APC's fit me?"
There is no way I would know.
I purchased the jeans new from Context, a forum sponsor. These jeans currently sell for $175.
I am asking only
$75 -> $65 shipped
.
<<<SOLD>>>
US buyers only!
Even though I have sold a several items here before, I do not have a feedback thread on SF. However, I have numerous feedback elsewhere...
Watchuseek feedback:
http://forums.watchuseek.com/showthr...light=kontai69
eBay feedback:
http://feedback.ebay.com/ws/eBayISAP...edbackAsSeller
Head-Fi feedback:
http://www.head-fi.org/forum/thread/223324/kontai69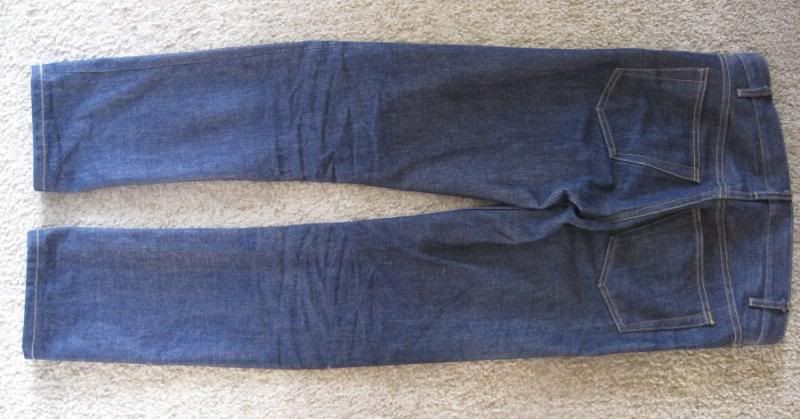 More pictures:
Nice whiskering starting to develop. Picture also shows the single stitch line left of the fly...
http://i35.photobucket.com/albums/d1...s/IMG_1581.jpg
Professionally hemmed. Very good thread match...
http://i35.photobucket.com/albums/d1...s/IMG_1583.jpg
Feel free to PM me with any questions. Thanks for looking!