*** My Private Message box fills up fast, so it's easiest to contact me through email –
topshelfapparel@gmail.com
*** For sale are about 400 new Kiton ties in 200 different patterns. All are approximately 3 ½" to 3 ¾" wide.
These came directly from Kiton
and not from a discount store, so they haven't been mauled by hundreds of grubby hands. They are all packaged in plastic Kiton tie sleeves (will ship without the sleeves unless requested).
Quote:
Nice stuff, but why would you ship w/o the sleeve unless requested? I can't imagine why someone wouldn't want the protective sleeve during shipping. Just a thought, but maybe the default should be comes w/ sleeve, unless requested otherwise.
The ties will be sealed in a 2-mil poly tie bag, and then sealed inside the box. This is more protective than the brittle plastic sleeves provided by Kiton.
Here's how pricing works:
ALL TIES NOW $89 EACH
Shipping Info:
US Shipping
– flat $5 no matter how many ties you purchase
International
- $13 for Priority small flat-rate box, worldwide (will hold 1-2 ties only) Priority International rates for 3+ ties (buy them all I don't care!!): Canada - $24 Rest of the World - $30 Unlimited ties anywhere in the world via USPS Express - $40 Construction of standard fold: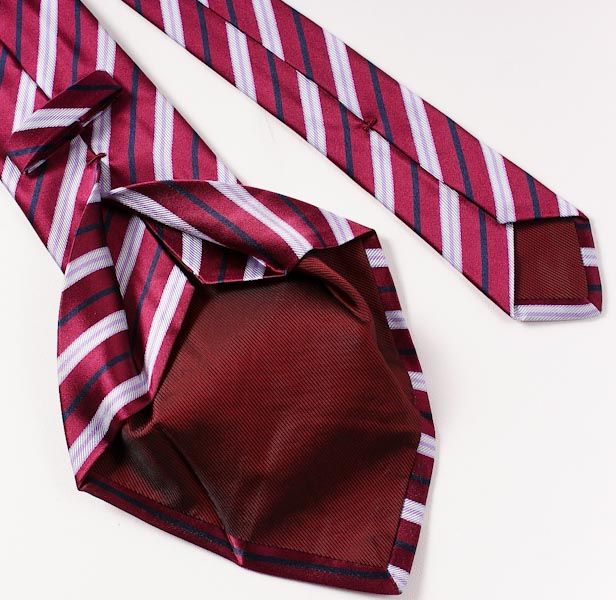 Construction of 7-Folds: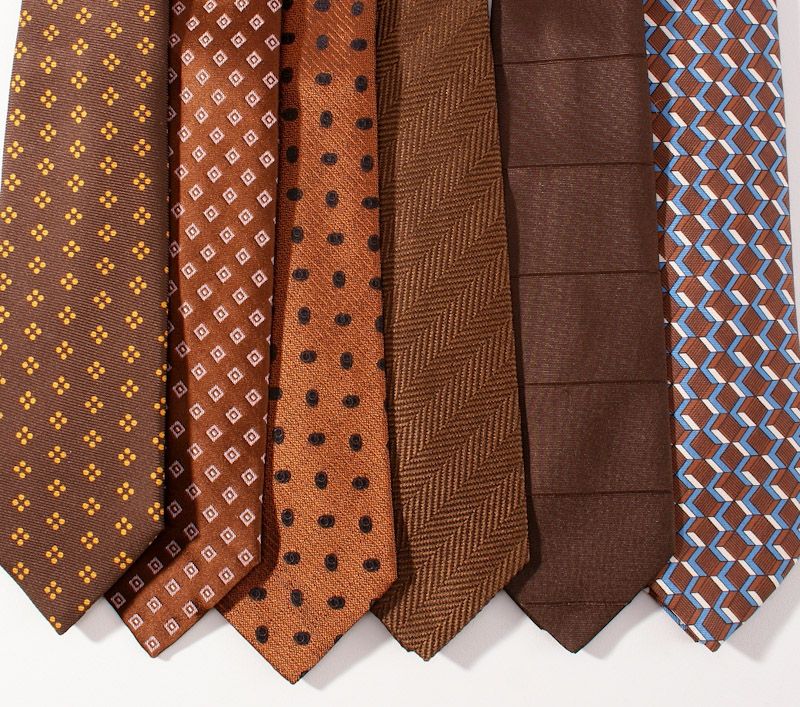 Click for Full Size Image
Group 1 (L to R): 1)\t7-Fold brown Twill with yellow dot pattern (2 available) 2)\tBrown with pinkish diamonds (4 available) 3)\tCopper with dark brown ovals (2 available) 4)\tBrown herringbone silk
(SOLD)
5)\tDark brown with horizontal stripe
(SOLD)
6)\t7-Fold brown and blue geometric (2 available)
Click for Full Size Image
Group 2 (L to R): 7)\tDark brown with green dots and stripes (2 available) 8)\tDark brown with pebbled dots (1 available) 9)\tGold with pebbled dots (1 available) 10)\t Brown twill (1 available) 11)\t 7-Fold brown and blue stripe (1 available) 12)\t Brown stripes (1 available) 13)\t Black with brown pattern (1 available)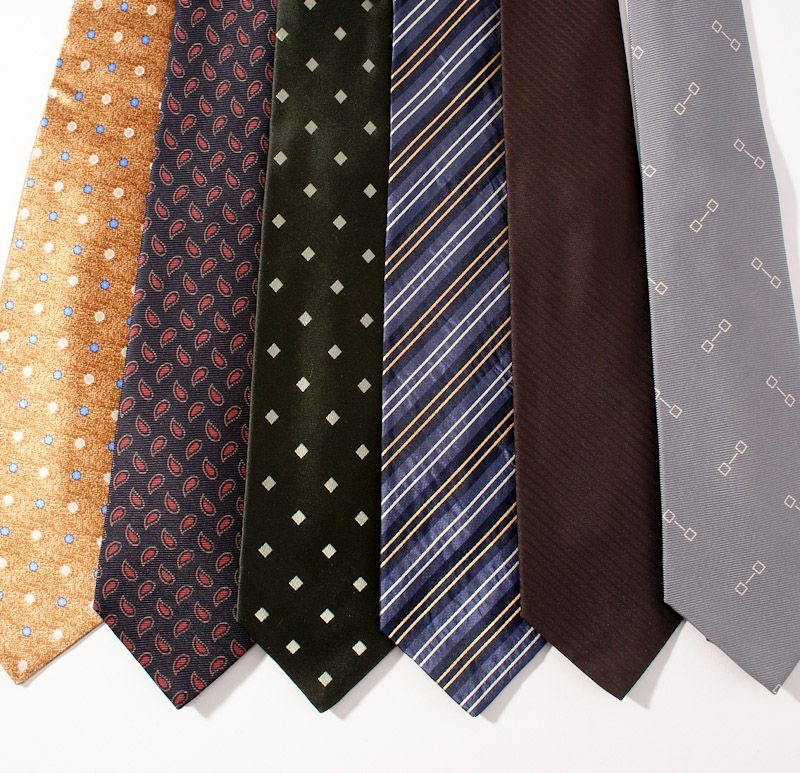 Click for Full Size Image
Group 3 (L to R): 14)\t 7-Fold brownish-gold with blue and beige dots (2 available) 15)\t 7-Fold black with rust paisley (1 available) 16)\t Dark green with ivory diamonds (1 available) 17)\t Darker blue with thin gold stripe (1 available) 18)\t Dark brown fine-stripe (1 available) 19)\t 7-Fold dove gray with pattern (1 available)
Click for Full Size Image
Group 4 (L to R): 20)\t Dark green woven with red squares (4 available) 21)\t 7-Fold sapphire blue with jewel pattern (1 available) 22)\t Black with small orange pattern (1 available) 23)\t Dark green herringbone stripe (1 available) 24)\t Dark green w/ red stripe, semi-iridescent (1 available) 25)\t7-Fold mint green twill with brown diamonds (4 available)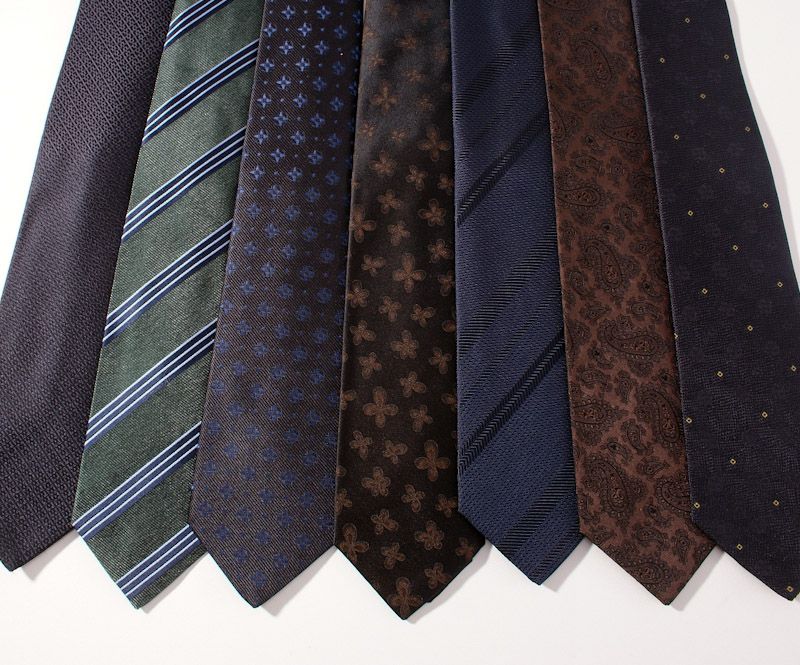 Click for Full Size Image
Group 5 (L to R): 26)\t Midnight black woven
(SOLD)
27)\t Green and navy repp stripe (1 available) 28)\t Brown with dark blue stars
SOLD
29)\t Dark brown floral (4 available) 30)\t Midnight blue woven stripe
(SOLD)
31)\t Brown paisley (1 available) 32)\t Black woven with small gold diamonds (1 available)
Click for Full Size Image
Group 6 (L to R): 33)\t Light yellow with sky blue paisley (1 available) 34)\t Light gold with small woven neat pattern (1 available) 35)\t Golden yellow woven with small green flowers (3 available) 36)\t Lemon yellow and white stripe (1 available) 37)\t 7-Fold golden yellow print with green flowers (3 available) 38)\t 7-Fold buttercream with blue and brown paisley (1 available) 39)\t 7-Fold yellow with red and blue paisley (4 available)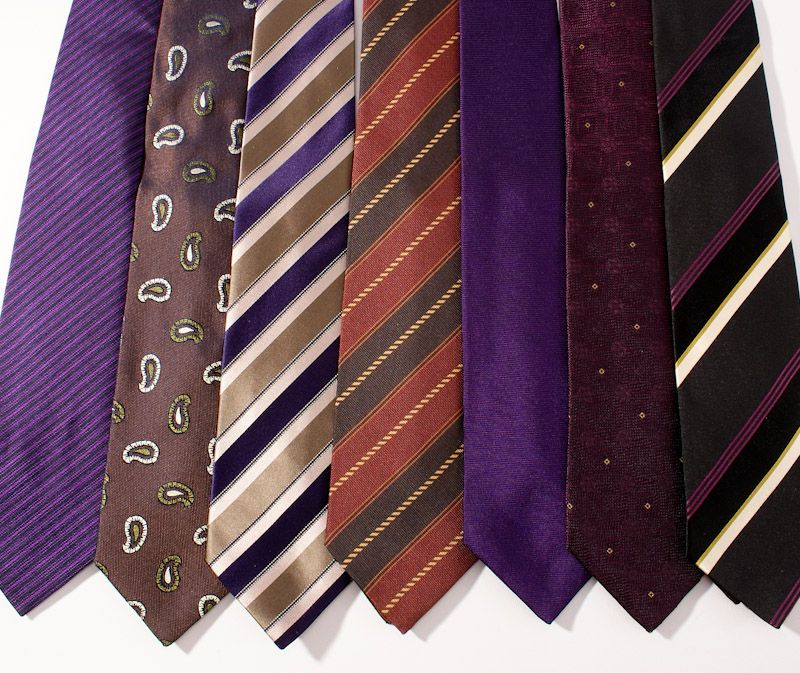 Click for Full Size Image
Group 7 (L to R): 40)\t Purple and black stripe
(SOLD)
41)\t Burgundy paisley (1 available) 42)\t Light brown and purple stripe (1 available) 43)\t 7-Fold brick red and gold stripe (2 available) 44)\t Solid purple twill
(SOLD)
45)\t Purple woven with small gold diamonds (1 available) 46)\t Black with purple, gold, and white stripe (1 available)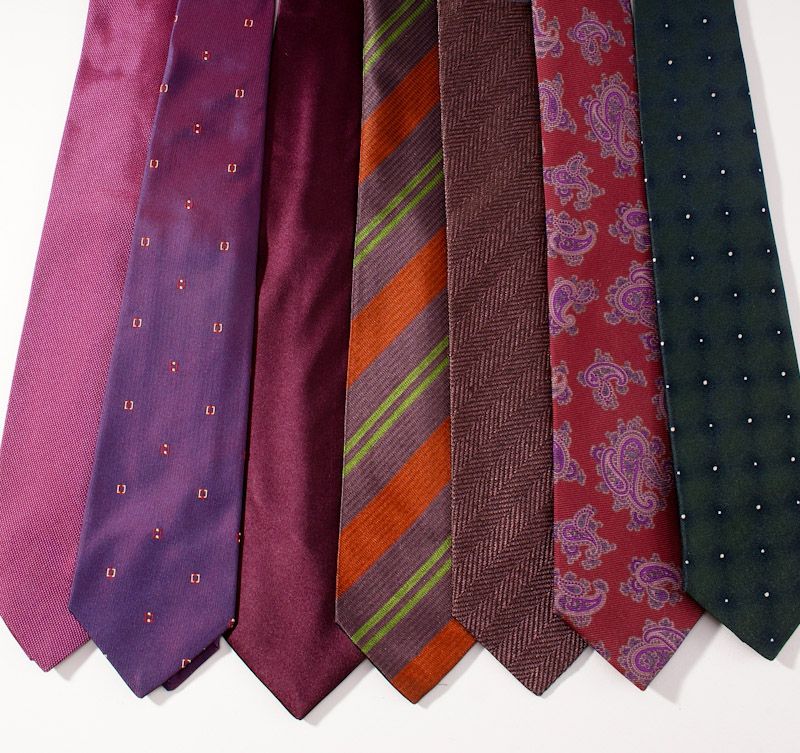 Click for Full Size Image
Group 8 (L to R): 47)\t Solid magenta woven
(SOLD)
48)\t Purple with small red squares (1 available) 49)\t Solid plum (2 available) 50)\t Purple with orange and green stripe (1 available) 51)\t Solid purple herringbone
(SOLD)
52)\t 7-Fold burgundy with purple paisley
SOLD
53)\t Green and navy with dot (1 available)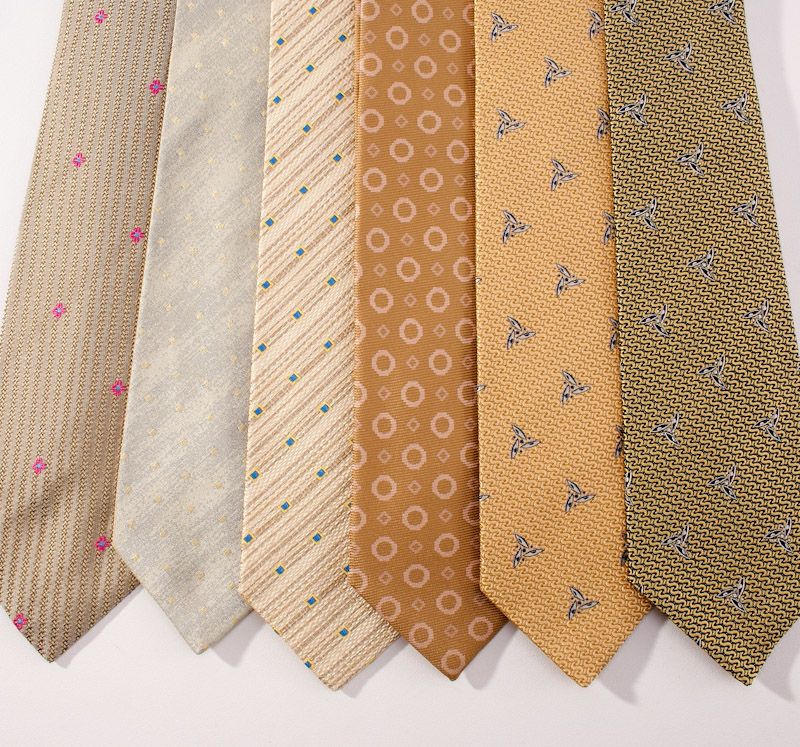 Click for Full Size Image
Group 9 (L to R): 54)\t Light brown with magenta flowers (1 available) 55)\t Light beige-blue with gold dots (3 available) 56)\t Light brown stripe with blue squares (1 available) 57)\t 7-Fold light brown twill with pink medallions (1 available) 58)\t Gold woven base with pattern (2 available) 59)\t Black and gold woven base with pattern (1 available)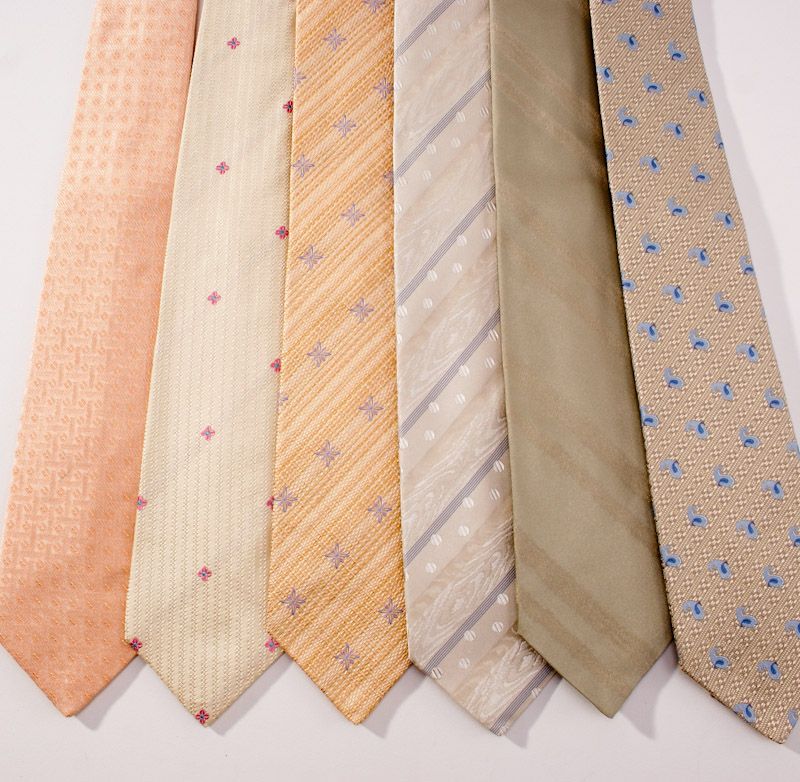 Click for Full Size Image
Group 10 (L to R): 60)\t Pink/peach woven – small irregular woven thread 6" from the tip (1 available, $60) 61)\t Champagne with pink flowers (3 available) 62)\t Golden woven with blue stars (4 available) 63)\t Champagne with navy fine-stripe (1 available) 64)\t Silvery-green stripe (1 available) 65)\t Champagne with blue paisley (2 available)
Click for Full Size Image
Group 11 (L to R): 66)\t Raspberry with green paisley (3 available) 67)\t Pink woven with crescent moons (1 available) 68)\t Dark silver woven with purple and green design (4 available) 69)\t 7-Fold dark cranberry with gray stripe (2 available) 70)\t Burgundy with thin gold stripes (1 available) 71)\t Gold and ivory stripe (1 available)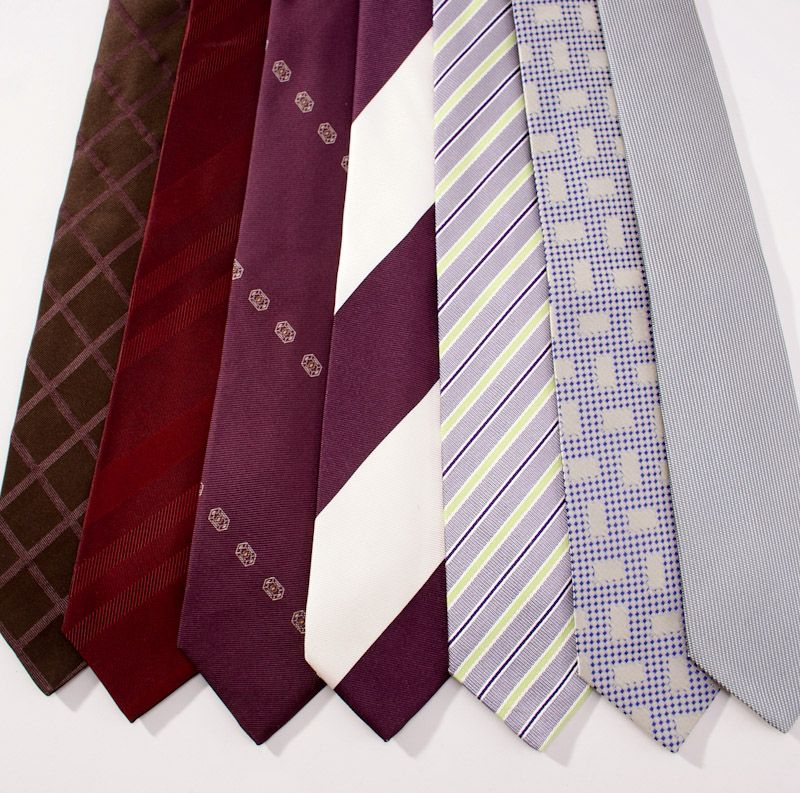 Click for Full Size Image
Group 12 (L to R): 72)\t Dark brown with purple lattice (1 available) 73)\t Cranberry stripe
(SOLD)
74)\t 7-Fold purple with jewel pattern (1 available) 75)\t 7-Fold purple and white wide-stripe (2 available) 76)\t Purple/white with light green stripe (1 available) 77)\t Purple woven (2 available) 78)\t Gray and silver woven (1 available)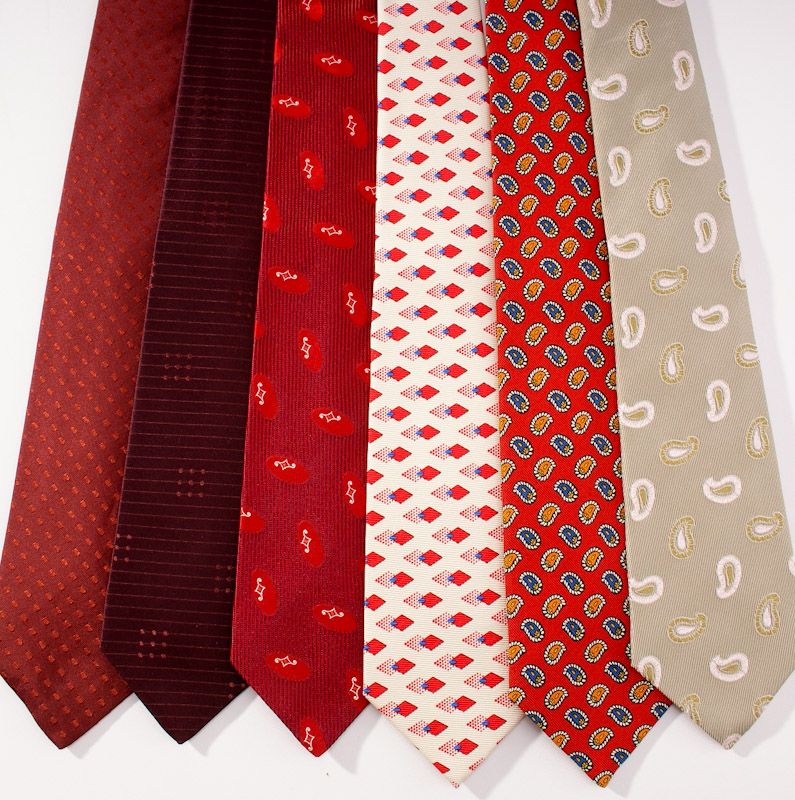 Click for Full Size Image
Group 13 (L to R): 79)\t Dark red with orange woven (1 available) 80)\t Plum with dot and stripe pattern (1 available) 81)\t Red and burgundy woven (1 available) 82)\t 7-Fold ivory with red and blue diamonds (6 available) 83)\t 7-Fold red with blue and orange paisley (2 available) 84)\t Olive and light pink paisley (1 available)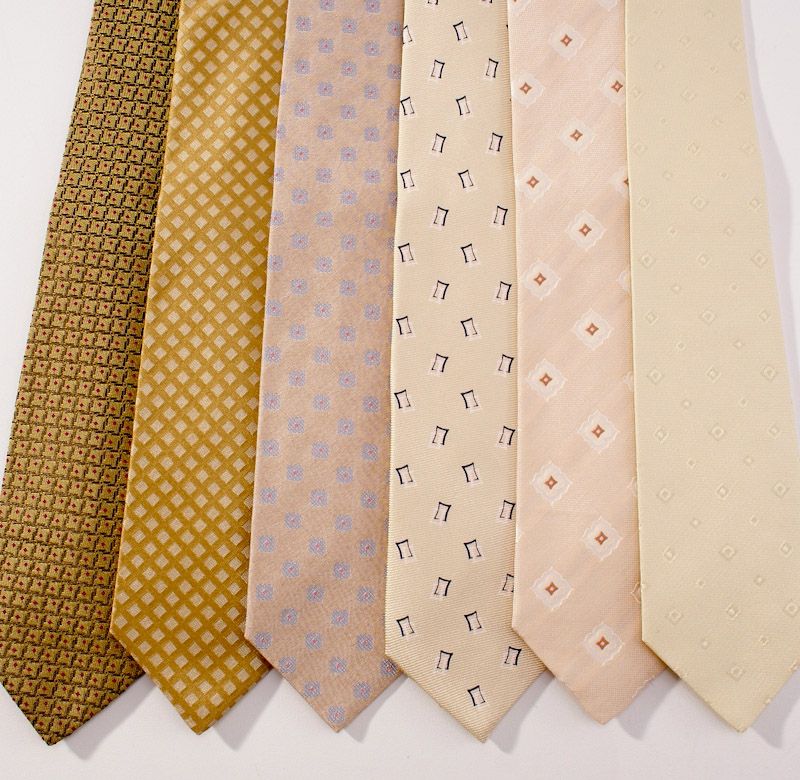 Click for Full Size Image
Group 14 (L to R): 85)\t Gold woven with cranberry dot (2 available) 86)\t Gold and beige lattice (1 available) 87)\t Light brown with sky blue and magenta pattern (1 available) 88)\t 7-Fold ivory with black and white design
(SOLD)
89)\t Beige with medallion (1 available) 90)\t Champagne with woven neat pattern
(SOLD)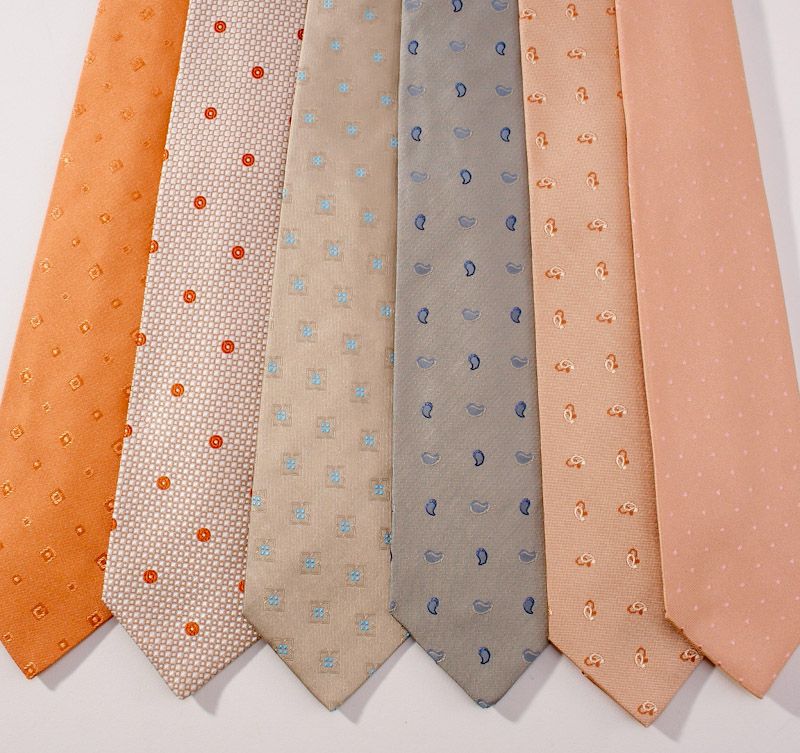 Click for Full Size Image
Group 15 (L to R): 91)\t Orange with small neat pattern (1 available) 92)\t Silver and brown woven with orange circles (1 available) 93)\t Light brown with blue floral (1 available) 94)\t Gray with blue paisley (1 available) 95)\t Peach and orange paisley (1 available) 96)\t Peach with small dot pattern (1 available)
Click for Full Size Image
Group 16 (L to R): 97)\t Dark pink and gold stripe (2 available) 98)\t Gray-green with pink stripe (1 available) 99)\t Pink woven base with midnight stripe (1 available) 100)\tLight brown with green stripe (1 available) 101)\tCarmel brown stripe (4 available) 102)\tCream with blue, brown, and salmon stripe (1 available)
Click for Full Size Image
Group 17 (L to R): 103)\t Brown with blue square design (3 available) 104)\t Burgundy-brown and gray woven (2 available) 105)\t Black and brown woven (1 available) 106)\t Green woven (2 available) 107)\t Green and navy woven (1 available) 108)\t Brown with blue floral pattern (1 available)
Click for Full Size Image
Group 18 (L to R): 109)\t Dark brown deep-woven design (4 available) 110)\t 7-Fold mid brown paisley (2 available) 111)\t Brown with sky blue stripe (1 available) 112)\t Brown and peach with sky blue accents (1 available) 113)\t 7-Fold brown geometric (1 available) 114)\t 7-Fold light brown with white dots (2 available)
Click for Full Size Image
Group 19 (L to R): 115)\t Dark green with lines (1 available) 116)\t 7-Fold dark green with circles (2 available) 117)\t Moss green fine-textured stripe (1 available) 118)\t Grass green fine-textured stripe (1 available) 119)\t Dark green stripe (1 available) 120)\tOlive green with woven design (2 available) 121)\tLighter green with snails (2 available)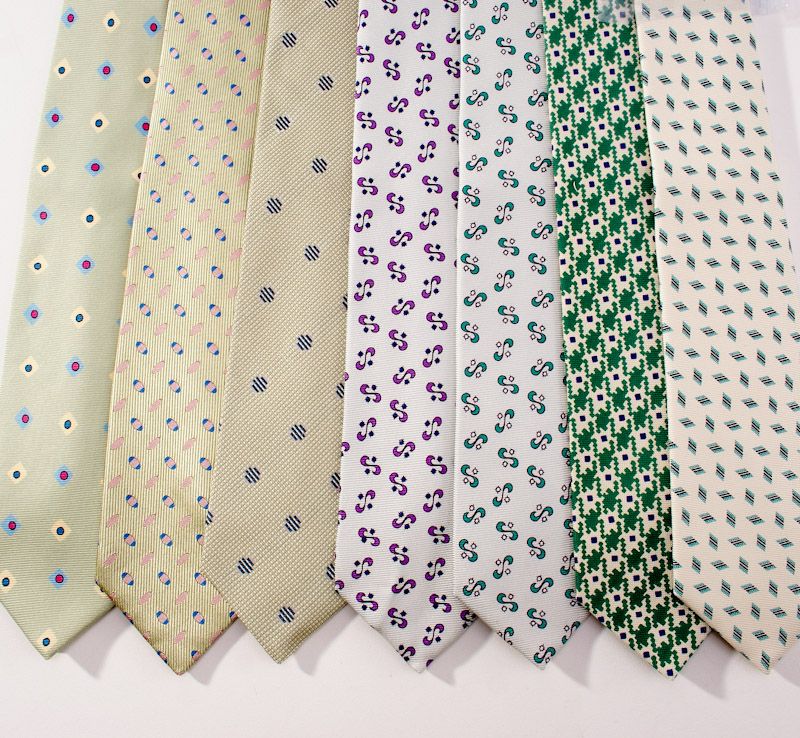 Click for Full Size Image
Group 20 (L to R): 122)\t7-Fold light green with geometric (2 available) 123)\tLight green with blue and pink stripe (1 available) 124)\tLight green with navy woven (1 available) 125)\t7-Fold light gray with purple design (2 available) 126)\t7-Fold light gray with green design (2 available) 127)\t7-Fold Green/white/navy houndstooth
(SOLD)
128)\t7-Fold cream with teal design (3 available)
Click for Full Size Image
Group 21 (L to R): 129)\tDark green woven with squares (1 available) 130)\t7-Fold green houndstooth with watermelons (2 available) 131)\t7-Fold green square design (1 available) 132)\t7-Fold green with orange geometric print (1 available) 133)\t7-Fold green with blue geometric print (1 available) 134)\t7-Fold green with sky blue print (1 available 135)\t7-Fold green with white lattice (1 available)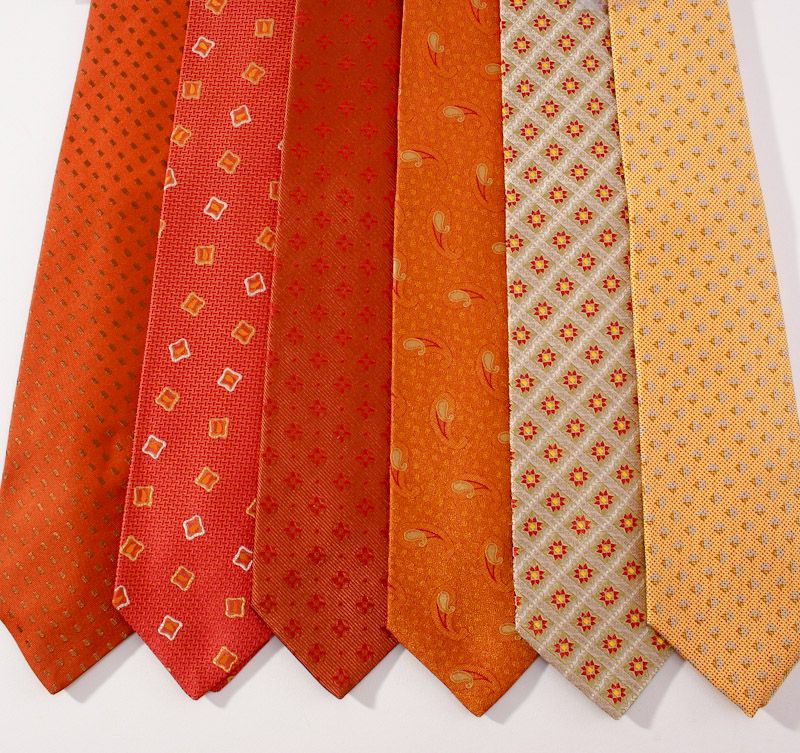 Click for Full Size Image
Group 22 (L to R): 136)\tTomato orange with small brown pattern (2 available) 137)\tRed woven with orange design (2 available) 138)\tOrange with red stars (1 available) 139)\tOrange paisley (1 available) 140)\tRed and yellow sunflower print (2 available) 141)\t7-Fold yellow and sky blue base with red dot overlay (3 available)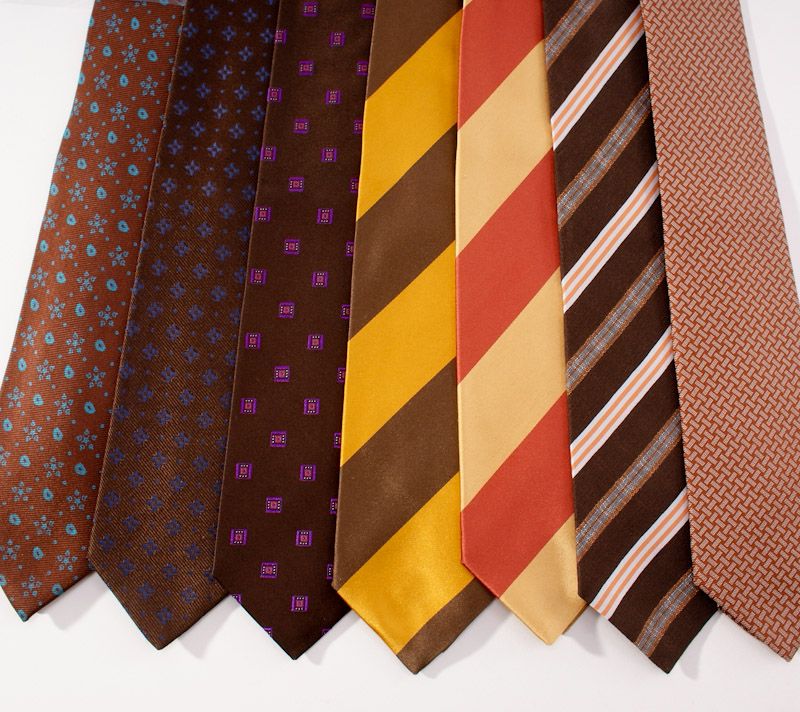 Click for Full Size Image
Group 23 (L to R): 142)\t7-Fold brown with blue snowflake (3 available) 143)\tBrown with dark blue star (2 available) 144)\tBrown with violet squares (2 available) 145)\tBrown and gold wide-stripe (2 available) 146)\tCinnamon and light gold wide-stripe (2 available) 147)\tBrown with orange repp stripe (1 available) 148)\t7-Fold brown and gray small pattern (1 available)
Click for Full Size Image
Group 24 (L to R): 149)\tBrown with orange and white design (1 available) 150)\tCopper paisley (1 available) 151)\t7-Fold golden yellow, orange, and white (1 available) 152)\tSolid tangerine orange (2 available) 153)\t7-Fold golden yellow with red and blue diamonds (3 available) 154)\tBrown with white dots (1 available) 155)\tGray-brown with red and black dots (1 available)
Click for Full Size Image
Group 25 (L to R): 156)\tGreen with white and pink stripe (1 available) 157)\tDark green with ivory stripe (3 available) 158)\t7-Fold watermelon stripe (2 available) 159)\tGreen and black stripe (1 available) 160)\tGreen and white stripe (1 available) 161)\tKey lime, lemon, and blue stripe (1 available)
Click for Full Size Image
Group 26 (L to R): 162)\tBlack with green diamonds (2 available) 163)\t7-Fold dark green with print (1 available) 164)\tDark green fine-woven (1 available) 165)\tDark green with pale blue diamonds (1 available) 166)\tDark green with gold design (1 available) 167)\t7-Fold dark green with pink diamonds (1 available) 168)\tGreen with pink woven design (1 available)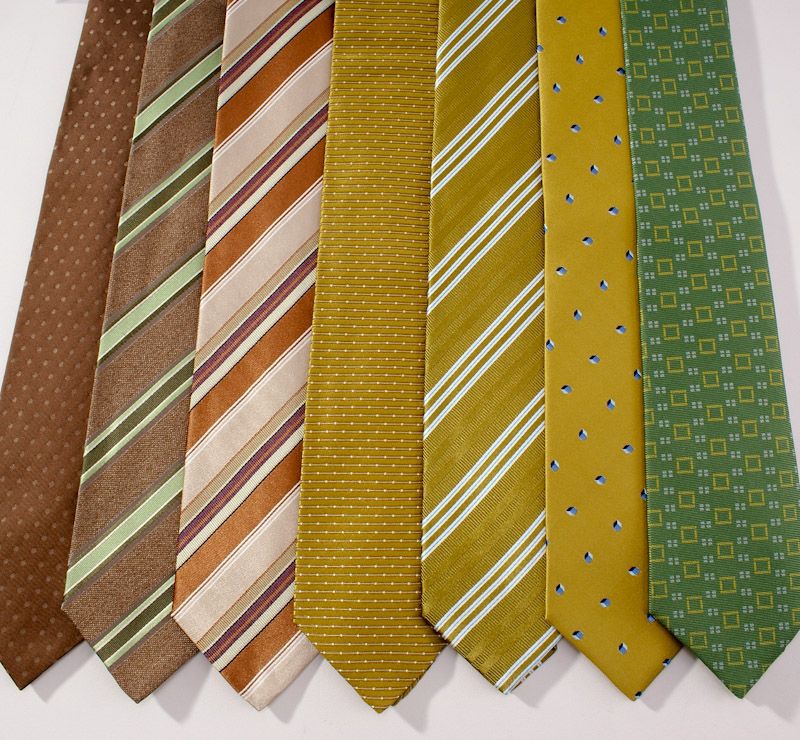 Click for Full Size Image
Group 27 (L to R): 169)\tBrown with small dots (2 available) 170)\tBrown woven with green stripe (1 available) 171)\tLight brown and green stripe (2 available) 172)\tDark chartreuse horizontal stripe (1 available) 173)\tChartreuse with sky blue stripe (1 available) 174)\tChartreuse with blue cubes (1 available) 175)\t7-Fold green square design (1 available)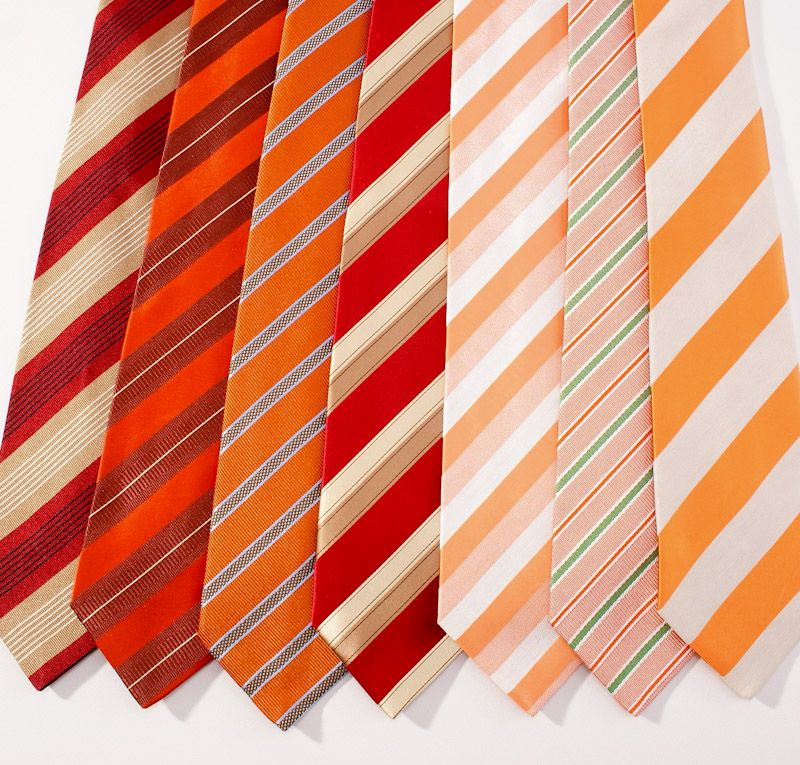 Click for Full Size Image
Group 28 (L to R): 176)\tBurgundy and light brown stripe (1 available) 177)\tBurgundy and orange stripe (2 available) 178)\tOrange and sky blue stripe (2 available) 179)\tRed and gold stripe (2 available) 180)\tOrange/peach/white stripe (2 available) 181)\tPeach, orange, and green stripe (1 available) 182)\tOrange and off-white stripe (1 available)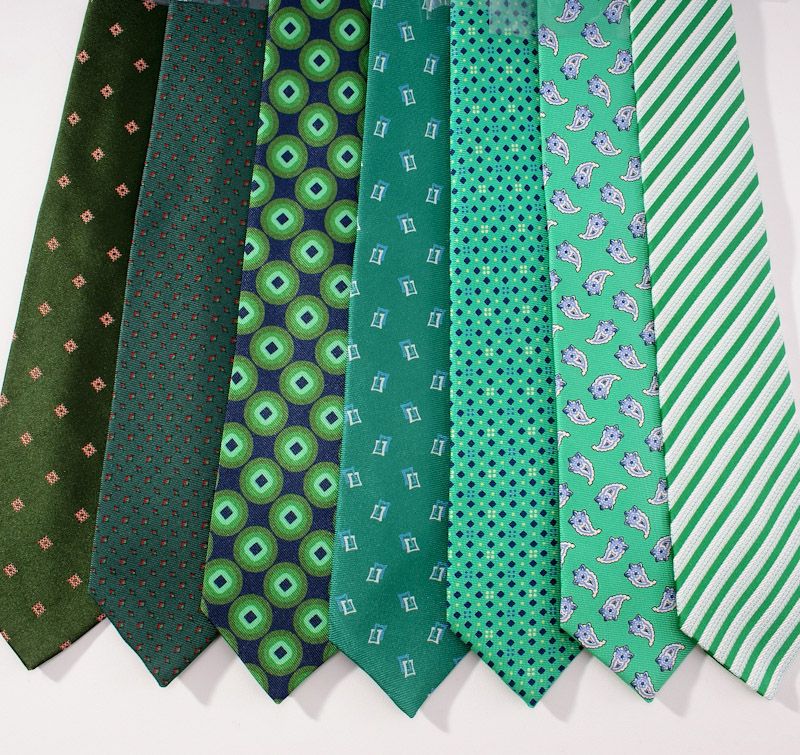 Click for Full Size Image
Group 29 (L to R): 183)\tDark green with pink diamonds (3 available) 184)\t7-Fold dark green with red neat pattern
(SOLD)
185)\t7-Fold navy with green circles (2 available) 186)\t7-Fold green with white and blue design (2 available) 187)\t7-Fold green with small navy diamonds (2 available) 188)\t7-Fold green with blue paisley seashells
(SOLD)
189)\tGreen and pale green stripe (1 available)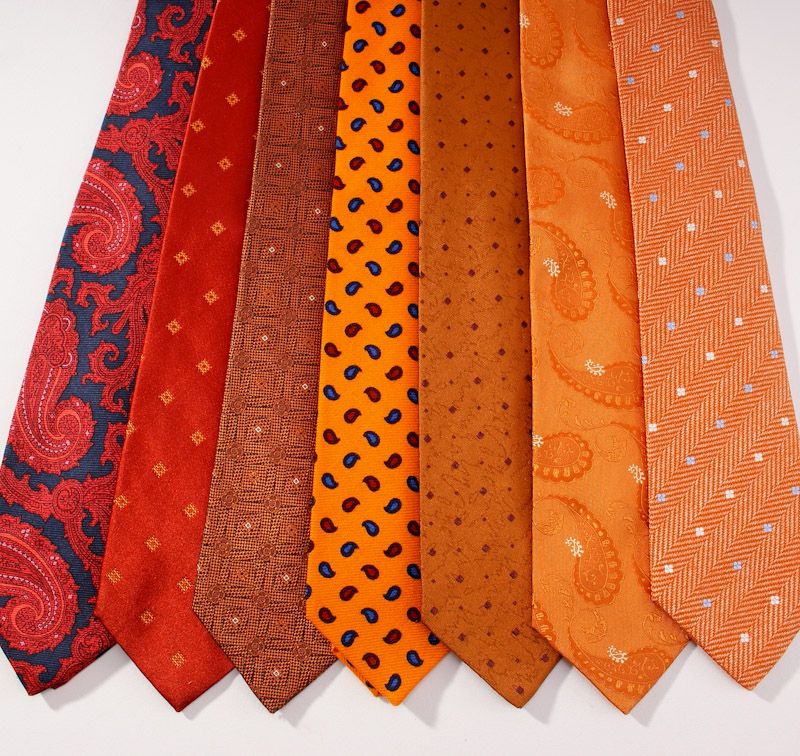 Click for Full Size Image
Group 30 (L to R): 190)\t7-Fold black and red paisley (1 available) 191)\tRed with orange diamond neat pattern (3 available) 192)\tCopper brown woven (1 available) 193)\t7-Fold orange with red and blue paisley (2 available) 194)\tCopper orange with small diamond pattern (1 available) 195)\tOrange paisley (1 available) 196)\tOrange herringbone with sky blue and white flowers (1 available)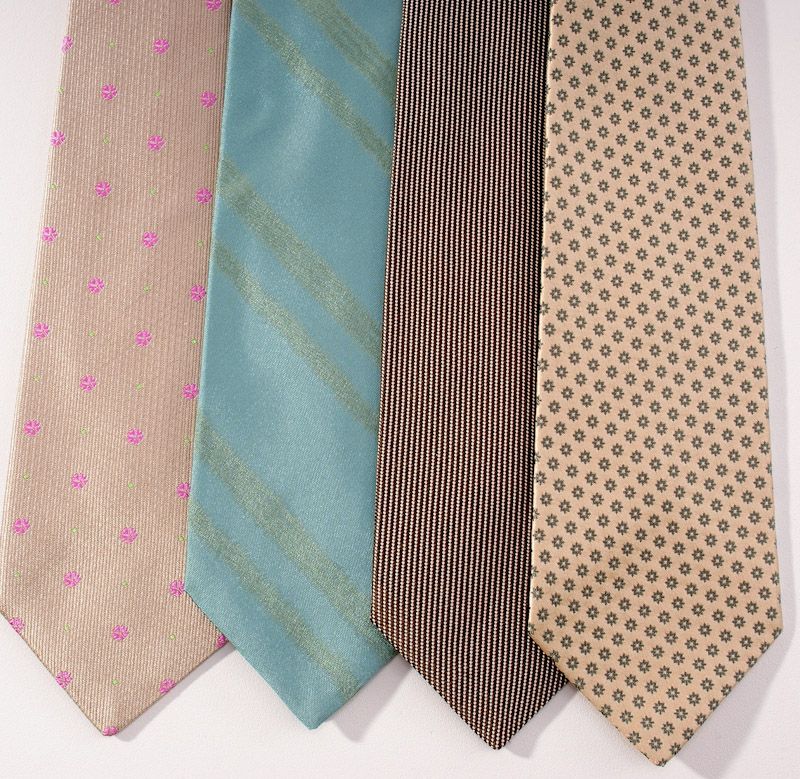 Click for Full Size Image
Group 31 (L to R): 197)\tLight brown with magenta and green flowers (1 available) 198)\tRobin's egg blue stripe (1 available) 199)\tBrown and white woven (1 available) 200)\tMuted gold with dark green floral neat (33 available)