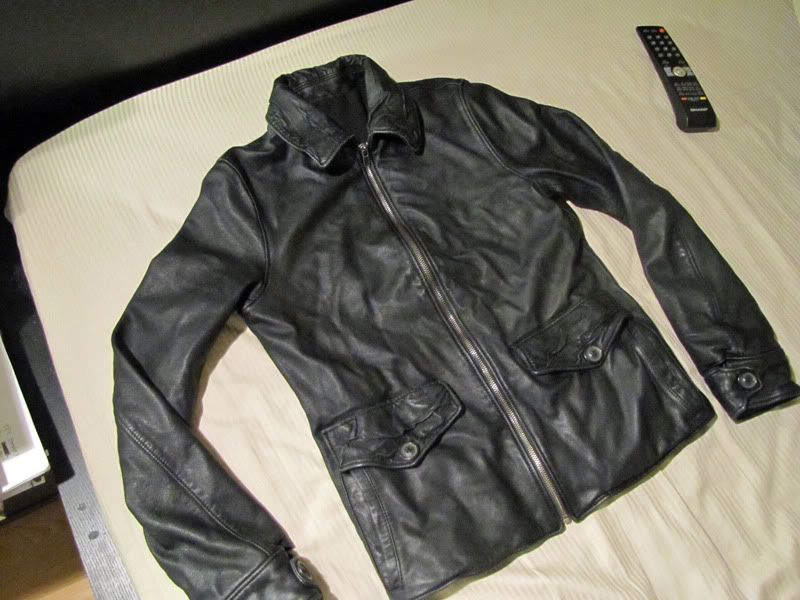 Closeup pic:
Warning: Spoiler!
(Click to show)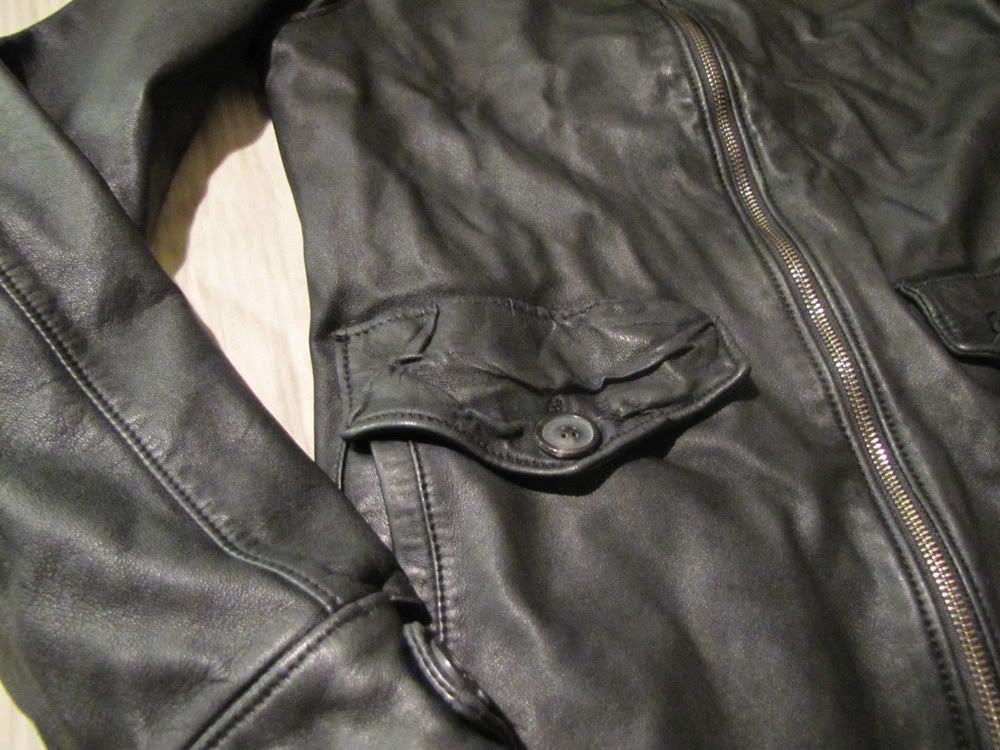 Fit pic:
Warning: Spoiler!
(Click to show)
Leather
: Calfskin but it's buttery soft and supple, very comparable to the lambskin TOJ uses (as a popular reference point) but in a more smooth and thick leather. The weight is ideal for spring/fall, not for summer tho. The distressing/wrinkling seen at the collar and on the pocket flaps are part of the design. The wrinkling on the rest of the jacket is because I voluntarily toss my jacket in a corner of my drawer to give it that look. It is not permanent at all, and depending on which look you prefer, it can easily go back to its original look (i.e., smooth leather / wrinkled collar& flaps).
Size
: I don't remember if the tagged size was 44 or 46 (no tags on the jacket), but it fits exactly between the 2 sizes (which is my ideal size). So basically a size 45 - for a bigger XS or a smaller S. Here's the PM I got from 'pseudonym' (username on SuFu) when I was asking about the jacket before buying it from him a couple months ago:
Quote:
Yes, I am a true 46, and with it zipped it is very tight. For most versitile use, having the flexibility to wear it zipped or not, the ideal wearer would be 44-45 IMO.
The leather is not at all armor like. It is very soft calfskin, and yes, somewhat drapy as you have put it. It is quite broken in as well, so it does not have that stiff felling when you move your arms.
Measurements
are:
Pit to pit 18.5 inches
Shoulder to shoulder 16.2 inches
Shoulder to cuff sleeve length 25.6 inches
total length on back, not including collar 24.5 inches
Price
: I have no idea how much it retailed for, but I paid 825$ shipped in October 2010 to buy it used. Considering the fact that it's missing the *interior (the 'bag') of the right flap pocket (the one closed by a button, not the lateral one where you'd put your hands)*, I'm ready to let it go for 700... 660...
620$ w/ shipping included
(which is gonna be at least 20-30$ since I'm shipping from Montreal).
* : The right pocket 'bag' has been taken out by myself a couple months ago because I was planning to have them replaced by smaller/thinner ones by my tailor. The reason for this is that I have wide-ish hips and I thought that the pockets, from their placement on the jacket, accentuated that. Unfortunately, I got busy with school/work and never got back to that 'project'. You can have any tailor put in a new pocket to replace the old one and it shouldn't cost much, it's a pretty basic job. Either way, it doesn't affect the look of the jacket, neither from the outside nor from the inside (there's a lining on the inside). So you could very well wear the jacket as is without ever noticing, unless you unbutton the right pocket and put your hand in there. If it's a deal-breaker for any serious buyer, I can go ahead and have my tailor sew in the new pocket bag before having the jacket shipped. The price would then be 25$ more. (the 25$ difference was to save me from having to do that).
Lemme know if you're interested or if you have any more questions!