Moving so this stuff has got to go. CONUS shipping included, int'l at cost. And this is definitely stuff that I'm looking to move; offers, trades, let me know what you've got.
1.
Crockett & Jones Harvard shell penny loafers
- US9.5. These are my dream shoes and I picked them up last week over
here
. They're simply perfect in every way, except a little too true-to-size for my closer-to-sz-10 feet. As Frank said, they're pristene, no creases, with bags but no box or trees. They're $805 over on Ben Silver, where I'm admitting to myself I'll have to pay full fare for a pair that fit. Someone else gets these ones for $525 + 9 shipping.
1.
Dunhill 100% cashmere sportcoat
- 48R (eu), made in Italy. Simply beautiful jacket; picked it up on the forum last year and sadly couldn't work it into my wardrobe. Single vent, peak lapels, lovely drape and soft as can be. Marked St. James fit.
$350
Measurements:
shoulders: 17.75
pit-to-pit: 19.75
sleeves: 25.25
bottom-of-collar: 30
2.
Hackett seersucker sportcoat
- 38R, made in Italy. Peak lapel, hacking pockets and ticket pocket, dual vent, surgeon's cuffs with a bit of room to shorten the sleeves if needed (probably .5 inch); from the Jermyn St. store in London. Never worn but I no longer have the tags.
$350
Measurements:
shoulders: 17.75
pit-to-pit: 19.75
sleeves: 25.5
bottom-of-collar: 29.75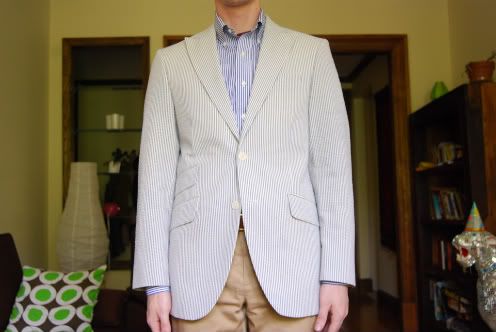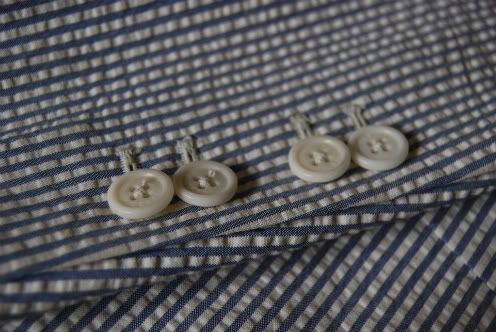 3.
Brooks Black Fleece bb1 Tan and white argyle cashmere sweater
. Picked this up last year and just haven't worked it into my wardrobe as much as I'd have liked, worn no more than five times. Insanely soft, great fit, immaculate condition. Retailed for $600,
$185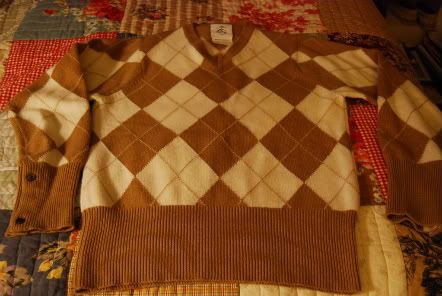 4.
Reiss sz 30 lightweight wool trousers
. Waist is 16 across and the inseam is 32. Trim, truly beautiful construction, $65
5.
Boss sz 32 lightweight navy wool trousers
, faint stripe as seen in second pic. Waist is 16.75 and inseam is 30 with about 3 to let out; hemmed but never worn, $65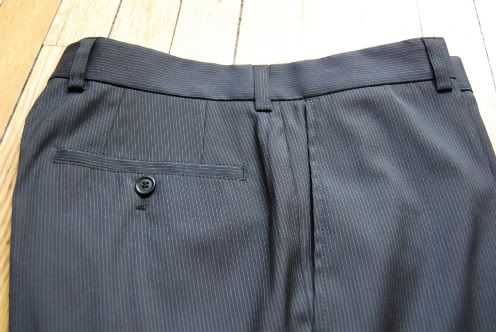 6.
Polo RL wool trousers
- 34x30: new without tags, just haven't gotten these to the tailor yet. Heavy weight lovely wool, side-tab adjustors, fully lined, $75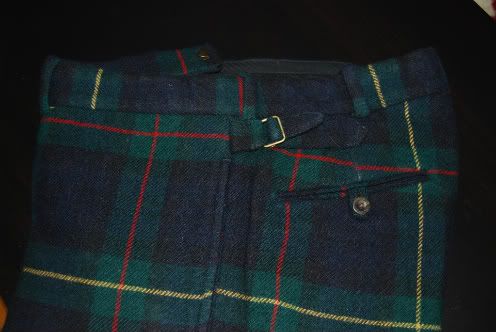 7.
Polo RL cotton shorts
BNWT - 32: thought these would make an appearance at some point during my post-grad summer ever last year; it just never happened. With a real job now, I think they'll sadly just stay in the drawer. Marked $80, $40
$36
.
waist: 16
inseam: 11
outseam: 21.25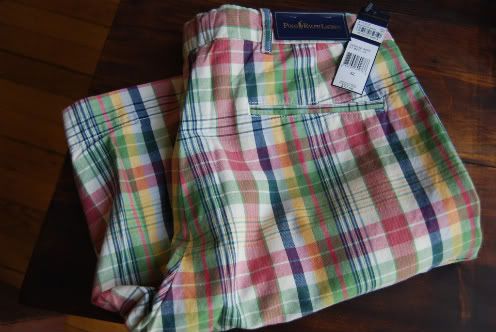 8.
Polo RL trunks
BNWT - small: ditto on these, picked em up and never found a use for them. Elastic waistband with drawstring makes these seem a little smaller than they fit; side pockets, and one with velcro in the back. Marked $70, $45
$36
here.
waist: 14.5
inseam: 5
outseam: 16
12-18: each in flawless condition, the Reiss and Burberry are new without tags
from left to right:
12: Banana Republic cream with blue dots - $10
13: Jcrew navy with blue/white repp - sold
14: Jcrew pink with green repp - found a small stain, so will send for shipping costs if anyone's keen
15: Reiss blue stripe - $10
16: Burberry pink dots: $40
17: Jcrew grey navy/white stripe - sold
18: Banana Republic cream, brown, yellow stripes - $10
sold! thanks
Corneliani Dinner jacket and trousers - 48 (eu) drop 7: beautiful set that I bought before studying in England. Only worn a couple of times and pressed, so no fading. It's a fairly slim/modernish fit through the chest and into the skirt, sharp shoulders and a fantastic silhouette, smooth as buttah, single button with a lovely roll and beautiful grosgrain notch lapels and trim on the trousers with double reverse pleats; no vent and fully canvassed. Pocket basting still in place. For reference, I'm usually a 38R in RLBL-size/cut items, and this is very close fit-wise. I know, I know--I should always have one in the closet; I just can't justify hanging onto this. Retail was in the $1500-range, $675 $600
$old
Measurements:
shoulders: 17.75
pit-to-pit: 19.75
sleeves: 24.75
bottom-of-collar: 29
waist: 15.75
inseam: 29.5 (2.75 to let out)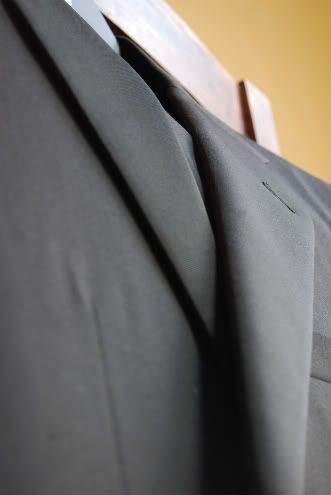 (note: white spot in the first photo is in the pic only)
Polo RL cotton unlined sportcoat - 38R: spring/summer 3-2 stance cotton patch-pocket sportcoat. Quite casual with natural shoulders and lining only through the sleeves. Single vent, quite trad cut. Detail under the collar, hidden when it's folded down or bright when it's popped... this has definitely gotten some wear. I think retail was $295,
sold
thanks SF!
Measurements:
shoulders: 18
pit-to-pit: 20.5
sleeves: 25.5
b-o-c: 28.75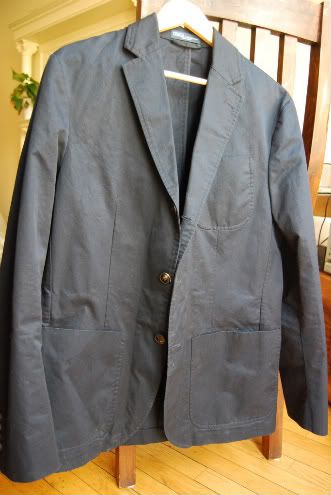 J.Crew cotton 3/4 lined sportcoat - small: another spring/summer 2-button with patch hip pockets. Another casual spring/summer garden party jacket. Definitely slim. Single vent. I've alway gotten an embarrassing number of compliments wearing this...
sold
thanks SF!
shoulders: 17.5
pit-to-pit: 19
sleeves: 24.5
b-o-c: 30
FCUK check sportcoat - 38R, single vent, notch lapel, slimmer fit with high armholes and trim sleeves; wool/cotton/polyester blend. Got some good wear out of this, medium weight and killer with dark denim.
sold
Measurements:
shoulders: 17.5
pit-to-pit: 19
sleeves: 26
bottom-of-collar: 29
Banana Republic navy blazer - 38R, picked this up in law school and it's been in my closet since; don't think it's ever actually been worn. Notch lapels and dual vent, slight hacking pockets.
sold
Measurements:
shoulders: 17.75
pit-to-pit: 19.75
sleeves: 26
bottom-of-collar: 30