I tend to agree with Working Stiff with regard to the length of the jacket below (not to the "awfully" extent).
Quote:
Originally Posted by
Working Stiff
This jacket looks awfully short for what is otherwise such a conservative outfit. Maybe with slimmer pants it would look OK, but here it looks off.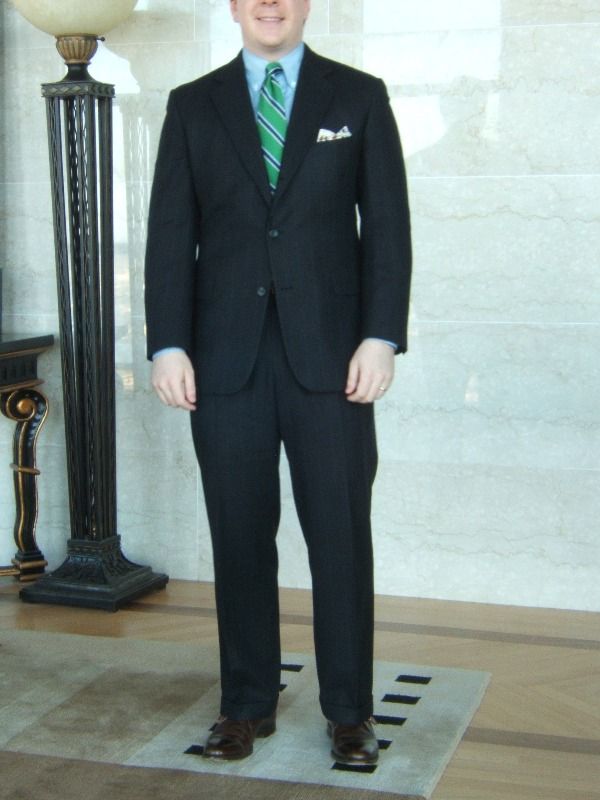 Orge's response:
Quote:
Originally Posted by
Orgetorix
While it may appear short, it measures exactly right on me. The ideal length is half the distance from the collar to the floor, and that's what this is.
Is this a "rule" of some sort that I've never heard. And, if so, because of varying torso length/leg length ratios between people, that would negate the "just cover your seat" rule in many cases.
On the flip side, I agree with sugarbutch with regard to the fit of the suit below (including the jacket). Does this measure the same as the jacket you mentioned is the "ideal length"? It could be the camera angle/pose, but it appears a bit longer.
Quote:
Originally Posted by
sugarbutch
Orge, IMO you should make a template from these trousers and get every pair you've got altered to mimic them. Maybe the jacket, too. You look about 15 lbs. lighter and 4 inches taller.