All pairs are brand new with no tags (also, certain internal tags may be cut out). Pairs are either Incotex or Zegna by Incotex
Pairs are spring weight (unless otherwise noted)
Wool pairs (marked starting "W") $100 each. Cotton & chinolino pairs ("C") $75 each.
Take $15 off total for 2 pairs purchased or $25 off total for 3 pairs purchased.
Shipping: Prices include US shipping.
Unfortunately, International USPS are through the roof. Please add $15 for Canada, $25 for Europe, $30 for Asia/Australia for anywhere up to 3 pairs. USPS priority mail shipping.
SORRY, ALL SUBJECT TO PRIOR SALE UNTIL PAYMENT RECEIVED
W1 SOLD (only mabitex pair in the batch)\tUS:30\tEU:46\tMabitex\tFabric:95% wool 5% elastin\tColor:Grey glenplaid\tWaist:16.5\tRise:9.5\tThigh:10.5\tKnee:9\tLeg Opening:7.75\tInseam:36\tRear pocket buttons: y\t
[IMG]
http://i391.photobucket.com/albums/oo360/theyare/IMG_2464.jpg[/IMG
W2 SOLD US:30\tEU:46\tIncotex (tags cut)\tFabric:100% wool Super 100s High Comfort\tColor:Heather gray\tWaist:15.5\tRise:9.75\tThigh:10\tKnee:8.75\tLeg Opening:8\tInseam:36\tRear pocket buttons: y\t
[IMG]
http://i391.photobucket.com/albums/oo360/theyare/IMG_2465.jpg[/IMG
W3 SOLD US:30\tEU:46\tIncotex (tags cut)\tFabric:100% wool Super 130s High Comfort\tColor:Medium gray\tWaist:15.5\tRise:9.5\tThigh:10\tKnee:8.75\tLeg Opening:8\tInseam:36\tRear pocket buttons: y
[IMG]
http://i391.photobucket.com/albums/oo360/theyare/IMG_2466.jpg[/IMG
W4 SOLD US:30\tEU:46\tIncotex (tags cut)\tFabric:100% wool Super 100s High Comfort\tColor:Navy\tWaist:15.5\tRise:9.75\tThigh:10\tKnee:8.75\tLeg Opening:8\tInseam:36\tRear pocket buttons: y\t
[IMG]
http://i391.photobucket.com/albums/oo360/theyare/IMG_2467.jpg[/IMG
W5 SOLD US:30\tEU:46\tIncotex (tags cut)\tFabric:100% wool Super 130s High Comfort\tColor:Very Dark Navy (possibly even black, but I don't think so)\tWaist:15.5\tRise:9.5\tThigh:10\tKnee:8.75\tLeg Opening:8\tInseam:36\tRear pocket buttons: y\t
[IMG]
http://i391.photobucket.com/albums/oo360/theyare/IMG_2468.jpg[/IMG
W6 SOLD US:32\tEU:48\tZegna by Incotex (tags cut)\tFabric:97% wool 3% elastin\tColor:Charcoal\tWaist:16.5\tRise:10\tThigh:10.5\tKnee:9.5\tLeg Opening:8.25\tInseam:36\tRear pocket buttons: y\t
[IMG]
http://i391.photobucket.com/albums/oo360/theyare/IMG_2469.jpg[/IMG
C1 SOLD\tUS:30\tEU:46\tIncotex (tags cut)\tFabric:97% cotton 3% elastin High Comfort\tColor:Light Khaki\tWaist:15.5\tRise:9.25\tThigh:10\tKnee:8.5\tLeg Opening:7.25\tInseam:35\tRear pocket buttons: N\t
[IMG]
http://i391.photobucket.com/albums/oo360/theyare/IMG_2470.jpg[/IMG
C2 SOLD US:30\tEU:46\tIncotex (tags cut)\tFabric:100% cotton 3 ply Chino\tColor:Spring blue\tWaist:15.75\tRise:9\tThigh:10\tKnee:8.75\tLeg Opening:7.5\tInseam:35\tRear pocket buttons: n\t
[IMG]
http://i391.photobucket.com/albums/oo360/theyare/IMG_2471.jpg[/IMG
C3 SOLD US:30\tEU:46\tIncotex (tags cut)\tFabric:100% cotton\tColor:Slate blue (grayish)\tWaist:16\tRise:9\tThigh:10\tKnee:8.75\tLeg Opening:7.5\tInseam:35\tRear pocket buttons: N\t
[IMG]
http://i391.photobucket.com/albums/oo360/theyare/IMG_2472.jpg[/IMG
C4 SOLD US:30\tEU:46\tIncotex (tags cut)\tFabric:100% cotton Incochino\tColor:Slate blue (grayish)\tWaist:15.5\tRise:10\tThigh:10.25\tKnee:8.5\tLeg Opening:8\tInseam:36\tRear pocket buttons: y\t
[IMG]
http://i391.photobucket.com/albums/oo360/theyare/IMG_2473.jpg[/IMG
C5\tSOLD US:30\tEU:46\tIncotex (tags cut)\tFabric:100% cotton (mini-herringbone)\tColor:Khaki\tWaist:15.5\tRise:10\tThigh:10.5\tKnee:9\tLeg Opening:8\tInseam:37\tRear pocket buttons: y\t
[IMG]
http://i391.photobucket.com/albums/oo360/theyare/IMG_2474.jpg[/IMG
C6\tUS:32\tEU:48\tIncotex (tags cut)\tFabric:97% cotton 3% elastin High Comfort\tColor:White\tWaist:16\tRise:10\tThigh:10.25\tKnee:9\tLeg Opening:7.75\tInseam:35\tRear pocket buttons: y\t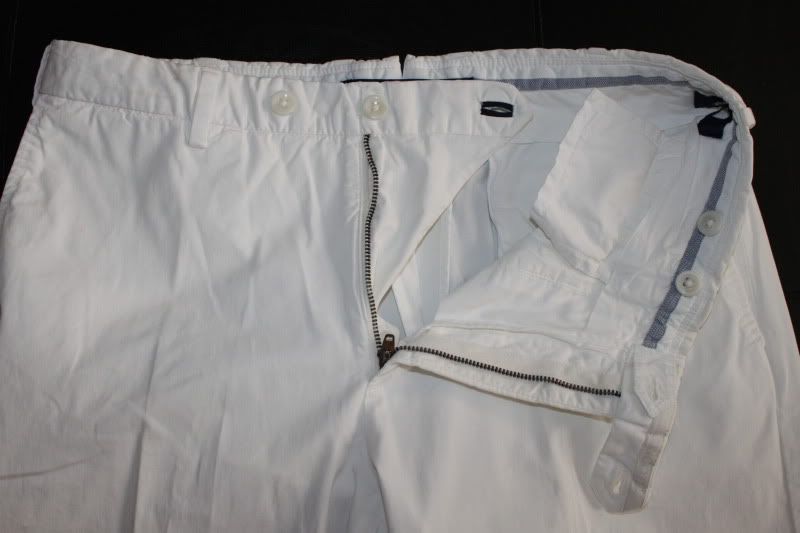 C7\tSOLD US:32\t EU:48\tIncotex (tags cut)\tFabric:100% cotton (textured)\tColor:Blue birdseye (aqua trim)\tWaist:16\tRise:10\tThigh:10.5\tKnee:9\tLeg Opening:8\tInseam:36\tRear pocket buttons: y\t
[IMG]
http://i391.photobucket.com/albums/oo360/theyare/IMG_2476.jpg[/IMG
C8\tSOLD US:32\tEU:48\tIncotex (tags cut)\tFabric:100% cotton 3 ply Chino\tColor:Spring blue\tWaist:16\tRise:10.25\tThigh:10.5\tKnee:8.75\tLeg Opening:8\tInseam:36\tRear pocket buttons: y\t[IMG]
http://i391.photobucket.com/albums/oo360/theyare/IMG_2477.jpg[/IMG
C9\tSOLD US:32\tEU:48\tIncotex (tags cut)\tFabric:57% linen / 47% cotton\tColor:Pink fade\tWaist:16\tRise:10.75\tThigh:10\tKnee:9.5\tLeg Opening:8.75\tInseam:36\tRear pocket buttons: y\t
[IMG]
http://i391.photobucket.com/albums/oo360/theyare/IMG_2478.jpg[/IMG
C10\tSOLD US:32\tEU:48\tZegna by Incotex (tags cut)\tFabric:75% cotton / 25% linen\tColor: Dark khaki birdseye\tWaist:16\tRise:9.5\tThigh:10.5\tKnee:8.75\tLeg Opening:7.75\tInseam:36\tRear pocket buttons: n\t[IMG]
http://i391.photobucket.com/albums/oo360/theyare/IMG_2479.jpg[/IMG
C11\tSOLD US:32\t EU:48\tZegna by Incotex (tags cut)\tFabric:100% cotton\tColor:Khaki\tWaist:16\tRise:10\tThigh:10.5\tKnee:9.5\tLeg Opening:8.25\tInseam:35\tRear pocket buttons: y\t[IMG]
http://i391.photobucket.com/albums/oo360/theyare/IMG_2480.jpg[/IMG
C12\tSOLD US:32\tEU:48\tIncotex (tags cut)\tFabric:100% cotton\tColor:Light khaki\tWaist:16\tRise:9.5\tThigh:10.25\tKnee:8.75\tLeg Opening:7.5\tInseam:36\tRear pocket buttons: y\t[IMG]
http://i391.photobucket.com/albums/oo360/theyare/IMG_2481.jpg[/IMG
C13\tSOLD US:32\tEU:48\tIncotex (tags cut)\tFabric:100% cotton\tColor:Light khaki\tWaist:16\tRise:9.5\tThigh:10.25\tKnee:8.75\tLeg Opening:7.5\tInseam:36\tRear pocket buttons: y\t[IMG]
http://i391.photobucket.com/albums/oo360/theyare/IMG_2482.jpg[/IMG
C14\tSOLD US:32\tEU:48\tIncotex (tags cut)\tFabric:97% cotton 3% elastin High Comfort\tColor:Light khaki\tWaist:16\tRise:10\tThigh:10.5\tKnee:9\tLeg Opening:8\tInseam:36\tRear pocket buttons: y\t
[IMG]
http://i391.photobucket.com/albums/oo360/theyare/IMG_2483.jpg[/IMG
C15 SOLD US:32\tEU:48\tIncotex (tags cut)\tFabric:97% cotton 3% elastin High Comfort\t
Color:Light khaki\tWaist:16\tRise:9.5\tThigh:10\tKnee:8.75\tLeg Opening:7.25\tInseam:35\tRear pocket buttons: n\t[IMG]
http://i391.photobucket.com/albums/oo360/theyare/IMG_2484.jpg[/IMG
C16 SOLD US:32\tEU:48\tIncotex (tags cut)\tFabric:97% cotton 3% elastin High Comfort\tColor:Light khaki\tWaist:16\tRise:9.5\tThigh:10\tKnee:8.75\tLeg Opening:7.25\tInseam:35\tRear pocket buttons: n\t
[IMG]
http://i391.photobucket.com/albums/oo360/theyare/IMG_2485.jpg[/IMG
C17\tSOLD US:32\tEU:48\tZegna by Incotex (tags cut)\tFabric:100% cotton\tColor:khaki/ taupe\tWaist:16.5\tRise:10.25\tThigh:10.25\tKnee:9.5\tLeg Opening:8.25\tInseam:34 (hemmed)\tRear pocket buttons: y\t
[IMG]
http://i391.photobucket.com/albums/oo360/theyare/IMG_2486.jpg[/IMG
C18\tSOLD US:32\tEU:48\tIncotex (tags cut)\tFabric:96% cotton 4% elastin High Comfort\tColor:Khaki\tWaist:16\tRise:9.5\tThigh:10.5\tKnee:8.75\tLeg Opening:8\tInseam:36\tRear pocket buttons: y\t
[IMG]
http://i391.photobucket.com/albums/oo360/theyare/IMG_2487.jpg[/IMG
C19\tSOLD US:32\tEU:48\tIncotex (tags cut)\tFabric:97% cotton 3% elastin High Comfort\tColor:Khaki\tWaist:16\tRise:10\tThigh:10.75\tKnee:9.5\tLeg Opening:8.25\tInseam:35.5\tRear pocket buttons: y\t
[IMG]
http://i391.photobucket.com/albums/oo360/theyare/IMG_2488.jpg[/IMG
C20 SOLD \tUS:32\tEU:48\tZegna by Incotex (tags cut)\tFabric:100% cotton (dressy unlined)\tColor: Dark khaki\tWaist:16.5\tRise:10.75\tThigh:10.5\tKnee:9.75\tLeg Opening:8.5\tInseam:36\tRear pocket buttons: y\t
[IMG]
http://i391.photobucket.com/albums/oo360/theyare/IMG_2489.jpg[/IMG
C21\tSOLD US:32\tEU:48\tZegna by Incotex (tags cut)\tFabric:100% cotton (dressy unlined)\tColor:Brown\tWaist:16\tRise:10\tThigh:10.25\tKnee:9.25\tLeg Opening:8.25\tInseam:35\tRear pocket buttons: y\t
[IMG]
http://i391.photobucket.com/albums/oo360/theyare/IMG_2490.jpg[/IMG
C22\tUS:32\tEU:48\tIncotex (tags cut)\tFabric:100% cotton\tColor: Dark brown\tWaist:16\tRise:10\tThigh:10.5\tKnee:9.75\tLeg Opening:8\tInseam:37\tRear pocket buttons: y\t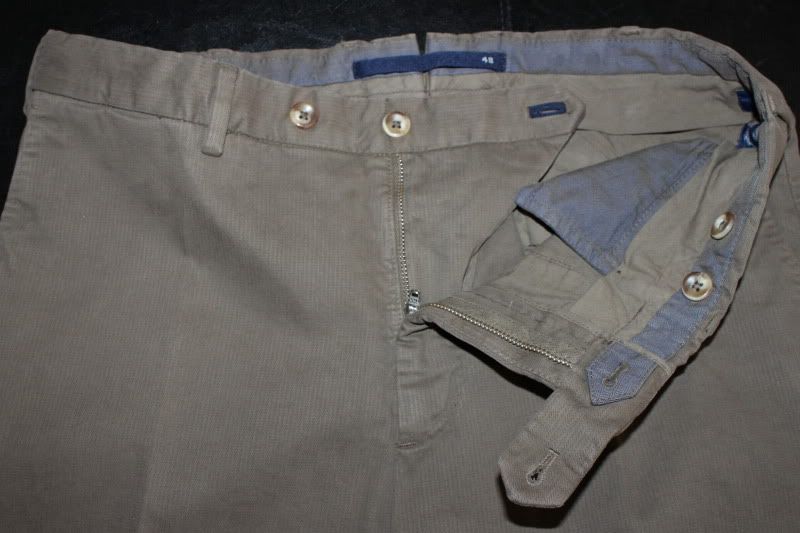 C23SOLD US:34\tEU:50\tIncotex (tags cut)\tFabric:100% cotton (very thin-light)\tColor:Gray\tWaist:17\tRise:9.75\tThigh:11\tKnee:9.25\tLeg Opening:7.5\tInseam:35\tRear pocket buttons: n\t
[IMG]
http://i391.photobucket.com/albums/oo360/theyare/IMG_2492.jpg[/IMG
C24 SOLD US:34\tEU:50\tZegna by Incotex (tags cut)\tFabric:100% cotton\tColor:Blue (white trim)\tWaist:17\tRise:10.25\tThigh:10.75\tKnee:9.5\tLeg Opening:8.5\tInseam:36\tRear pocket buttons: y
[IMG]
http://i391.photobucket.com/albums/oo360/theyare/IMG_2493.jpg[/IMG
C25\tUS:34\tEU:50\tIncotex (tags cut) - note- very small defect on upper right inner thigh\tFabric:55% cotton / 45% linen Chinolino\tColor: Dark blue\tWaist:17\tRise:10\tThigh:10.5\tKnee:9.25\tLeg Opening:8.5\tInseam:36\tRear pocket buttons: y\t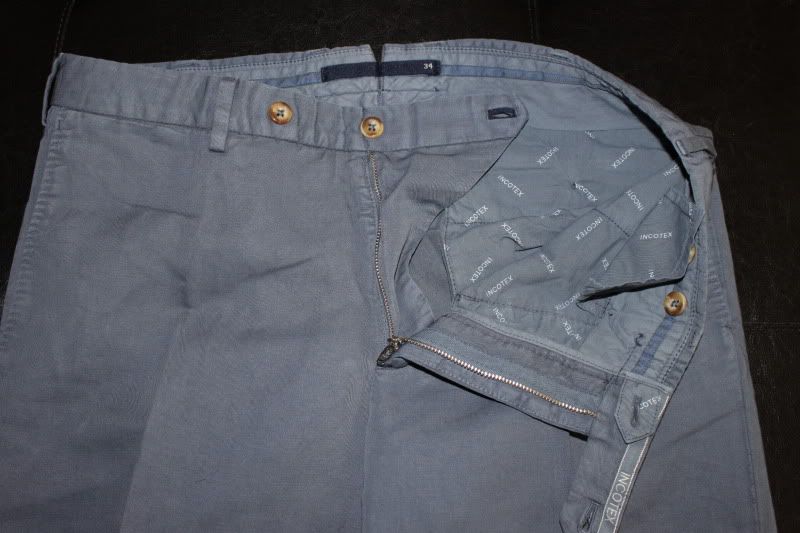 C26\tSOLD US:34\tEU:50\tIncotex (tags cut)\tFabric:57% cotton / 43% linen Chinolino\tColor:Khaki\tWaist:17\tRise:10.25\tThigh:10.75\tKnee:10\tLeg Opening:9\tInseam:37\tRear pocket buttons: y\t
[IMG]
http://i391.photobucket.com/albums/oo360/theyare/IMG_2495.jpg[/IMG
C27\tSOLD US:34\tEU:50\tIncotex (tags cut)\tFabric:57% cotton / 43% linen Chinolino\tColor:Khaki\tWaist:17\tRise:10.25\tThigh:10.75\tKnee:10\tLeg Opening:9\tInseam:37\tRear pocket buttons: y\t
[IMG]
http://i391.photobucket.com/albums/oo360/theyare/IMG_2496.jpg[/IMG
C28\tSOLD US:34\tEU:50\tIncotex (tags cut)\tFabric:100% cotton (subtle weave)\tColor:Light khaki\tWaist:17\tRise:10\tThigh:11\tKnee:9\tLeg Opening:8\tInseam:36\tRear pocket buttons: y\t
[IMG]
http://i391.photobucket.com/albums/oo360/theyare/IMG_2497.jpg[/IMG
C29 SOLD US:34\tEU:50\tZegna by Incotex (tags cut)\tFabric:100% cotton (dressy)\tColor:Khaki\tWaist:17\tRise:11\tThigh:11.25\tKnee:10.25\tLeg Opening:8.75\tInseam:38\tRear pocket buttons: y\t
[IMG]
http://i391.photobucket.com/albums/oo360/theyare/IMG_2498.jpg[/IMG
C30\tSOLD US:34\tEU:50\tZegna by Incotex (tags cut)\tFabric:100% cotton (dressy)\tColor:Brown\tWaist:17\tRise:10.5\tThigh:11\tKnee:10\tLeg Opening:8.5\tInseam:35\tRear pocket buttons: y\t
[IMG]
http://i391.photobucket.com/albums/oo360/theyare/IMG_2499.jpg[/IMG
C31\tSOLD US:34\tEU:50\tZegna by Incotex (tags cut)\tFabric:100% cotton (dressy)\tColor:Brown\tWaist:17\tRise:10.5\tThigh:11\tKnee:10\tLeg Opening:8.5\tInseam:35\tRear pocket buttons: y\t
[IMG]
http://i391.photobucket.com/albums/oo360/theyare/IMG_2500.jpg[/IMG
C32 SOLD US:34\tEU:50\tIncotex (tags cut)\tFabric:100% cotton (subtle weave)\tColor: off-brown\tWaist:17\tRise:9.75\tThigh:11\tKnee:9\tLeg Opening:7.5\tInseam:35\tRear pocket buttons: n\t
[IMG]
http://i391.photobucket.com/albums/oo360/theyare/IMG_2501.jpg[/IMG