I didn't know if I could have posted this in the main forum or not so I'm putting it here because likely some sales will happen and not just strict trading.
anyways, I know we're sitting on denims that we're not wearing, and the reason why we're not putting them up for sale is because of the immediate loss that you'd incur when really what you wanted was to resize or get another pair of jeans in the end.
so maybe this will fail horribly due to no interest, or you can get that pair you've always been looking for, or you can build up that closet collection with even
nicer stuff you won't wear
I'm sitting on 10+ pairs of jeans that really i probably won't ever be wearing, but don't want to get rid of for the reasons above. I'd happily be more inclined let them go if I could either find it in a better size or another model than sell.
let me emphasize that I'm getting a lot of interest from members that are looking to buy, but unless you're going to offer a stupid amount of money, I'm looking more for trade opportunities.
I'm not going to put up prices just yet but may in the future, and if there is real interest I'll provide more details, like individual shots, measurements, wear details, etc.
I encourage that this thread be used by other members in this size to post up what they're willing to trade! and please don't post "want-to-buy" in here unless you've got something that you can offer in trade.
thanks for looking!
here's what I'd be looking for, inseams should be at least 33-34.
Iron Hearts 301
DH MIJ 19cm sz 33 or washes in 34
KMW Rockers sz 33
PBJ's slim straight or tapered
Momotaros same as pbj
*2.23.2011 update*
have put up many of these pairs for sale now in this
thread
except for the Diors and the WH jeans.
okay. here goes:
f)Dior 19cm MIJ sz 34 new, soaked only
looking only to trade these for the same model in 33. can be in slightly more worn state
waist 18
inseam 37.5
front rise 10.5
back rise 15
upper thigh 12.5
leg opening 7.75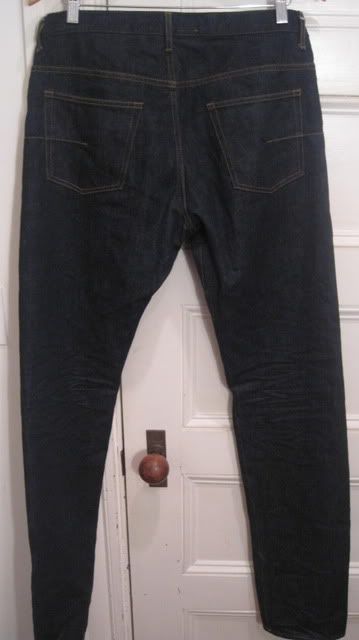 right side, back to front:
g)Uniqlo MIJ sz 34 worn considerably
forgot the pics for these.
h)Acne Mic Raven sz 34x32 worn considerably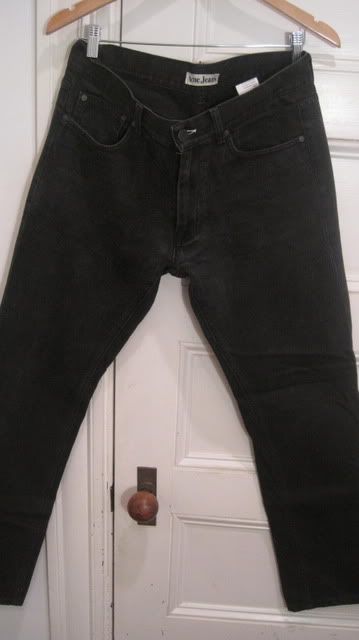 waist 17.5
inseam 31
front rise 9.5
back rise 15
upper thigh 12
leg opening 8.25