Billy Reid S/S2010 Waxed Cotton Fisherman's Jacket Sz. M $185-->$175-->$150-->$135-->$125 FINAL DROP!!
Or trade for a J. Crew Holborn trench in Sz. S
Retailed for $595. Really unique rain jacket with great details. Worn a few times. Nice chambray lining. Altered to shorten sleeves about an inch and wrote my name on the inside. Don't get that many chances to wear it. I really just need a good trench so it's yours for cheap. PM for more details.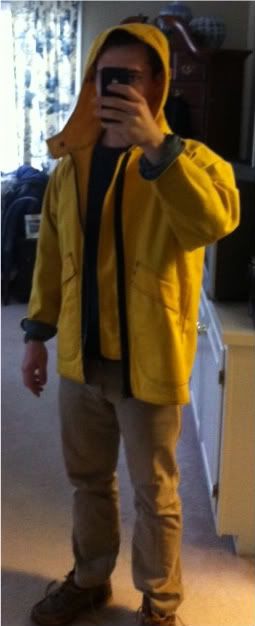 Lacoste Green Polo Sz. 2 $30-->$28-->$25
Got this last August. Worn a few times before the cold began in October. I've just got to learn I wear a 3 in Lacoste...P2P=19"
Gant Rugger FW2010 Red Old Loom Oxford Sz. M $SOLDSlim Fit Brooks Brothers Pink Madras Shirt Sz. S $SOLDJ. Crew Factory Striped Ringspun Henley Sz. S $SOLDRed Vans CVO Sz. 9.0 $SOLDJ. Crew 95% Cotton/5% Cashmere Sweaters Sz. S $SOLDJ. Crew Chambray Shirt (Factory Store version) Sz. M $SOLD
PM's are best! Thanks for looking.