All prices
include shipping
to the continental US via USPS with delivery confirmation.
Personal Payment
via PayPal please - otherwise add 3%.
[International shipping is possible for additional cost depending on order, destination country, and desired shipping method.]
Measurements (in inches) are my best conscientious effort with a measuring tape.
[chest=pit to pit & doubled; shoulder=seam to seam across back; sleeve=shoulder seam down to end of cuff; length=bottom of collar down to jacket end; waist=measured flat & doubled; inseam=bottom of rise down to pant cuff end; cuff=measured flat & doubled]
Polo
Blue Label
Made in USA
Dark Charcoal with bone white overcheck and black, cyan, red, & blue horizontal/vertical lines
41R or slim 42R 100% wool
Jacket -- double breasted 6 button 2, fully canvassed, peak lapels, side vents, fully lined, working lapel button hole, horn buttons
Pants -- double forward pleat pants, two button side tabs, unlined, 1.5 inch cuffs, suspender buttons
Jacket -- Chest 43 7/8, Shoulders 19 1/4, Sleeve 24 3/4, Length 31 1/2
Pants -- Waist 31 7/8 (+ 2 3/4 extra), Inseam 28 1/2 (+ 3 3/4 extra), Cuff 19 7/8
I love this suit but I can't wear dark colors like charcoal without looking like a corpse. My albino Irish loss is your gain!
I suspect that this suit was a special order because of the lack of a size tag and the unique dimensions. Dimensions suggest a 41R or a slim 42R. Armholes are
EXTREMELY
high/small. [If I didn't need the money I would keep this suit just to show my next MTM tailor what proper armscyes look like.] Very good condition.
SOLDUSN
issue wool peacoats
Kersey Blue
38R, 44R
Double breasted; Seven fouled anchor buttons (four to button); thick 100% melton wool with heavy cotton corduroy pocket liners; full lining; extended stand-up collar; single vent
44R -- chest: 46 1/2 sleeves: 24 1/4 Length: 33 1/2
38R -- chest: 43 sleeves: 25 1/2 Length: 32
If you want a genuine peacoat in
blue
that's 100% wool, you won't be able to get it from Schott or Sterlingwear. Starting sometime in the late 1970s or early 1980s, the Navy stopped issuing Kersey blue (akin to midnight blue) coats and switched to black. They also switched to a wool/nylon blend fabric with a poly liner.
I have two coats for sale - both in very good condition for their age with only a very few minor shiny spots and moth bites.
I own two Kersey peacoats and I love them. They shrug off snow and rain and block out chill winds. Give them a once over with a Kent brush and they glow. Kersey coats were made in the era before poly fill lining, so the 100% wool melton had to be very substantial to keep the wearer warm.
THESE COATS ARE HEAVY
, not flimsy like the crap you find at BR or the Gap. These coats have deep corduroy lined pockets that keep your hands nice and toasty. It is amazing how something so outwardly soft and comfortable can be so hard wearing and durable.
44R
SOLD
38R
SOLD
Dress pants
Made in USA
Navy super 100s wool
34L
Single reverse pleat pants, off seam besom pockets, belt loops, lined to the knee, 1.5 inch cuffs
Waist 34 (+ 2 1/2 extra), Inseam 31 (+ 3 1/2 extra), Cuff 19 1/2
Very lightweight, excellent drape, worn maybe 5 times, excellent condition
$20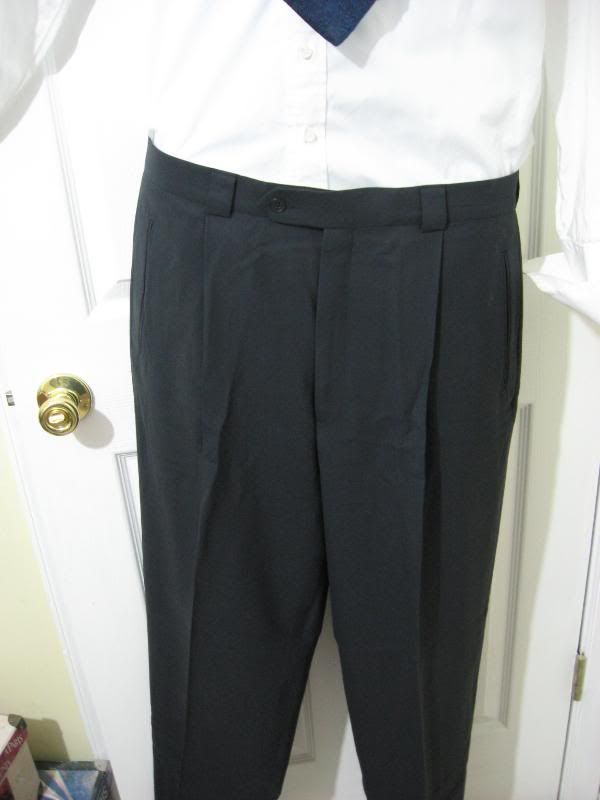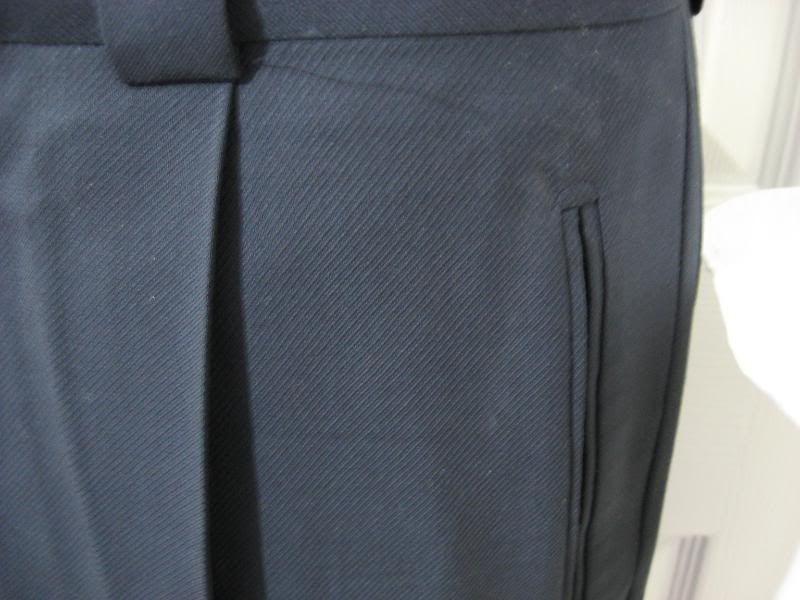 !!IF YOU BUY TWO OR MORE PAIRS OF BOOTS, I WILL THROW IN NEW ALLEN EDMONDS SHOE BAGS FOR FREE!!John Varvatos
Chukka Boots
Made in Italy
Dark brown pebble grain leather
Size - 8.5D
Outsole heel to toe -- 11.65 inches
Outsole at widest point across -- 4.25 inches
New Vibram half sole and heels just added. Does have a ~1 inch scratch on lower toe of left boot, purely cosmetic. Very good condition overall.
SOLDMichele Oliviera
Cap toe dress boots
Made in Italy
Light brown calf
Size - 42/8.5
Outsole heel to toe -- 11.5 inches
Outsole at widest point across -- 4.25 inches
A bit too large for me so I would call these a 9 US. Elastomere rubber soles are nearly untouched. Really nice brown patina to the uppers. Sleek and stylish. Very good condition overall.
$40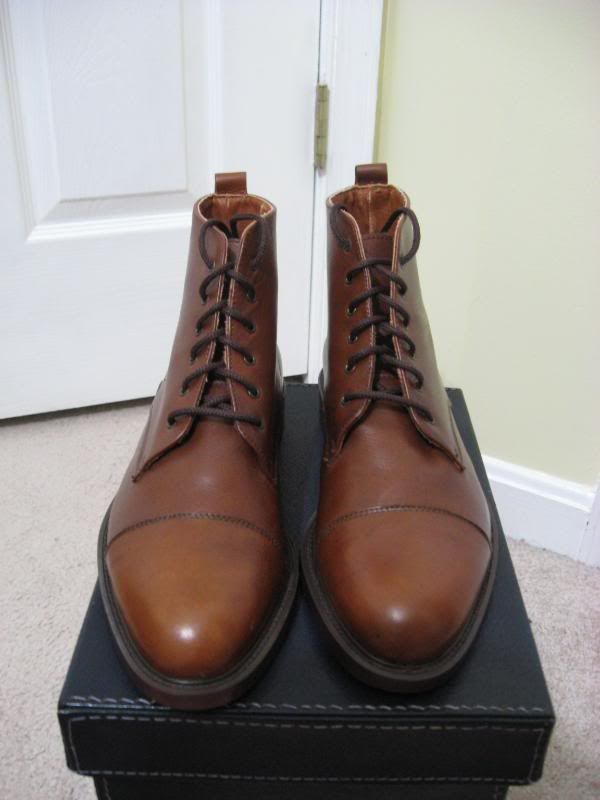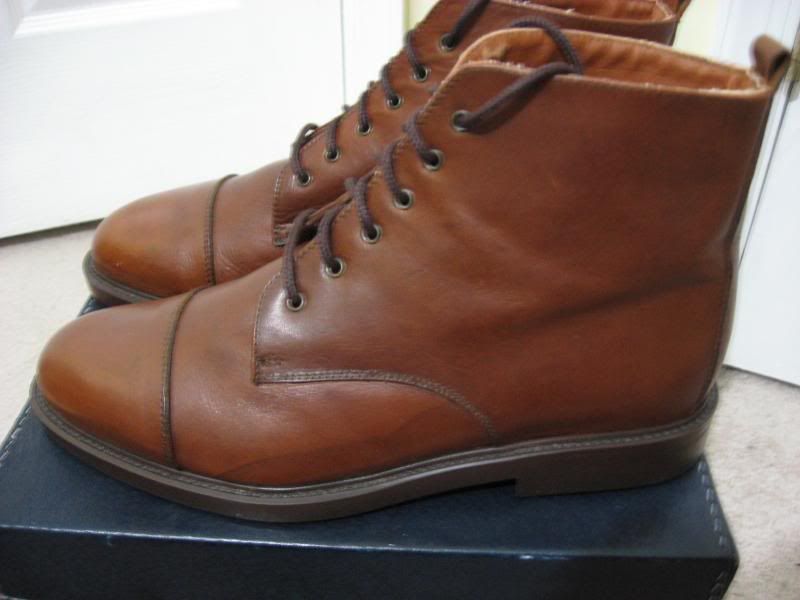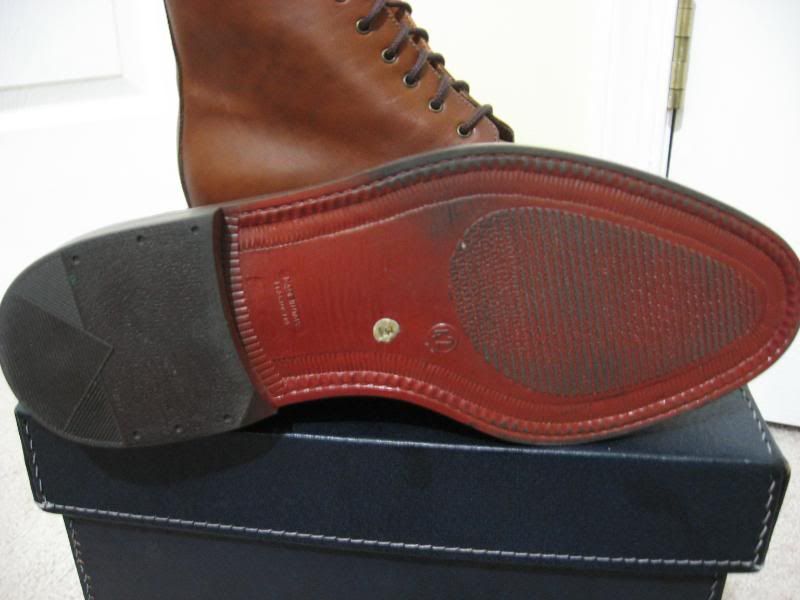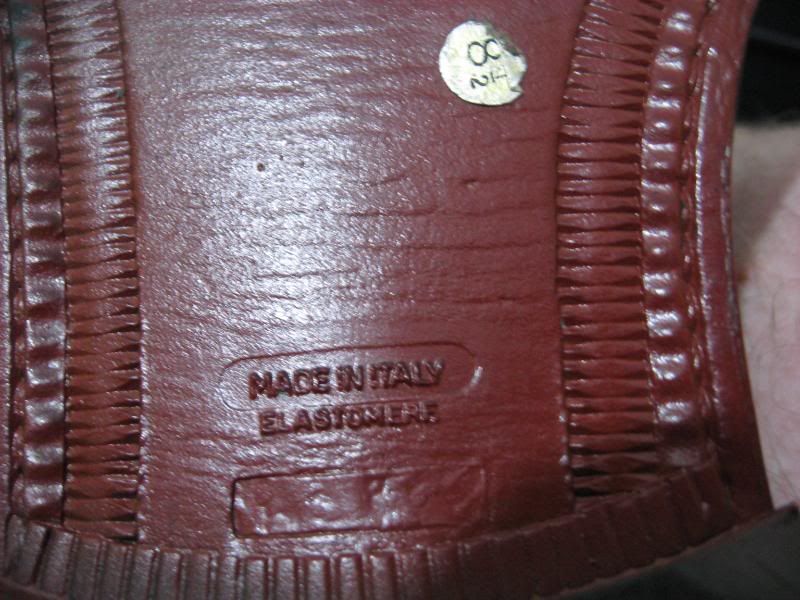 Alfani
Cap toe winter dress boots
Made in Italy
Brown calf
Size - 8.5D
Outsole heel to toe -- 11.75 inches
Outsole at widest point across -- 4.375 inches
These boots are very substantial with a nice dark patina on the uppers. Rubber outsoles are nearly untouched. Very good condition overall.
SOLD
Please PM if interested.