1/30: Added:
Crescent Down Works Italian Vest

Size Small
Olive/military green with orange lining. Brand new. Small is too small for me (they actually don't size these gigantic like most makers). This piece is incredible. Zipper (YKK) and button (leather reinforced) front, elastic bottom, made in USA.
P2P: 20.5"
Length, from top of collar to bottom: 26"
Length, from rear shoulder line: 23"
$200 shipped -->190 --> 185 --> 175 --> 166 --> 159 --> 151 -->
145 shipped
Made in USA Levi's Selvedge 501, size 30 x 32 BNWT.
Bought from the forum, but they are too tight in the thighs for me. Looking to get back most of what I laid out. These are a spectacular fade. Real leather patch.
$70 shipped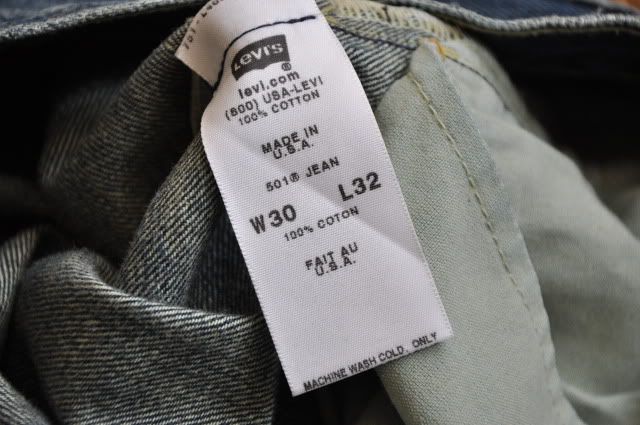 Measurements:
Waist 15.5
Inseam 31.75
Front Rise 10.25
Rear rise 13.5
Knee 8.5
Leg opening 7.75
Thigh 11
Some nice eclectic stuff here. All were eBay purchases that I don't need or don't fit.
1.Size 9.5D Red Wing Boots, Style 45XX
(can't remember last two numbers; these are made to order only now, not a stock style). 7" high boot. Steel Toe.
Resoled and "tuned up" (stitching fixed) by Red Wing, then worn fewer than 5 times. Comes with Red Wing insoles. They are awesome.
$100 Shipped -->$95 shipped --> 90 --> 85 --> 80 --> 75 -->
70 shipped.
2. Size 9E Red Wing 202.
Classic stock workboot in barely broken in condition. They have cuts and scrapes though, and I've worn them working. Again, comes with Red Wing insoles.
$80 shipped --> $75 shipped -->70 --> 65 --> 60 -->
55 shipped
3. Size 9.5D Red Wing Dunoon Wingtip Balmorals.
They are either steel or, at very least, hardened toe. Got these for a great beater dress shoe (does that make sense?) new-old stock, but the leather sole, because of sitting, dried out and separated after like 3 wears. Can easily be fixed by a cobbler, but these are too tight for me.
$30 shipped --> $25 shipped -->
SOLD
4. Size 10D Allen Edmonds Park Avenue in Burgundy.
Well worn, have been resoled. I just don't like these, though they are perfectly serviceable.
$40 shipped-->$35 shipped --> SOLD
5. Size 10D Florsheim Imperial V-Cleat Plain Toe Bluchers.
In phenomenal condition. My cobbler just put Italian Vibram McAfee-style heels on (worn once since) to replace the v-cleats for me. I have similar black Aldens, so I just don't need these. These are the real-deal, just as well built as Aldens (perhaps better).
$80 shipped--> $75 shipped --> 70 --> 65 --> 60 --> 55 --> 50 -->
45 shipped