I never wear these shirts and the suit no longer fits. The suit is a great workhorse for a smaller guy; the shirts are very nice quality and well taken care of. Shirts have each been worn 1-3 times and are recently professionally laundered. Suit is altered and has been worn once to a meeting. -suit will come with original wooden BB hanger, suit bag and tag. Shirts:
Pending Payment
Suit:
Pending Payment
Shirts: All spread collar and French cuffed White 15.5 x 33 Blue w/ white collar 15.5 x 34 Blue 15.5 x 34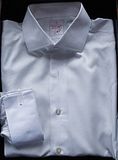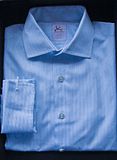 The suit is this
guy
Suit: 36 3/2 btn Single Vent 1818 Madison Shoulders 18" Sleeve 24" Length BOC 28.75" Waist 32" Inseam 31.75"