'No Time To Exercise' Is No Excuse
Not enough data mentioned in the write-up to know about the control / experimental group. Too many holes left unaddressed.

For instance - runners spend a lot of time early in their training cycles developing their aerobic capacity and injury resistance. After a good base is built, then interval training is used to develop speed. If you put the interval training before the base, you get a lot of injured or overtained runners.

So, where are the experimental and control groups in their training protocols? If the exp group has a good base, then interval training is the logical next step. If the control group consists of couch potatoes, well, they're comparing apples and oranges. Hardly a conclusive write-up
Posts: 10,526
Joined: 3/2006
Location: Recession, Baby
I partly agree with Thomas. "All out" training for beginners will only invite injuries. This study will most likely benefit those who are already active, but looking to save significant time off their routines. I suspect among those gym rats, many are already familiar with HIIT, a principle similar to if not the very thing they studied.
Conan OOOOOOO"BRIEN!
Posts: 18,144
Joined: 7/2006
Location: Loretto, KY
Thomas, you sound too smart for your own good. Getting a bachelor's in psych. left me a bitter, cynical man when it came to just about anything, news clips about some study without mentioning any of the prior fitness levels of the experimental groups. Like with most of these stories, I, too, take them with a miniscule grain of salt.
Posts: 2,612
Joined: 2/2005
Location: Senior VP - Follies and Gewgaws
If only I could do these exercises at all . . .
Power by Pavel: A Maxercist One Repetition Airport Workout
http://www.powerbypavel.com/
"Here is a very effective, brief, intense exercise
routine when time is short, energy is low or a
'shake up' is needed in one's normal routine. It is
maximal muscle loading using prolonged rep speed.
This type of non-inertial training is brutal and
takes a lot of discipline in movement control,
balance, and breath control. The good thing is that
it's over fairly quickly and doesn't require another
set.
"Starting at the top of the pistol, lower slowly
while watching the second hand on a clock. I use a
large wall clock with a second sweep hand that is
easy to see. As you lower yourself, do not 'ratchet'
by stopping and starting. Make the decent very slow;
a smooth flow that takes 30 sec.
"At the bottom, pause and slowly begin to reverse
the movement without jerking or lurching. This
transition should be approximately 5 sec long. Now
rise back up in the same non-segmented, smooth flow
in 30 sec.
"At the top do not completely lockout, but keep the
knee flexed about 15 degrees. Now begin the decent
again, smoothly lowering in 30 sec and hold the
bottom for another few seconds. Sit on the floor and
unload. Repeat for the other leg.
"The breathing gets wild and there tends to be a bit
of a panic when the muscle tension gets painful.
Control the breathing with smooth nasal breaths and
slow exhales through the mouth. Learning to breathe
calmly under extreme muscle tension is very valuable
to fighters, grapplers in particular.
"If you have not worked up to a free standing pistol
yet, you can hold on to a railing or a pole to
unweigh yourself by aiding with the arms. This will
also take the balance element out of it and make it
much easier to master.
"To complete the workout, apply the same technique
to the one arm pushup. Very brutal! 30 sec down,
pause, reverse slowly, 30 sec up, 30 sec down, pause
at the bottom. That pretty much gets the arms,
chest, front shoulders and triceps.
"For the upper body pulling muscles, the lats, the
rear delts, the biceps, the forearms, and the grip,
perform a one-arm body weight row. They can be done
from a suspended rope/chain with a handle or fixed
rail or bar that is about waist height. Do not allow
the body to twist on the rows and pull up until the
thumb touches the chest. You will in all likelihood
need to bend the legs and keep the feet flat on the
floor. Use the same 90 sec protocol as before. The
90 sec row is much tougher than it may appear.
"This a great quick workout that can be done in
under 15 minutes almost anywhere. I did this at the
airport while my plane was delayed. I used the
family restroom, locked the door and went to work. I
used the handicapped rail for the one-arm rows. It's
brief but will kick your butt! You will feel those
pistols for a day or two afterward."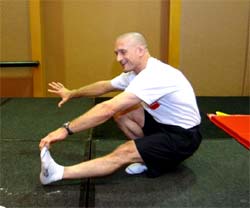 ex-m@Triate
Posts: 11,179
Joined: 1/2005
Location: Sunny Saigon
I'm no expert, but I did find that by what is essentially a short burst program, I get pretty good results. In my case - sprint like crazy up 100 odd stairs. This is about 2 mins at full exertion, then rest. Then pushups n situps. Repeat x 5. This yields better results for me in terms of fat building and conditioning than an hour of jogging.
Quote:
Originally Posted by Thomas
Not enough data mentioned in the write-up to know about the control / experimental group. Too many holes left unaddressed.

For instance - runners spend a lot of time early in their training cycles developing their aerobic capacity and injury resistance. After a good base is built, then interval training is used to develop speed. If you put the interval training before the base, you get a lot of injured or overtained runners.

So, where are the experimental and control groups in their training protocols? If the exp group has a good base, then interval training is the logical next step. If the control group consists of couch potatoes, well, they're comparing apples and oranges. Hardly a conclusive write-up
Completely agree on all counts. These days, due to time constraints, I am doing a ton of interval training and I only get out for 5-6 mile+ runs a couple of times a week, and even then, I do a mile of sprints at the end. However, I've been running for close to 20 years now, and at one point logged 50+ mile weeks regularly. Plus, I have a light frame, and low body fat. I would emphatically advise against going from zero to interval training, unless you want an excuse not to exercise.
Posts: 1,823
Joined: 1/2004
Quote:
Originally Posted by gamelan
kinda takes the fun out of exercise. i look forward to that 30 minutes to an hour in the day where i can go for a run, a walk, etc.

-Jeff
Au contraire - 30 minutes to an hour a day is plenty and will get you fit. I stay in that time frame during the week, and go a bit over on the weekends, but not by much. If you run 10-minute mile pace, that's 3 miles in 30 minutes, which is decent training volume. If you run one hour a day at 10-minute pace, that's 42 miles a week, which is good volume for anyone who doesn't compete for $$$. Anything in between is not laughed at by anyone who laces them up, BTW.
The point is this: all-out training for couch potatoes is very strenuous and is likely to lead to injury IF you haven't trained for durability already. Take 10 people off the couch and put them through intervals or stairs and you'll probably have 8 injuries within the week. However...
Quote:
Originally Posted by m@T
I'm no expert, but I did find that by what is essentially a short burst program, I get pretty good results.

In my case - sprint like crazy up 100 odd stairs. This is about 2 mins at full exertion, then rest. Then pushups n situps.

Repeat x 5.

This yields better results for me in terms of fat building and conditioning than an hour of jogging.
Odds are that you're already active if this isn't causing you problems. OTOH, some people (not THAT many) are just extraordinarily durable (Gerry Lindgren, Dean Karnazes, Pam Reed, Yannis Kourous, Emil Zatopek, etc.) and can handle tons of mileage or intervals without breaking.
Posts: 2,652
Joined: 7/2006
Location: Italy.