1.12.11 - This thread is now closed. Thank you VERY MUCH for your business. If you purchased anything from this thread and did NOT receive confirmation, #, ship pic, etc, please let me know ASAP so I can supply you that information. I have been tracking and a majority of items have been received - all others in route. (Note: The Nudies and WWM Red Coat will ship today or tomorrow as those were just purchased). Thank you again. Please be sure to check my next sale thread for borderline bizarre prices and rapid silly impatient markdowns.

Items left: WWM Red Coat, Tanner Goods Skinny Belt in Natural 32", Engineered Garment Cinch Pant.

Next post office run is tomorrow (1.13.11)
***NOTE I CANNOT CURRENTLY SHIP OUTSIDE OF THE CONTINENTAL US. SORRY FOR THE INCONVENIENCE. ***MONDAY 1.12.11 - If you have purchased something from me in this thread it has been shipped and you should have received shipment confirmation, tracking, and a "ship pic". If you did not, please PM or email me ASAP. Thanks, Slack.



first some notes:

- Paypal only
- no holds. first to paypal
- all prices include shipping within the continental US, USPS - "shipped" = US
- If you paypal me w/o informing me you are international, your payment will be refunded and item re-listed
- outside of continental US, please PM for shipment quote
- open to reasonable offers
- Know your fit in these garments. Very accurate measurements are provided, but know your fit as there are no returns.
- Paypal first, then shipped. All transactions will be followed by a tracking number and "ship pic" of your item being tossed in the mail. Will ship within 48 hours - normally within 24.
- I can post fit pics as required, please PM. If you want any sort of special photo (not that kind) let me know.
- I work 9-5 M-F with little access to PM's, email, home, measurements, pics, etc.
- Other questions please ask.



note:

there may be some detailed images hidden. Don't overlook these.

Woolrich Woolen Mills Anglers Jacket - Red - Size Small. Very, very gently worn (Three times max). Great for layering in the winter and moving on into Spring. Note this coat also has 2 pockets in the rear. Awesome details. Retailed for $450. Priced to sell ASAP at

SOLD - THANK YOU

. Know how WWM fits.

Fit pic included (hidden)

Pit to pit: 19"
shoulder to shoulder: 17.5"
Length: 24.5"


Warning: Spoiler!
(Click to show)

Engineered Garments Cinch Pant, size 30.
SPRING IS COMING! There is a metal fastener in the back to tighten waist. Very cool pants. The overall photo distorts the black and white checks. Please see detailed images. The waist buckle will allow you to adjust these from about a 31" waist down to a 28".
SOLD - THANK YOU
Marked: 30
Measured front: 15.5"
inseam: 31" (note, cinch at ankles)
thigh: 9"
knee: 8.5"
Leg Opening: 7"

TANNER GOODS BELT. 32" BRAND NEW WITH TAGS. COLOR: NATURAL.
HARD WEAR: NICKEL -
SOLD - THANK YOU
39.5" In Length (from start of leather to end)
1" Width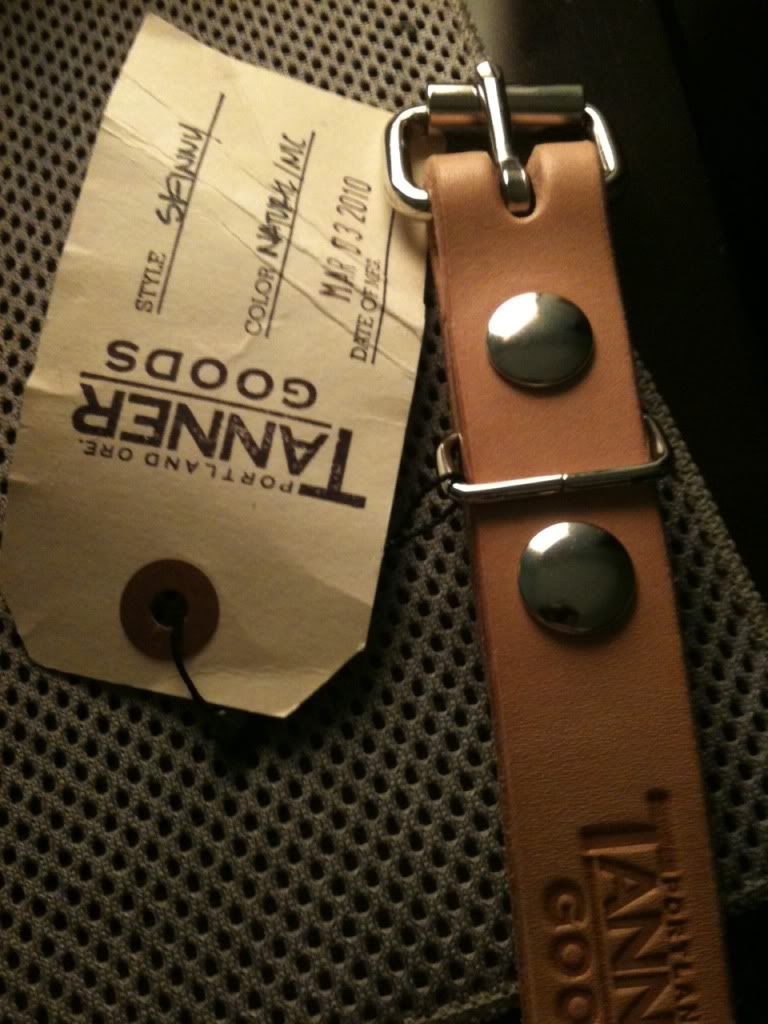 Warning: Spoiler!
(Click to show)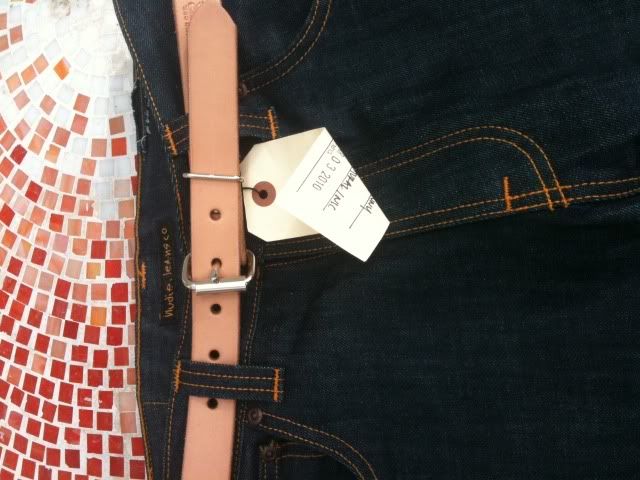 [/SPOILER]

NUDIE - EASY EMIL DRY NAVY ORGANIC - "NEW FIT" - 28x32
- VERY Gently worn - 6-8 times. There are marks where I had my cuff (about a 1" cuff but that can be spritzed/steamed/smoothed out ) and also a tiny hint of wallet mark on the back right pocket. PM for detailed pics. Note: Nudie owners know they come with a big long denim tag. Mine is cut out, as I would assume everyone does. Awesome pair of starter raws.
SOLD - THANK YOU
May keep to wear, buy now.
tagged: 28x32
measured front: 15"
inseam: 32
thigh: 10"
Knee: 8"
Leg Opening: 7.5"
front rise: 10.5"
Warning: Spoiler!
(Click to show)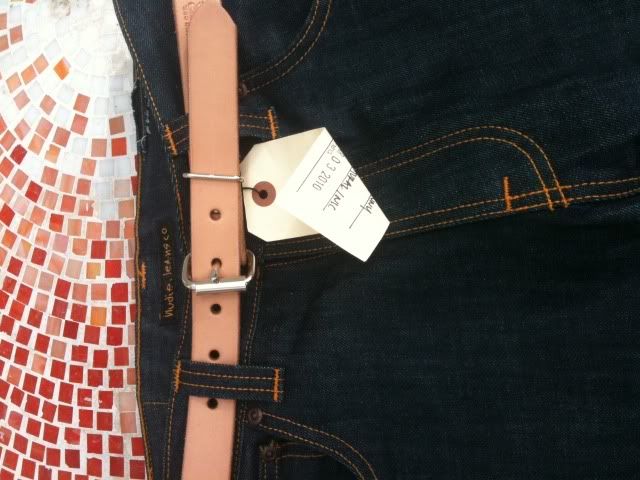 Engineered Garments Lightweight Spring Hoodie, Size Small. Zip up.
From S/S'10. Nice and light weight. Throw a t-shirt underneath. Tags removed but only lounged in around the house. Basically like new. Priced to move. PM for more pics. True to size. Made in USA.
SOLD - Thank you
pit to pit: 19"
s to s: 17.5"
Length 24.5"
Norse Projects Safari Shirt, size Small. Navy Blue, brilliant contrasting white buttons.
Nice shirt from Norse. Never worn. Springs coming. Roll up sleeve thing with buttons to attach! Retailed over $120, purchased from Need Supply. Original owner.
SOLD - THANK YOU

Here are some more detailed shots compliments of Style Engine

s to s: 17"
p to p: 18.5"
Length: 29"
Wings + Horns Double Layer Tube Scarf. Charcoal.
Cotton. One Size. This can be worn as a normal scarf or pulled down for the tube effect. I got the cashmere and never ended up wearing this. BNWOT. I don't think this is available anymore. yours, shipped, for
SOLD - THANK YOU
Shades of Greige (now "Shades of Gray" pullover hoodies. Size smalls.
2 Colors (big deal on both). Both new, unworn, without tags.
BOTH SOLD - THANK YOU.
p to p: 19"
s to s: 17.5"
Length 26.5"
BILLYKIRK LEATHER ZIP WALLET.
Brown Leather. RIRI zipper. 4 card slots, 1 back bill fold, and 2 other compartments for card storage. Let me know if you'd like detailed pics. Never used, carried or even handled other than for taking these pictures.
SOLD - THANK YOU
Length (horizontal): 4.5"
Height (vertical): 3.5"
Width: .5"

SNS Herning Knit Cap, BNWOT.
A deep, rich, navy blue. The "Merit Hat". Meant to be worn back and slouchy, not covering the ears. 100% wool. Extremely warm. Perfect compliment to an existing SNS sweater among many other winter knits and gear. Knitted in Denmark and final production process in Latvia.
SOLD - THANK YOU

6.75"-7" at the base of the hat, measured horizontally
10" from top to bottom (dead center)
Very little stretch or give in the wool.
Simon Miller Jeans. Tagged sized 29. Raw, Selvedge. Brand New With Tags[/b] [/u]Straight fit. These were purchased from Denim Bar in Arlington, VA. Tried on once, walked around the room - tags never removed. Any lines just from me putting them on and taking them off. All yours to break in and beat up. A little too loose for these skinny legs. Otherwise, awesome jeans. People seem to get excited about Simon Miller. I don't know enough about them to provide any unique insight. These retailed for $200 as will be displayed on the original price tag, still attached. PM for more pics. Made in LA, USA.
SOLD - Thank you.
Tagged: 29
Front: 15" across laid flat
Rise: 10"
Thigh: 10"
Knee: 8"
Inseam: 32"
Hem: 7.25" laid flat, measured across. (leg opening)

Engineered Garments Crew Neck Sweatshirt - Size Medium (SLIM) - Multi-tone gray. F/W'2010. BNWOT
Purchased from Tres Bien a few back. Super cool sweatshirt. Raglan sleeves. I showed a detailed shot of the interior of the sweatshirt to show the diamond pattern. Very nice detail throughout. Just slightly too long for my relatively short torso.
Note: This is medium but fits slim. Please pay special attention to the measurements.
. Has long cuffs on the sleeves and bottom hem that can be rolled if too long (sleeves, that is). Note the front of the crewneck overlaps and forms a small, semi-V. But this is still a crew neck, without question. PM for detailed pics of this neck line. This should be sold out everywhere, in any desirable size at least. Retailed between $170USD and $200USD.
Made in Canada.
SOLD - THANK YOU
Pit to Pit: 17.5"
S to S: 16.75"
Length: 27"
Bottom: 17.5" inches laid flat. X2 for total circumference

Reigning Champ. Crew Neck. Size Medium. Charcoal. BNWOT.
If you know RC you know their small is ridiculously tiny. Like good luck getting your neck through the hole, tiny. So unless you're freaking tiny, you would wear a medium. There are no more mediums of this piece. All sold out on Haven and Deadstock. Reigning Champ is owned by CYC and the design teams responsible for Wings + Horns output. You can see this clearly in the garments. The details are all the same. Someone has been looking for this, and here it is, new and shipped for cheap. Of course,
Made in Canada.
SOLD - THANK YOU.
Pit to Pit: 20.5"
S to S: 17"
Length: 26"
Bottom: 19.5", X2 for total circumference.
Thanks for looking!
-Slack[SPOILER]