I realize you view your tailor's work as art, but I think that frame of mind distracts from some very real flaws. I doubt many of these are due to your preference or the result of his purposeful judgment. Please see the below: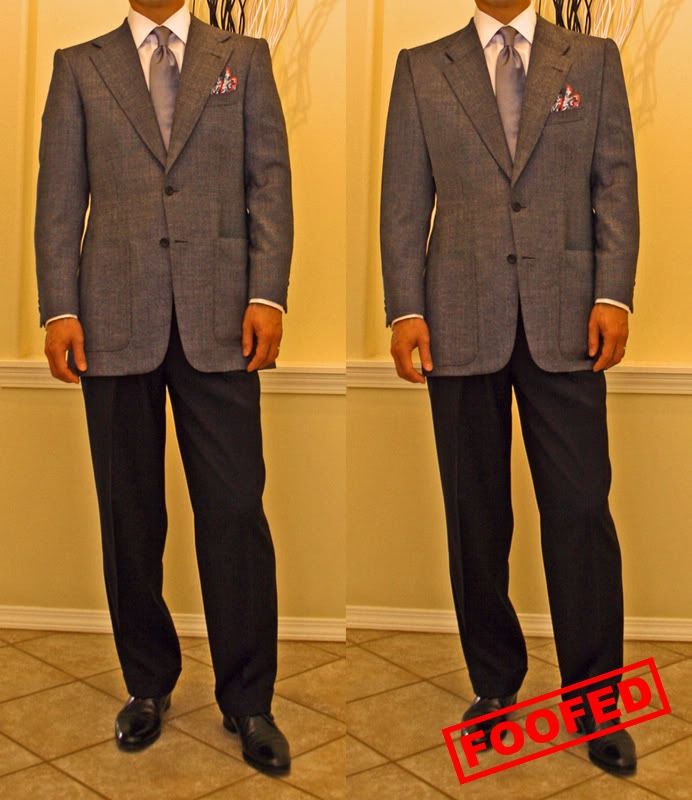 I tried to maintain as much of your selected style for the suit as possible, while correcting what I consider objective problem areas. I've never liked how your Green suits came out, and could never quite name why I disliked them so much until I started working on this Foofing. The main issue is the way the chest and sleeves are cut: it always looks like your arms are caving in on your torso. I don't know what the technical cause is, but I've illustrated how it
should
look. Notice, the shoulder point has not changed, nor has the waist of the jacket. Yet, your physique looks much improved nonetheless.
It goes without say that I think your gorge is way too high. It would be high on anybody, but you are clearly very tall, so the effect is much exacerbated. It doesn't help that your patch pockets are so high up from the hem of the jacket. Alone, they would look odd. But combined with the high gorge, high breast pocket, and the high buttoning point, it looks like your jacket is being perpetually tugged upward by an invisible hand.
In the edited version, I wound up narrowing the lapels. However, that was just easier to do while changing the gorge. The old width would have been okay, too.
Ultimately, the pieces just don't come together right. It looks like tailoring by parts assembly. I think you can do better and should demand so of your tailor.