New Stockmans in dark tan calf. I will be wearing these a lot. Actually they are replacements coming from chestnut kangaroo (details
here
, plus bits of the story in previous pages of this thread..) Good lord those were comfortable boots; I can't wait for the new ones to break in. They've got a great shine now like the Macquaries in the back have. Anyways, I'm doing my due diligence posting new boot photos to the RM thread.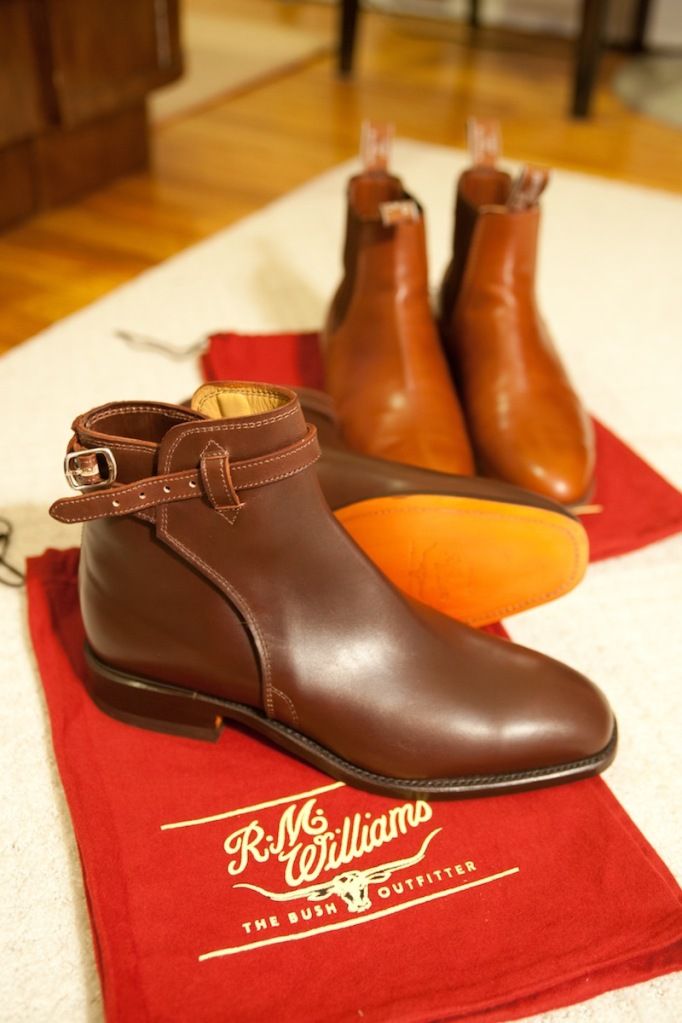 Actually I want to comment on some things which are hopefully helpful: Kangaroo leather is really thin & comfortable but man, is it not a dressy leather (for me). Here's why, for whatever reason I have a knack for creasing my shoes and my old kangaroo boots were extra prone to creasing. It's not that I am sizing wrong. Maybe I walk funny, or need something bespoke. And here is where it's a little more interesting to me - I always thought the Stockman last was fundamentally prone to "gettin' ugly" over time but having the new Stockman boots in calf I've got to say the Stockman's future is looking bright. I still think elastic sides fit and wear better over time, but the Stockman is still one of my favorite lasts. Having worn the new ones frequently over the last few weeks, the creasing is nice and controlled; more smooth than the creasing on my kangaroo Stockmans. Over about 3 years my kangaroo Stockmans had a killer patina, took a great shine, but overall were pretty much only good for casual wear. I don't think this will be the case with the new pair in calf leather.
Point being, hopefully I can help someone make an informed decision next time they are thinking about purchasing a pair of kangaroo boots. I do miss the character of my kangaroos.
Or it's all a fluke. Guess I will see in 2 or 3 years.