Summary: Lots of great stuff here - 1) BC weekender bag, 2) Tod's weekender bag 3) EU48 BC Cashmere sportscoat 4) EU48 BC cotton/linen sportscoat 5) EU48 Luciano Barbera Sportscoat 6) EU50 BC Gray Sportscoat 7) EU50 Michael Bastian Navy sportscoat 8) EU50 E.Zegna sportscoat
Working on shrinking the pics a bit, sorry!
1) Pure beauty. Brand new with tags Brunello Cucinelli leather
weekender / overnight bag. Fantastic supple leather. All original
hardware - lock & keys, BC luggage tag. Not sure of the retail, but in
the $3k-$4k range. Comes with BC dustbag.Large enough for a full
weekend worth of stuff, but definitely not oversized. 22"L x 10"W x
12-13"H
GONE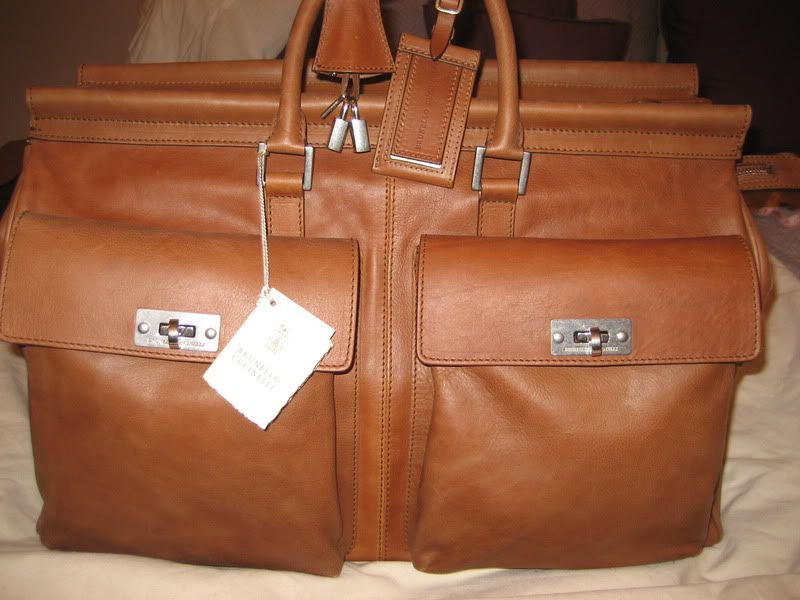 2)New without tags JP Tods weekender / overnight bag.
Bought this from another forum member around Christmas time. I removed
the tags, but it's otherwise unused. Retail of $2700.
Sweet brown suede as Tod's does, shoulder strap.
Mini compartments inside. Nice lock/hardware with key.
Measurements: 12" x 20" 12" - perfect size for weekend.
on hold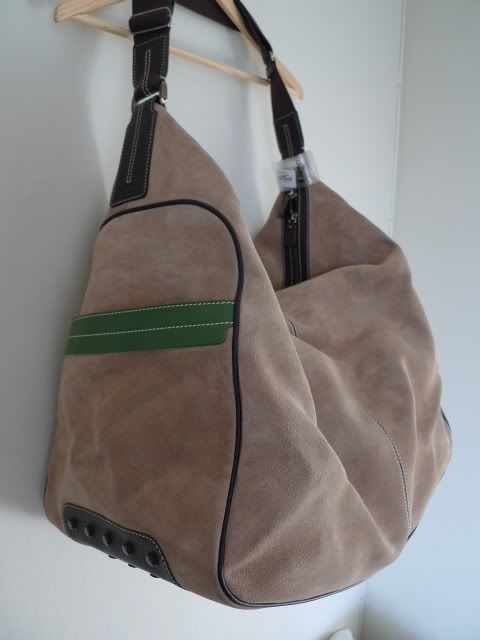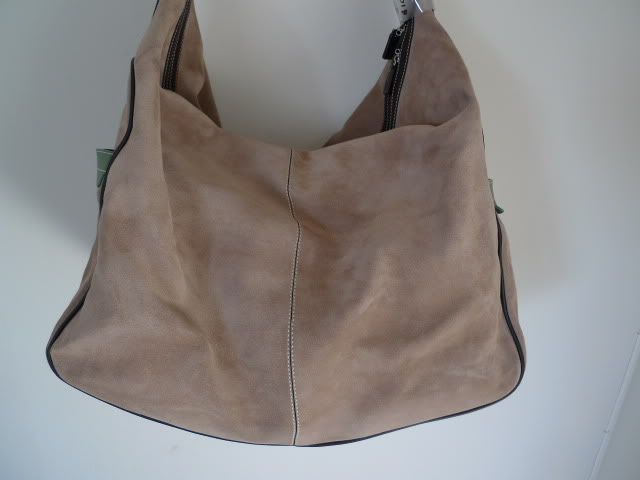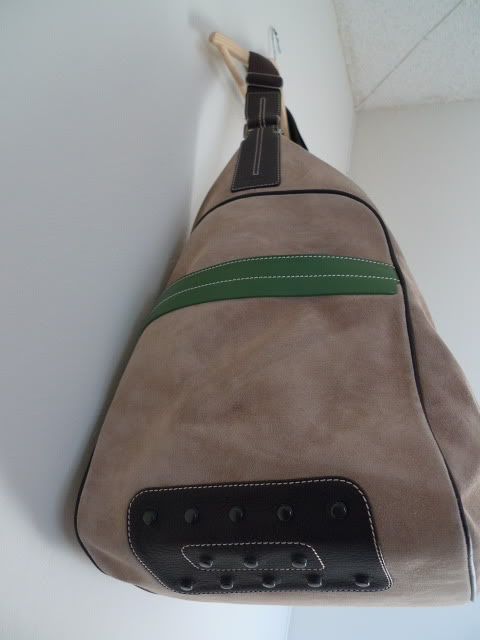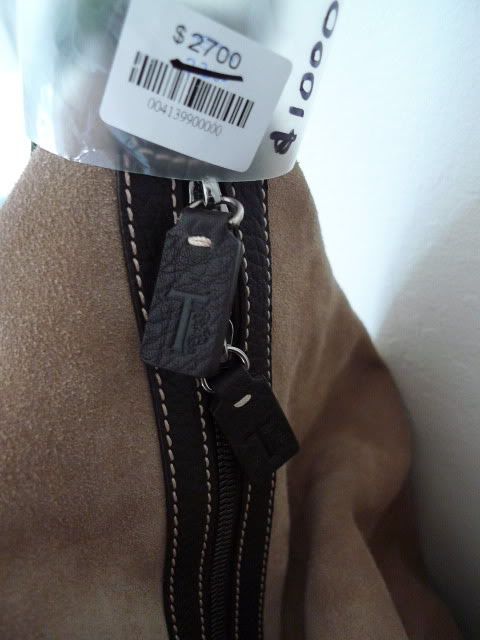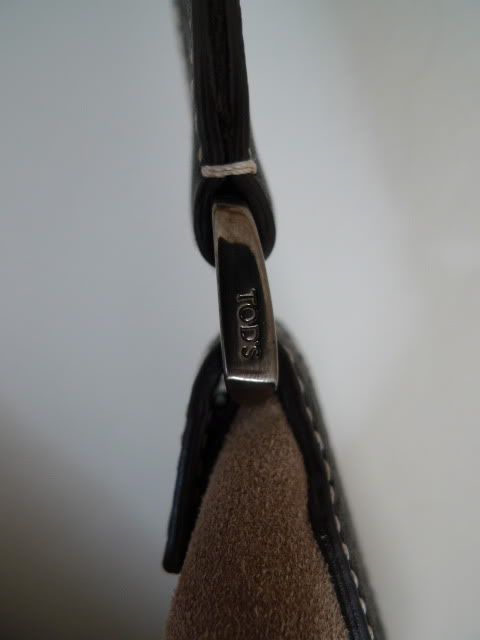 5) Luciano Barbera sportscoat, new withOUT tags, half lined,
super-soft shoulders. 3 roll 2.5. Patch pockets with patch ticket
pocket. 70% cashmere/20% linen/10% silk, Double vents
Unfinished sleeves (buttons included). Please note: there is a small
discoloration on the back of the jacket - it pretty much blends in
from a 1 foot or more away, but I want to provide full disclosure. See
pics for closeup.
Size EU 48 Ch: 21, Sh: 18.25, W: 18.75, Sl: 25, BOC: 29.75
GONE
7) Michael Bastian sportscoat, new with tags, Solid navy, full-
standard MB shirt lining. 3 roll 2, Flapped pockets with flapped
ticket pocket. 20% wool/25% linen/ 55% cotton - Great combo that makes
this a perfect spring / summer jacket, Double vents
Working sleeve buttons, but no problem to shorten because there is
more than the standard length between the cuff-end and last button (2"
vs. 1.5" standard).
Size EU 50 Ch: 21, Sh: 18.5, W: 19, Sl: 26, BOC: 30.75
$600 shipped CONUS (Retail $2200).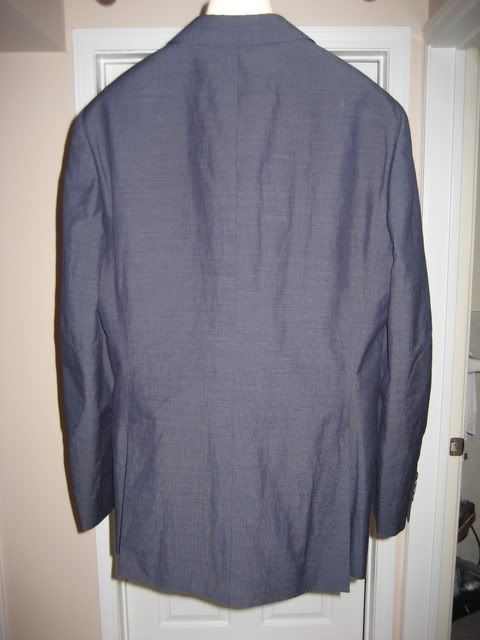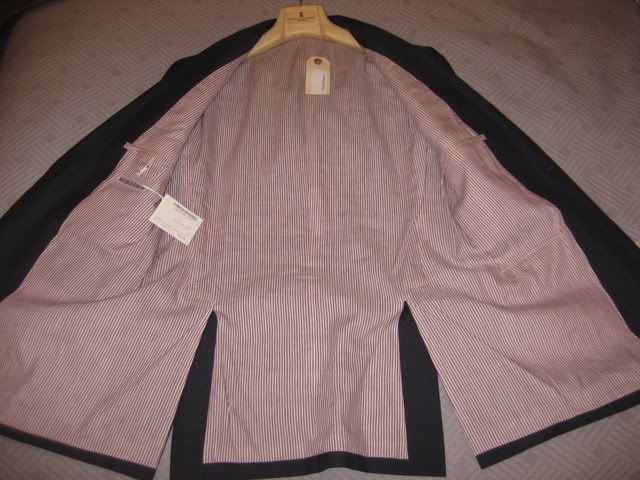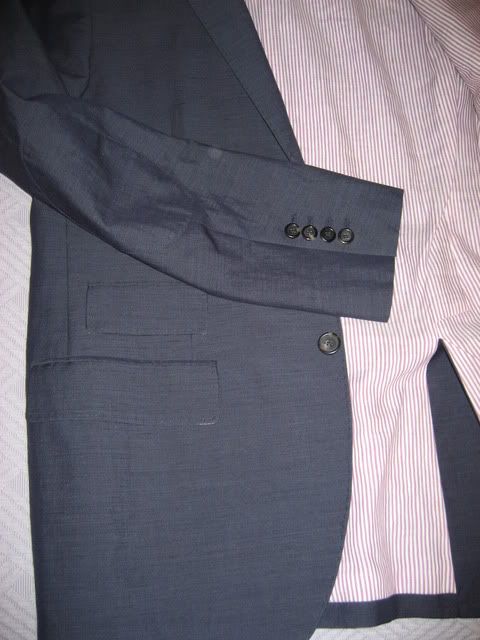 8) E. Zegna for Saks mainline blazer, Fit mila. Pre-owned sportscoat. Solid
gray. Fully lined
50% cashmere/ 25% silk/ 25% rayon
SOLD
Size EU 50 Ch: 21, Sh: 18.5, W: 19.75, Sl: 24.5 (+1 available), BOC: 30.25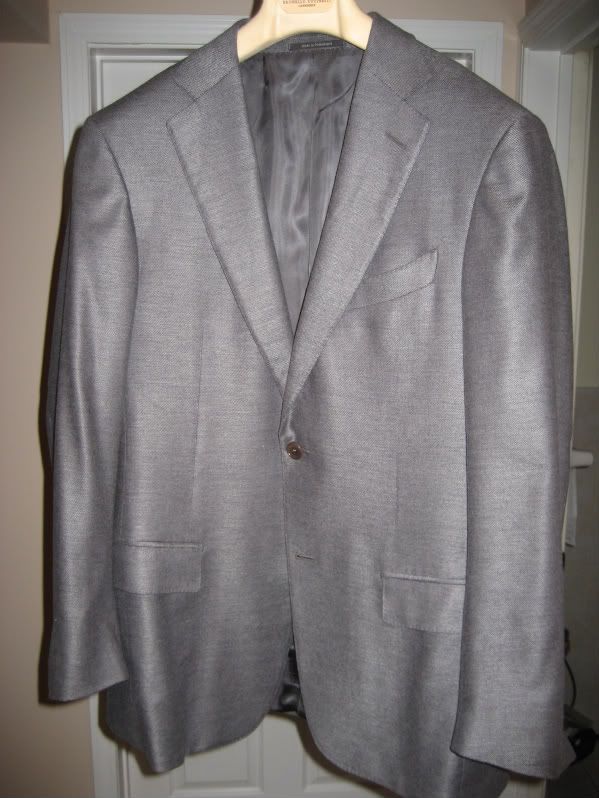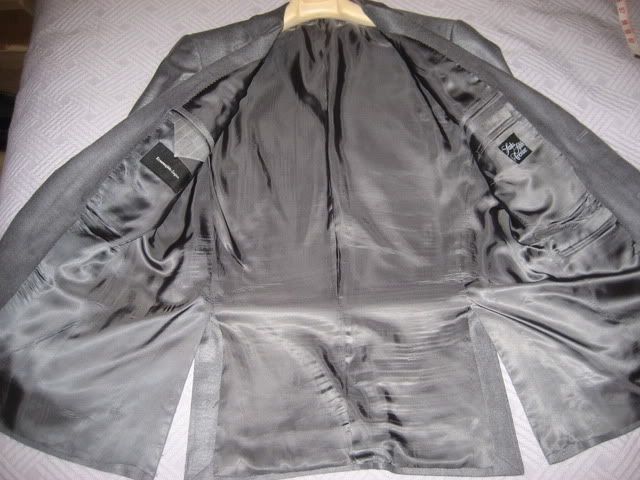 9) Brunello Cucinelli Grey Herringbone. New with tags
100% wool
Double-vented, 3 roll 2 lapel, patch style pockets with slant gusset jacket pockets as well.
Throat latch
Signature Suede elbow patches
Standard extras like extra internal pockets. 1/2 lined.
EU50 Chest = 21.5-22, Shoulders = 18.75-19, Sleeve = 25.5, Length BOC = 30.5
GONE
10) Brand new with tags. Brunello Cucinelli
100% cotton. Gray glenplaid (very subtle red/peach glenplaid)
EU50 - measurements pending
GONE
11) Brand new with tags. Brunello Cucinelli
100% linen. Light Brown with elbow patches
EU50 CH: 21.5 SH: 18.5 W: 19.5 SL: 25.5 BOC: 30.25
$650 shipped CONUS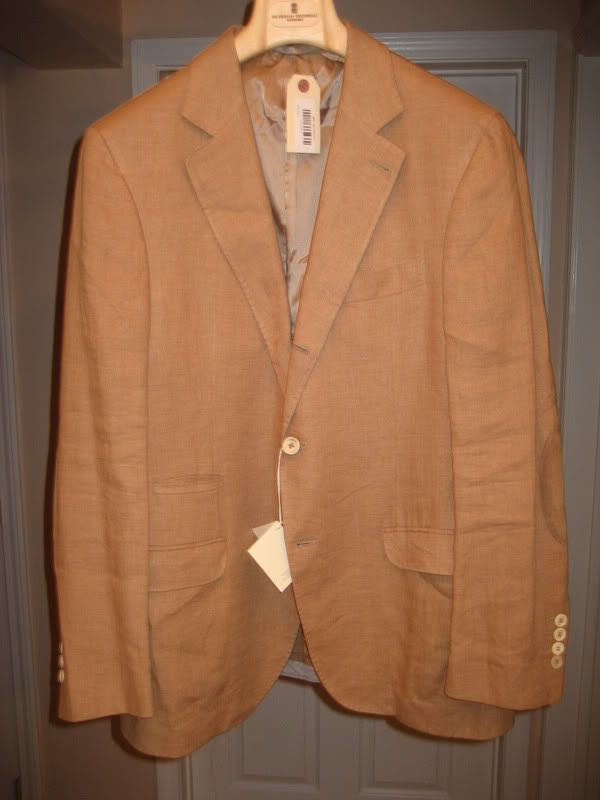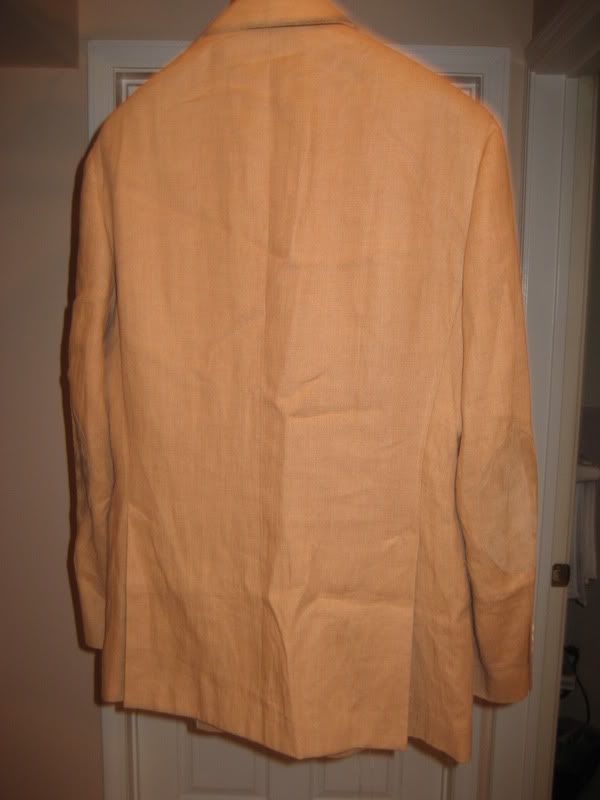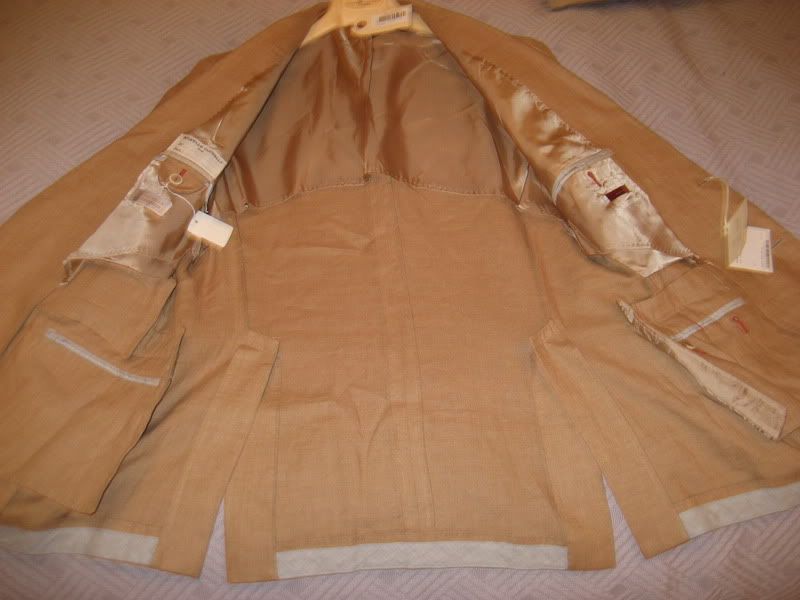 3) Brunello Cucinelli new with tags. 100% Cashmere (super soft!),
Gray/beige donegal fleck, 3 roll 2 button, double vent, half lined.
Light ivory horn buttons.
Size EU 48 Ch: 21, Sh: 18.25, W: 19.5, Sl: 25.5, BOC: 30
Pics taken with flash so may be a touch darker in real life.
SOLD
[IMG]http://i391.photobucket.com/albums/oo360/theyare/IMG_6855.jpg[/IMG
[IMG]http://i391.photobucket.com/albums/oo360/theyare/IMG_6856.jpg[/IMG
[IMG]http://i391.photobucket.com/albums/oo360/theyare/IMG_6857.jpg[/IMG
[IMG]http://i391.photobucket.com/albums/oo360/theyare/IMG_6858.jpg[/IMG

4) Brunello Cucinell, new with tags Brown mini-check Half lined. Super
lightweight spring / summer jacket - Virtually unstructured! 3 roll 2
button, double vented. This is tagged as 100% cotton but I am tempted
to say its mismarked - feels either 100% linen or some linen-cotton
blend.
Size EU 48 Ch: 21, Sh: 18.25, W: 19, Sl: 25.5, BOC: 30
Pics taken with flash so may be a touch darker in real life.
SOLD
[IMG]http://i391.photobucket.com/albums/oo360/theyare/IMG_6859.jpg[/IMG
[IMG]http://i391.photobucket.com/albums/oo360/theyare/IMG_6860.jpg[/IMG
[IMG]http://i391.photobucket.com/albums/oo360/theyare/IMG_6861.jpg[/IMG
[IMG]http://i391.photobucket.com/albums/oo360/theyare/IMG_6862.jpg[/IMG

6) Brunello Cucinelli Brand new with tags sportscoat , Size EU 50 = US 38-40
85% Wool, 15% Silk (Super soft!), Solid Gray
Double-vented, 3 roll 2 lapel, Very unstructured, 1/2 lined. This thing is so super soft and lightweight
EU50 Chest = 21.5, Shoulders = 18.5, Waist = 19.75, Sleeve = 25.75,
Length BOC = 30.25
SOLD
[IMG]http://i391.photobucket.com/albums/oo360/theyare/IMG_6863.jpg[/IMG
[IMG]http://i391.photobucket.com/albums/oo360/theyare/IMG_6864.jpg[/IMG
[IMG]http://i391.photobucket.com/albums/oo360/theyare/IMG_6865.jpg[/IMG
[IMG]http://i391.photobucket.com/albums/oo360/theyare/IMG_6866.jpg[/IMG