This week -- over two dozen TEN DOLLAR COATS from Costume National, Zegna, RL Rugby, Chipp, BB, Southwick, etc.
Dear Folks:
This week I'm clearing out over two dozen coats, including many from traditional American labels like Southwick, Brooks, Paul Stuart and Chipp.
Each has an opening bid of $9.99 -- including shipping! I may take a loss on every one, but at least I'll get my rack space back.
The coats include this beauty:
CHIPP nyc classic trad SILK WOOL COAT 44 L ue 54 L eu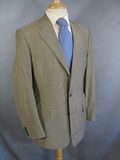 The complete list of ten dollar coats:
BROOKS BROTHERS SILK LINEN WOOL COAT 38 R us 48 eu
ELJO Virginia BLUE 3b SACK BLAZER lightweight 38 L us 48L eu southern trad
Domenico CROCI Italy BROWN PEAK LAPEL COAT 40 R us 50 eu
ZEGNA italy PLAID COAT 50eu 40 R us Louis Boston special collection
BROOKS BROTHERS classic trad GABARDINE SACK COAT 40 L us 50 L eu
PAUL STUART summer plaid SILK WOOL COAT 40 L us 50 L eu samuelsohn canada
ORLANDO MONTI Concilio Napoli COLORFUL PLAID COAT 50 eu 40 42 us zegna cloth
Vintage CUBAVERA mal marshall miami GUYABERA STYLE SHIRT JACKET sz 40 42 or M
1960s NORTHCOOL rat pack nightclub SHINY BLACK COAT 42S
VINCENZO D'AGATI firenze New York CUSTOM bespoke BLUE BLAZER 42S us 52c eu 42 s
Brooks Brothers HAND TAILORED golden fleece PLAID COAT 42 us 52 eu
HARTWOOD paris LORO PIANA LIGHT WEIGHT STRIPED COAT 42R
TOMBOLINI Italy CLASSIC BLUE BLAZER 42 us 52 eu
COSTUME NATIONAL italy city BLACK STRIPE COAT 52 eu 42 40 us slim stretch
RUGBY Ralph Lauren TAN TWILL SPORT COAT sz 42 us 52 eu or Large
SOUTHWICK summer trad SILK wool GREEN PLAID COAT 42 L us 52 L eu
1961 HAGSTROM BROTHERS saint paul MTM SILK COAT 42 L us 52L eu ivy league
HUGO BOSS CASHMERE silk GRAY COAT 42 44 R us saks fifth avenue einstein model
PAUL STUART nyc SILK LINEN COLORFUL COAT 44 S us 54 C eu samuelsohn canada
SOUTHWICK Barneys NY SILK WOOL COAT 44R
COMME DES GARCONS blue COAT 44 us or M japan homme plus worsted woo
UGO BOSS usa Galilei LIGHTWEIGHT WOOL PLAID COAT 44
GEORGES RECH homme GRAY WORSTED COAT 56 eu 44 us
POLO Ralph Lauren COLORFUL PLAID COAT 44 L athletic cut
CHIPP nyc classic trad SILK WOOL COAT 44 L ue 54 L eu
Z ZEGNA Italy BOLD BLUE STRIPED COAT 54 44 L
PAUL STUART ny plaid SILK WOOL COAT 46 R us 56 eu samuelsohn canada
All auctions close Sunday night EST.
Find them all
here
: