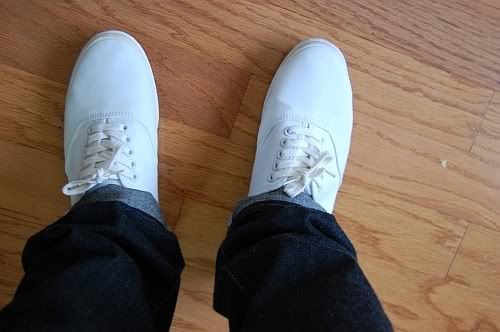 Black:
(
http://gyazo.com/8e6853aec1f1c65189970940f90c676f.png
)
White:
(
http://gyazo.com/01c9e25d3b9fe6ce1db6791e73768e0a.png
) I've done three runs of the same sneakers in the past. These are great, cheap summer sneakers.
This is how it works
: I have to order by 24 pair intervals. First come, first serve. These sneakers are much cheaper than anywhere else even with shipping. I can get them in
black and white
, sizes 7-13. You pay me when you order and I will ship out once a 24 pair interval is completed, which usually doesn't take long at all.
I may not be taking int'l orders because it's a pain, but if there is enough int'l demand, I will do it. PM me anyway.
Sizing
Sizes from US 7-13 are available. Please see older threads for sizing advice.
Price
The company supplying these have raised the price, so I will have to as well, to
$6 + shipping.
This is still much cheaper than the $18 Urban Outfitters asks for the same ones (from the same supplier).
If you buy more than 1 pair, you get a dollar off for every extra pair. Buy 2, get $1 off, 3 pairs, $2 off, on and on
Shipping
2 pairs or less can be shipped anywhere in the US for $5.50. For more than two pairs, please contact me for quote.
How to order
PM me with your color, size, zipcode, quantity. I will confirm your order and wait for payment and your address, then I will ship. If there are any questions, PM me.
See original threads for sizing/general info:
(
http://www.superfuture.com/supertalk...ad.php?t=30512
) After page 16 you should find some info about sizing from people who received their orders. This thread will be changing. Please contact me with interest/questions. Thank you. I have done hundreds of transactions on sufu.