A while back, I Ebayed a pair of AE's discontinued Brantley bal boots. While I'd been looking for a pair of bal boots for a while and was happy to snag these after a long time looking, I'd never been terribly happy with the color, an orangey tan that I think AE calls brandy: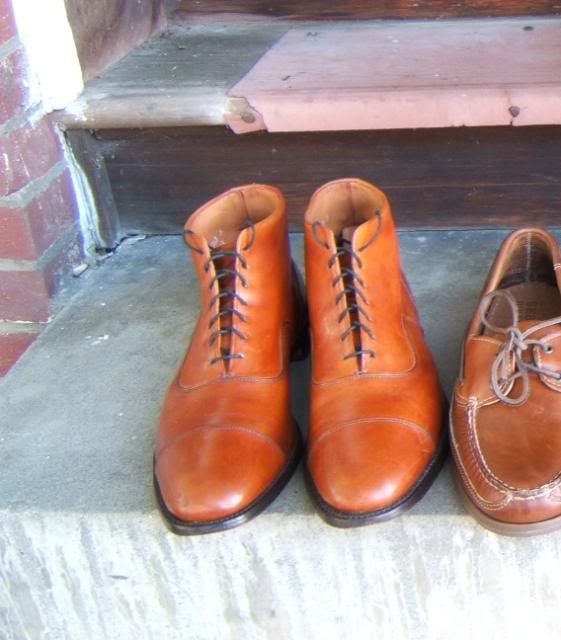 I'd tried darkening them with creams and waxes, but the color change wasn't substantial enough. I also burnished the toes a bit with a buffing wheel on my drill. Since they're only AEs and I'd gotten them for about $40, and since I wasn't wearing them much in the orange color, I was willing to experiment with them.
So I finally got around to working on them over the course of the last week. I stripped the top layer of the finish off with acetone, though I didn't take all of the old color off.
I then moisturized with a couple applications of Saphir Renovateur, to feed the leather after the harsh acetone.
Then I used Fiebing's Leather Dye in Dark Brown, using the little wool dauber that comes in the box. I put on several coats, with applications of Renovateur in between to strip off the dye that didn't penetrate the leather and stayed sitting on top.
I'd say I ended up with about 5 or 6 coats of dye overall, and maybe a couple more on the toes. I finished with a couple coats of Saphir #05 dark brown cream and Kiwi dark brown wax, putting a low-grade spit shine on the toecaps.
I'm fairly pleased with the results. The finish is a bit more uneven than I could wish; there are a couple of spots where the old orange color shows through a bit. You can kind of see one of them on the heel counter in one picture. I'm going to keep polishing with dark brown cream and wax, and hopefully the finish will even out with time.