This thread is way overdue. Way, way overdue. I think this event took place between Christmas and NYE, IIRC.
Anyway, Matt invited me over as a practice run for a peking duck he was cooking for a party. So down I came. He had already done most of the cooking. He has posted his method/procedures for Peking Duck on SF before, but the gist of it is: blow duck up with air, let dry out for a day, dip in boiling water a few times, then hang and let it steam for a day or two. Then, you rub it with honey I think, and something else, and roast it until the skin is crispitty crunchy.
The very first thing we ate were little hors d'oeuvres of shrimp toast and crab rangoon. We had to do something Americanized today!
He already had the duck in the oven by the time I got there, so I didn't have to do anything at all, really!
Here is the picture of the duck out of the oven: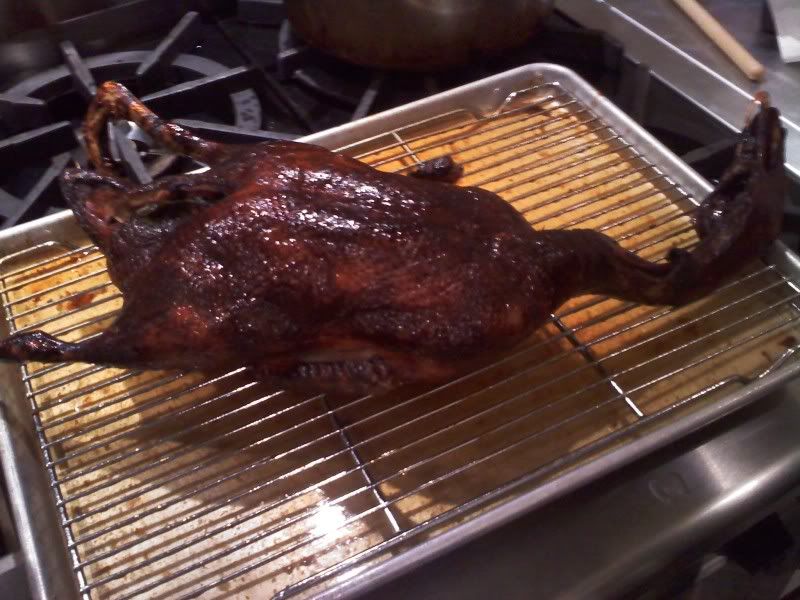 Just absolutely beautiful. So dark, so flavorful.
Here is the skin after removing it: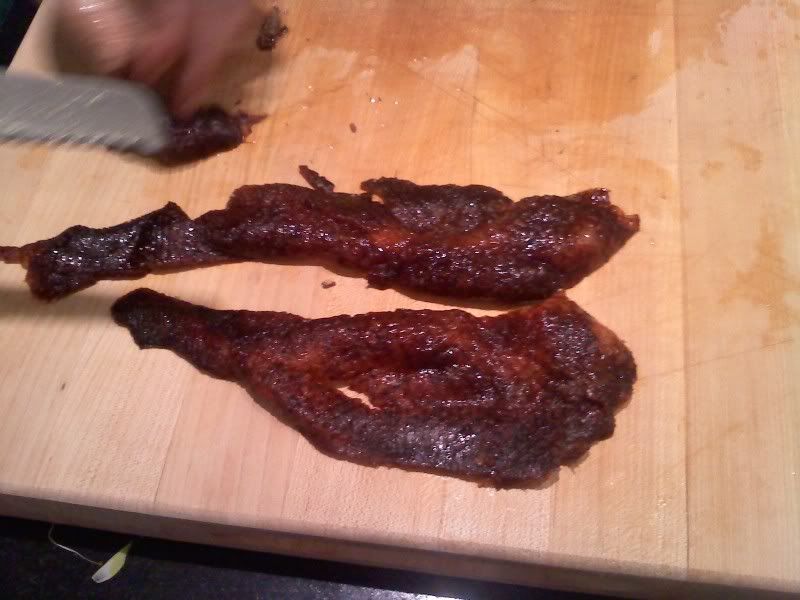 And the head of the duck: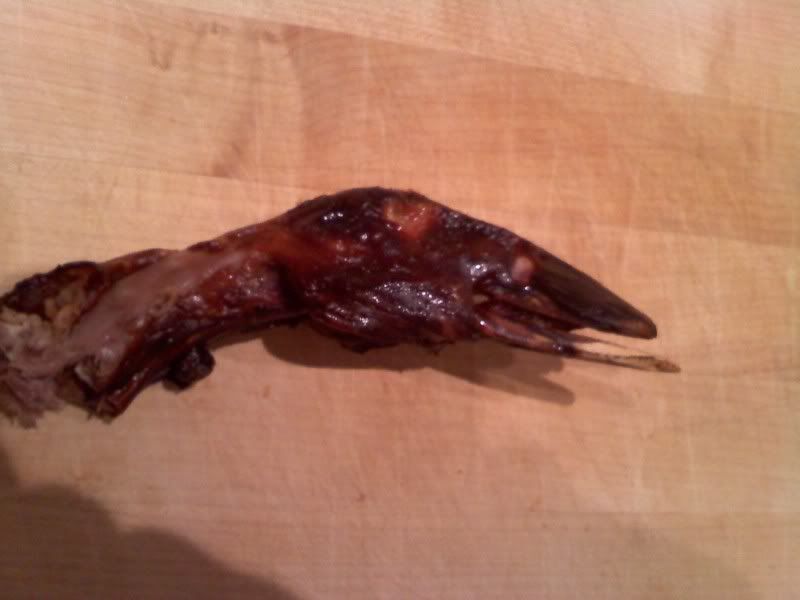 And his homemade Chinese pancakes: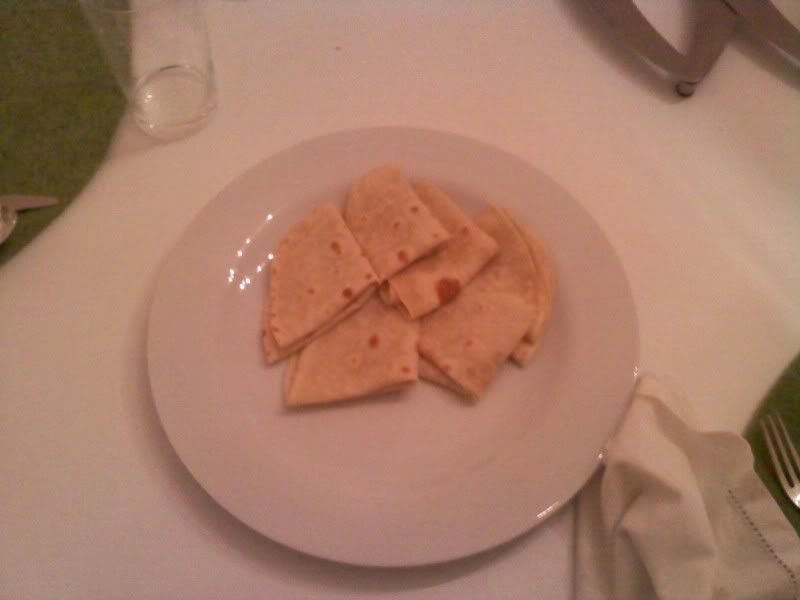 Our first course consisted of the duck skin, the duck breast sliced thin, Chinese pancakes, bean sprouts, scallions, and hoisin sauce. Oh, and the head as well.
The first course was just great. So simple, but absolutely delicious. The skin was so crispy, the pancakes so light and airy, and the duck breast was still very juicy. Also, the head was interesting. The beak was not very good at all--- which is to be expected. But the tongue was incredible in flavor. So were the brain and the cheeks. Since it was one duck between the three of us, we each only got a little taste of the brain, but man was it good. Such a great, creamy texture, that just melted away in your mouth.
Now, on to the second and third courses. I cannot remember which order this goes in, but they consisted of: A soup broth made from the carcass, with bok choy, and a stir fry made of the dark meat, bean sprouts, and chili oil.
The soup broth, as it cooks: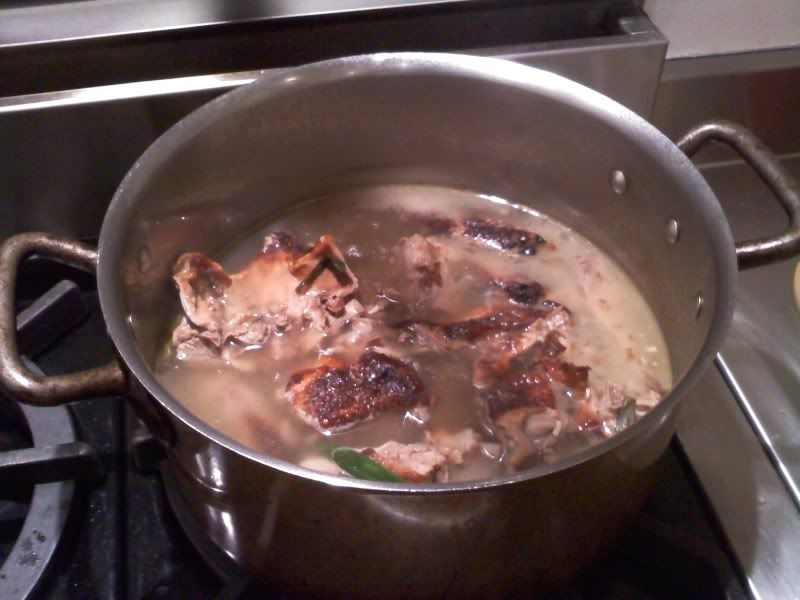 Very rustic, and we wanted it that way. So no skimming of the broth (sorry Manton, don't hate us).
The soup broth w/ bok choy: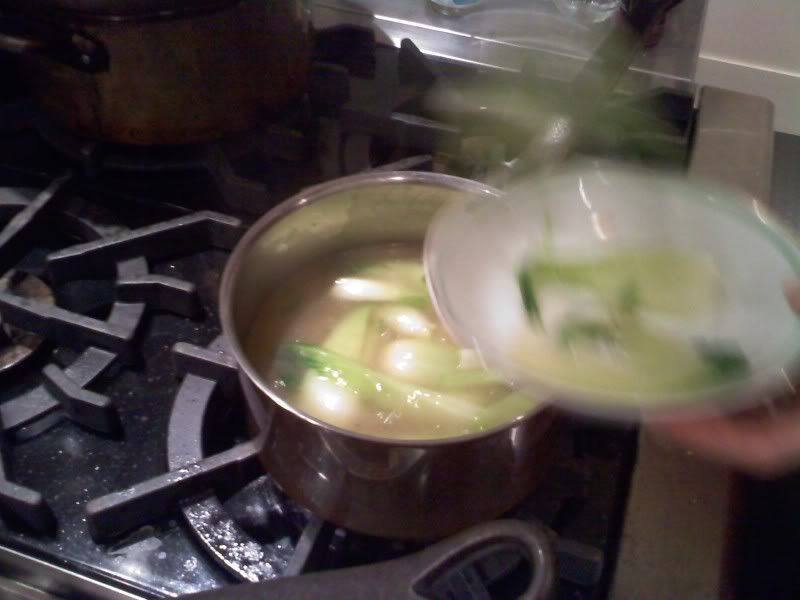 Stir fry, cooking:
Stir fry, plated: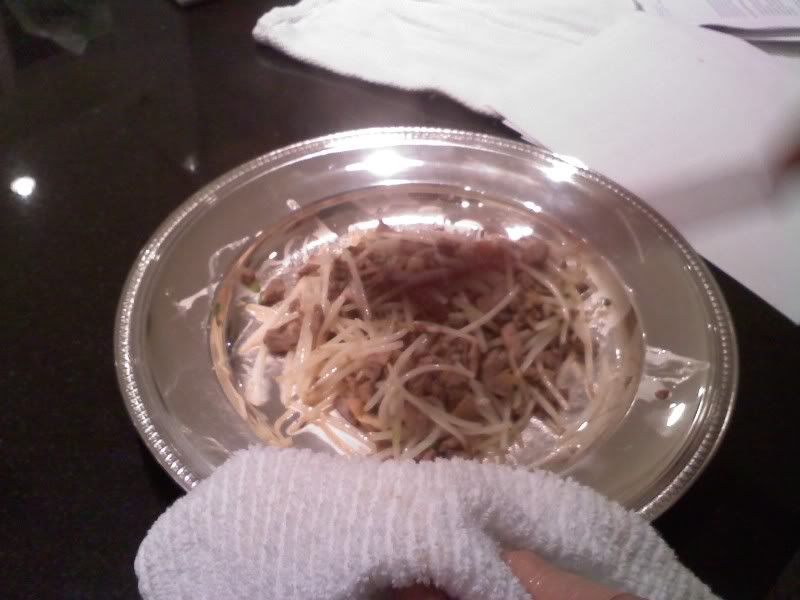 Now, you guys already know Matt is a very capable cook and knows his way around the kitchen. But I have to say this: The stir fry course was the single most perfectly seasoned dish I have ever had in my life. I mean that. In restaurants, at home, wherever. Nothing I've eaten has ever been as perfectly seasoned as this dish was. It was incredible.
Anyway, that was that. I think Matt or his wife might have more pictures, but it has been so long since we did this that they might have deleted them. Sorry for the delay in getting these up. But as you can see, it was a really great meal.