For comaprison:
Bespoke (from the HARDCORE Bespoke only thread):
AE Rutledge: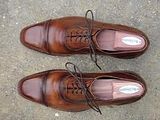 I think this comparison really points to what AE has accomplished with this last.
My question is, and perhaps I missed it, why isn't there more chatter of appreciation for the Rultledge (and the other shoes on the 3-333 last)? Personally, this is last I have always been hoping for from AE and am very appreciative that they brought it out.