Quote:
Originally Posted by chrisc
I wasn't quite sure if the Goddess of Speed was the logo of Packard at some point or not, considering the ever changing logos during the early years. There's nothing more that I miss on cars than the elegant (or sometimes brash) hood ornaments. Of course if they did it now it would come off as a bit tacky.
In the case of classic cars, especially iconic ones like Packard, distinctions should be drawn among the various symbols used. The logo shows the company name written in longhand: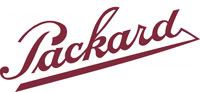 The crest generally appeared in the center of the steering wheel and on the crank cap at the bottom of the radiator grille behind the bumper:
The various hood ornaments would be classified as emblems rather than logos, but they did represent the brand, and so served a similar purpose. The three main hood ornaments that represented Packard were the cormorant (shown in the photo of the family Packard below), the Goddess of Speed, and Daphne at the Well, which was a rather epicine youth reclining with feet pointing forward. Another Packard emblem was the red hexagon on the wheel hub. This was originally used to designate Packard-approved used cars, but proved so popular that it was adopted as a permanent fixture (see photo).
Then there was the Packard slogan:
Ask the man who owns one.
The characteristic shape of the radiator cowl made any Packard an instantly recognizable car.
The 1949 Packard Custom 8 did not carry the logo or the crest anywhere on the car. The only place it said Packard was the door sill, where it was not visible when the doors were closed. Magazine ads for the car simply showed a picture of it with the slogan "Ask the man who owns one" underneath. This is how iconic the brand was; it needed no fanfare.