If you're a tl;dr type, scroll down for the specs and the cost.
As has been discussed on a
few
occasions
before
,
Centralia Knitting Mills
has been making dandy woolen products in Washington state since 1939, and they make a sweet varsity/letterman jacket. The American-made quality, never-changed-never-needed-to-change styling, and tradition of heritage have a lot of appeal for Styleforum types. Lines like Engineered Garments have (reportedly) used CKM as a maker for knitwear, and their custom varsity/letterman jackets fetch
$300+ on Rakuten
. They use 24 oz. boiled melton wool (all virgin) and full-grain leather to craft jackets that are little different today than they were 30 years ago or more.
Evolving from the letter sweaters worn by college athletes in the late 1800s (supposedly, originally at Harvard), varsity jackets have been the mark of proud sportsmen for nearly a century (and straightedgers since the 80s), but the past few seasons have seen a new explosion of these pieces in the collective consciousness, in designer collections and men's lines. Pedigreed vintage jackets hang in shops like Mister Freedom; Supreme does a varsity most years; APC put out a S/S09 bomber with varsity styling that sold out quickly; Hedi Slimane has been photographed wearing an embroidered version; Comme des Garcons made varsity-influenced sportcoats for F/W08; and Balenciaga's long, lean take is out this fall. Fuuma almost bought it! He's Canadian and arguably cooler than anyone.
In trying to arrive at a consensus design for the Styleforum buy, I polled this to death. I've talked with Centralia and I've talked with Mauro Farinelli (of Farinelli's in Arlington, VA; Mauro's getting involved as a favor to Styleforum to make the ordering and shipping process easier""essentially so you don't have to count exclusively on me). The final design for
this group buy
is a minimal version that keeps some of the unique elements of CKM jackets (e.g., foldover collar and cuffs) while eschewing details like chenille letters that might make you look like you're a sad alum trying to relive the glory days. I'd rather you recognized other Styleforum members by the general cut of their jib(s), not because you both have a big fuzzy SF on your chest. As for customization, you can order any color combo in the American extracurricular athletic spectrum (see swatches below). I expect to go with dark cardinal wool and dark gray leather, coincidentally not too far off SF colors and the colors of Enfield Tennis Academy.
I hope to get us a piece of classic, American-manufactured sportswear, made to SF standards, for a reasonable price. This initial run will be limited to ease logistics. If it goes well, we may be able to make more jackets and/or different designs.
The specs:
"¢\t24 oz. boiled melton wool body
"¢\tFull-grain leather raglan sleeves
"¢\t"Swiss knit" wool foldover collar, cuffs, and hem
"¢\tSnap button front
"¢\tLeather trim at pockets
"¢\tNylon lining
"¢\tAthletic cut for ease of movement""Centralia is not Balenciaga or ToJ. Sizing down may give you a less full cut, but unfortunately I will not be able to accept returns. I stole a size chart from a .jp site to give people an idea of sizes.
Code:

SizeShoulder \tchest\t length\t sleeve 
34(xs)      
36(s) \t44cm\t54cm \t61cm \t62cm
38(m) \t46\t57\t64 \t63
40(l) \t49 \t59 \t68 \t65
42(xl)\t51\t62\t70\t67

Which equals APPROXIMATELY

36(s)\t17in\t21in\t24in\t24.5in
38(m)\t18\t22.5 \t25\t25
40(l) \t19.5\t23 \t26 \t25.5
42(xl) \t20\t24.5\t27.5\t26.5

Larger sizes and extralong arms are available.
The fare:
Final price, including CONUS shipping, will be $175.
If you would like international shipping, contact me and we'll figure something out.
We are trying to finalize orders soonisher than later (order deadline Friday August 7) so, with the estimated 6-week lead time, the jackets should be ready in September.
If you would like to order, copy and fill out the order form below, send it to
heyshoreman@gmail.com
and
shopfarinellis@gmail.com
, and Paypal $175 to Mauro at
maurofarinelli@gmail.com
.
Color options are below the form, rendered as well as possible with my crappy point and shoot.
NAME:
STYLEFORUM USERNAME:
ADDRESS:
PHONE:
E-MAIL:
SIZE (numerical):
BODY COLOR:
SLEEVE COLOR:
POCKET TRIM COLOR:
SNAP COLOR (snaps generally match body color):
KNIT COLOR (collar, cuffs, hem):
STRIPES ON KNIT TRIM? Y/N
STRIPE STYLE (Single, Double, Triple; feathered or not)
STRIPE COLOR(S):
WEARER HEIGHT (yes, CKM requests):
WEARER WEIGHT(yes, CKM requests):
COMMENTS:
Wool colors: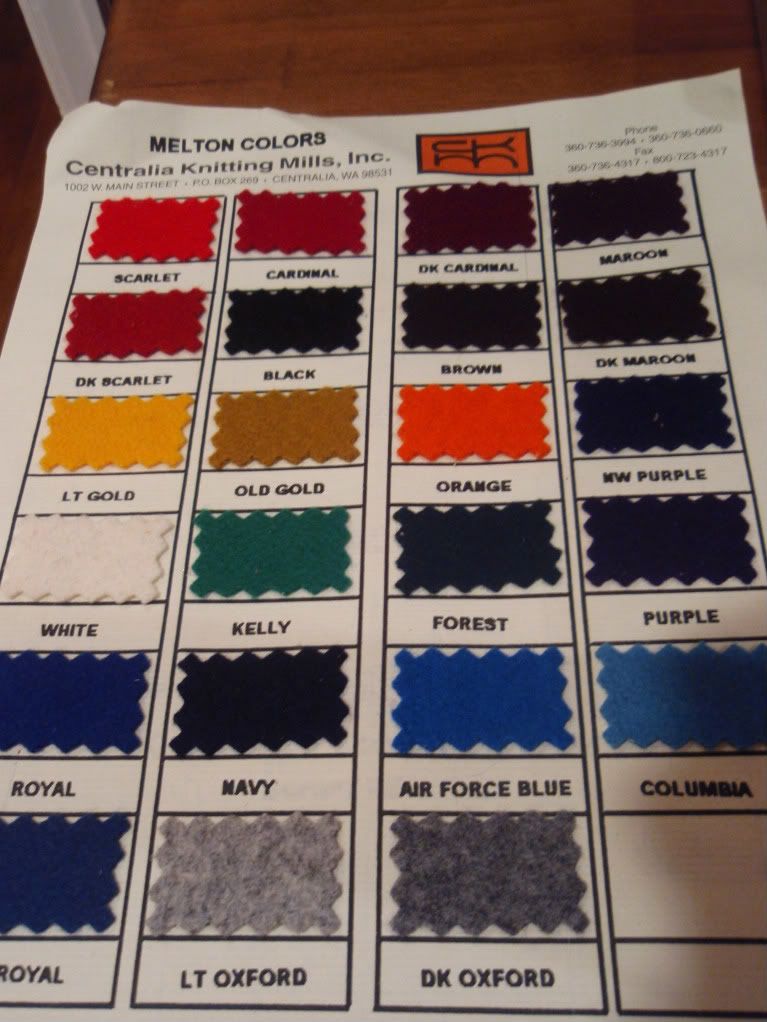 Leather colors:
Knit trim swatch sheet (for sweaters, but just for reference--knit trim colors correspond roughly with melton colors)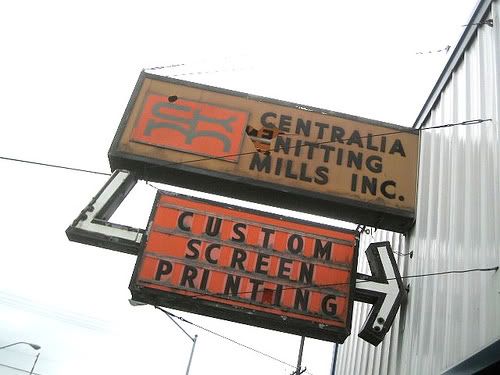 CKM sign and knit swatch sheet sued with permission from
Archival Clothing
.